Morning TV Is Getting More Serious—Thanks to These Two Women
While fluffier shows flounder, Norah O'Donnell and Gayle King are helping CBS This Morning pull in bigger numbers than ever before.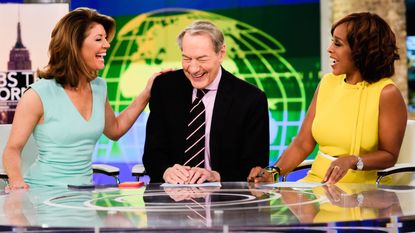 (Image credit: Tyler Joe)
Editor's Note: Two months after publication of this story, Charlie Rose was accused of sexual harassment (opens in new tab) by eight women and fired from CBS This Morning. On January 9, it was announced that John Dickerson (opens in new tab) will replace Rose.
The set of CBS This Morning is strange in that it's not an anchor and co-anchor sitting side-by-side along a straight, two-dimensional set. It's a TV studio in the round, three personalities, all equals—Norah O'Donnell, Gayle King, and Charlie Rose—stationed at a glass desk while cameras swirl around them. As a viewer, you're made to feel like you're sitting at the table right there with your incredibly cerebral friends. It is a remarkably serene scene, especially considering that the world they're covering is far from calm.
"Every day there's something different," says King. "Every day you think, What in the world is going to happen today?! But I love that."
"I would describe the news environment right now as trying to sip water from a fire hose," O'Donnell says, laughing. "But there's no more exciting place to be than morning television. There's a reason we've had the growth we've had. People wake up and want to know what's going on."
The growth O'Donnell is referring to is the sudden emergence of CBS This Morning as the near-top show in morning TV. While Good Morning America and the Today show have been loudly battling it out for over 40 years, toppling each other over and over for the number-one spot, they've found themselves steadily losing viewers lately. CBS This Morning is now an official competitor, with a 46 percent rise in ratings since the show premiered in January 2012.
It's also the only morning show that's held on to women ages 25 to 54 (competitors lost female viewers in that demo year-over-year). They've done it by being newsier and more serious than the rest—and by letting two women lead the way.
"The main focus has been putting on a quality program that adheres to the highest levels of journalism," O'Donnell says. "Since we are the newsiest of the morning shows—we do more foreign stories, we have more scientists and business CEOs on our program—I think it's heartening that people are looking for quality journalism. They're looking for quality TV."
The tone of CBS This Morning is indeed distinctly newsier and more serious than GMA or Today. (Morning Joe, MSNBC's weighty a.m. news program, is also up 50 percent in 2017.) There aren't pop-star performances or screaming Midwesterners holding poster board outside the windows. The vibe is just right for O'Donnell and King, who are political wonks through and through.
For more than a decade O'Donnell covered the White House, Congress, and the Pentagon for NBC News and MSNBC before becoming CBS News' chief White House correspondent. She spent months with then-Secretary of Defense Donald Rumsfeld in Afghanistan following 9/11 while still in her mid-20s. King put in 25 years on local TV stations in Baltimore, Kansas City, D.C., and Hartford, CT, before making regular appearances on national shows like The View, Entertainment Tonight, Good Morning America, and of course, The Oprah Winfrey Show. Her own syndicated program, The Gayle King Show, ran on and off until she signed with CBS This Morning.
That Charlie Rose is the most famous of the three—for his Peabody Awards; for his interviews with Vladimir Putin, Benjamin Netanyahu, Donald Trump, Barack Obama, Steve Jobs, and Warren Buffet—owes most, perhaps, to his longevity. At 75, he's had more time to earn prestige.
"When they hired me, they said, 'Look, we just want to be competitive,'" King says of joining the trio that's now lifted the show into a new stratosphere. "We were so low on the totem pole. In the beginning, industry critics didn't even mention CBS. It was always ABC and NBC. We weren't even mentioned."
Now she's obsessed with the numbers. "Do I pay attention? Yeah. Do I like to see them climbing? Double yeah. That's a very gratifying place for me," she says. "Everybody likes validation, to know that they're doing okay."
The refreshing irony is that the hard news responsible for CBS This Morning's recent success often emerges from, of all places, the makeup room. "Gayle and I are starting in there at 5 a.m. talking about this stuff. Our curiosity drives the reporting. To help people understand the story better—because we want to know the story better. We're interested in every detail."
O'Donnell reads five to six newspapers every morning, highlighter in hand. King has news playing almost non-stop. "You come to my house, I have a TV in every single room, including the bathrooms," King says. "I'm a news junkie."
Of course, as anyone who watches them knows, the journalistic edge doesn't come at the expense of personality—both women are warm, charismatic, and disarming. Or at the expense, for that matter, of femininity. O'Donnell and King wear shift dresses in tropical colors with unbelievably cool shoes: embellished high heels that complement their dresses—even if they won't show on camera.

And there's a real chemistry between them: "You really can't fake that. I think the audience can see through it," King says. The relationship between O'Donnell, King, and Rose is so chummy that John Oliver has even lampooned it in two segments on his own show. "Nobody's watching us and thinking, 'Do they really get along? What's really happening there?'" King says.

"I made this decision to embark on this adventure," O'Donnell says of uprooting her life and family in Washington, D.C., "and a lot of the reason I did it is because I liked them so much, I respected Gayle and Charlie so much. They've taught me the joy of work. Gayle, especially, has a joy that is infectious. She walks into Studio 57 and says, 'All in our places? Bright shiny faces?' It permeates."

When asked about their favorite interviews lately, the two women can't help but complement their colleagues' gets. "Well, I got to hand it to Charlie, who got Vladimir Putin and Bashar al-Assad," King says. "Norah had an interview with Paul Ryan at a very crucial time."

From Rose, O'Donnell says she's learned that not every interview has to be an interrogation. "My background and my comfort zone was largely politics. I know how to ask a direct question, a pointed question. I understand the tone, I understand the nuance of politics," she says. But then, "I interviewed the Dalai Lama, right? And I thought, I don't know how to talk to the Dalai Lama! What do I ask him about?! So I talked to Gayle, and she said, 'Ugh, Oprah said that's one of the worst interviews she's ever done.'" O'Donnell points at a framed photo on the wall of herself with His Holiness. "It was a long interview, and they did a great job editing it. But it was just a really interesting conversation," she says. "It's something that I learned how to do differently, which is that some interviews don't have a goal. They're just an interesting conversation that can be shared."
King, meanwhile, seeks out the quiet ones. "It's always exciting to me when you get people who don't normally talk. I recently did an interview with Dave Chappelle—I was wooing him and courting him for two years," she says. "And they kept saying, 'Oh wait, wait until he has something to promote.' I was like, 'I don't care if he has something to promote! I just want to talk to him.'" The interview aired in March and was hailed as a "revealing, surprising, and strikingly genuine conversation."
The next object of her seduction is a surprising one. "Right now I'm really working hard: I want Eddie Vedder of Pearl Jam," she says, giddiness in her hand gestures. "I met him. I met Eddie Vedder!"
The show has also started experimenting with special segments and tentpole moments, like its exclusive trip last fall to the Smithsonian's National Museum of African American History and Culture before it opened. The episode had limited commercial interruptions and just two megawatt sponsors. "It's the kind of storytelling that CBS News executives hope will continue to distinguish CBS This Morning from the competition at a time when the morning-show race is tightening," the Hollywood Reporter observed.

The fact is, none of these stars really needs this gig. King still holds a full-time job at O, The Oprah Magazine, which she's had for 17 years; O'Donnell contributes regularly to 60 Minutes and CBS Evening News; Rose still hosts his eponymous nightly interview on PBS, as he has for over 25 years. They're just obsessed with their own morning coffee klatch. "All of us have been in this for a while, all of us have had jobs that we really like," King says. "This is just icing on what I think is a pretty nice cake."
And, let's be blunt, no one needs to maintain these hours. "I get here about 5 a.m., and they do hair and makeup at the same time, half an hour to 45 minutes," O'Donnell says. "The only reason it takes long is my hair is really thick. I have curly, curly hair."
King runs on the least sleep of the three. She sticks out her Fitbit-ed wrist to check her stats. "Last night was upfronts [a network's annual presentation to advertisers about their line-up], and I got...four hours and 43 minutes of sleep. And that, to me, is like, good. The other day it was three hours and 36 minutes," she says. She raises her arms wide like an opera singer. "I do this, 'Don't cry for me Argentina!' because the job is what it is and we take it."
They take it, and the ratings continue to reward them, rising within striking distance of Today (the gap shrank to just 150,000 viewers several times this spring, compared to a difference of 3 million at launch). Ratings dip for every network in the summer, but the co-hosts didn't spend the season sipping lemonade. O'Donnell just traveled to South Korea to interview the country's new leader, President Moon Jae-in, his first interview with an American journalist.
"This glass table is really a front-row seat to history. All the most interesting people in the world sit at this table," O'Donnell says. Nancy Pelosi, Bob Woodward, and Condoleezza Rice have all hung out in the studio in recent weeks. "They find themselves in Studio 57. How could you not find that the most exciting thing in the world?"
Follow Marie Claire on F (opens in new tab)acebook (opens in new tab) for the latest news, long reads, video, and more.