'We're Here' Star Shangela Has Some Tips for Handling a Career Setback
On a bad day, the drag icon might throw a drink in your face.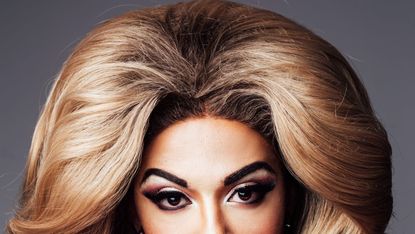 (Image credit: Taylor Miller )
RuPaul's Drag Race star Shangela might be totally transforming your town in HBO's makeover show We're Here, out today. Here, the drag icon offers some epic responses to Marie Claire's questionnaire.
1. If I weren't an actor/drag entertainer, I'd be: A wedding planner.
2. Best career advice I've gotten: The elevator to success is broken. You've got to take the stairs.
3. Most gracious response to rejection/career setback "Thank you for this opportunity." Exit stage left.
4. Least gracious response to rejection/career setback: My "I don't have a sugar daddy" speech followed by a thrown drink.
5. Moment I felt I made it: Performing Beyoncé for Beyoncé and Jay-Z.
6. Most agonizing career decision I've ever made: Choosing to not go back to my corporate job in PR after losing RuPaul's Drag Race season 2 but instead chase my dream of being a full-time entertainer.
7. Easiest career decision I've ever made: Go back and compete again (and again) on Drag Race.
8. Kind of work I'd do for free: Movie critic.
9. Favorite perk of the job: Traveling all around the world.
10. Worst pitfall of the job: Early-morning flights.
11. Change I'd like to see in my industry: More opportunities for LGBTQ people of color and the telling of their unique experiences.
12. How did you make your first dollar? Writing checks for my grandma.
13. Who do you admire and why? Jenifer Lewis, because she has had a 40-plus-year career in entertainment and still has the excitement to work and create.
14. Song I'd want played at my funeral: "You Were Loved," by Whitney Houston.
15. First album I bought: Destiny's Child, The Writing's on the Wall.
16. Food I'm not ashamed to admit I love: Popeyes fried chicken and biscuits.
17. My perfect day would begin: At 4 p.m.
18. My perfect day would end: With gel under-eye patches.
19. Store I can't leave without buying something: Target.
20. How I clear my mind after a crappy day: Watch reality TV.
21. Moment I knew I was in love: When I was willing to share my dinner.
22. What every woman should try once in her lifetime: Going out in drag.
This story appears in the May 2020 issue of Marie Claire.
RELATED STORIES