Tim McGraw, Faith Hill, and More Team Up For a COVID-19 Benefit Concert
The virtual music festival will support struggling restaurants and frontline workers via the nonprofit Feed The Front Line.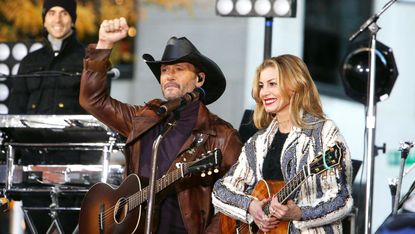 (Image credit: Al Pereira)
While music festivals may be out of the question this summer, virtual concerts are turning up the volume on important issues—like, the struggles and food insecurity that many are facing during the ongoing COVID-19 pandemic. This Wednesday, May 20, CMT is hosting a concert to benefit Feed The Front Line, a dual-mission nonprofit that supports local restaurants (keeping them—and their staff— in business) and that donates meals to frontline workers and vulnerable populations affected by the COVID-19 crisis—which means you can get your country on and support a great cause by tuning into a day-long virtual music festival.
The multi-part livestream benefit concert will feature at-home performances from over 40 of country music's best, including Tim McGraw, Brad Paisley, Faith Hill, Kenny Chesney, Kelsea Ballerini, Billy Ray Cyrus, Chase Rise, Sheryl Crow, and Avril Lavigne. (If she's taking requests, I know we'd all love a little acoustic rendition of Complicated, especially those of us quarantining in our childhood bedroom).
The event will stream on CMT's Facebook and YouTube channel and will be split into three sessions, "breakfast" (10 a.m. ET), "lunch" (2 p.m. ET) and "dinner" (8 p.m. ET), so you can literally jam all day long, in between meetings... or instead of them (just remember to put yourself on mute!).
Feed The Front Line, a nonprofit launched in the wake of the pandemic, has already raised over $750,000 and delivered close to 50,000 meals. During the performance, viewers will be encouraged to donate to the organization—just a $12 donation purchases a meal, plus tip. Your donation has double the impact: With every purchase of a meal from a Feed the Front Line restaurant, you're helping a small business stay open and supporting their mission to deliver free meals to those who need it most. Throughout the program, viewers will get to hear from restaurants and essential workers who have been supported and fed by Feed the Front Line.
All the more reason to crack open a cold one (a White Claw will also suffice), turn it up, and tune in.
Celebrity news, beauty, fashion advice, and fascinating features, delivered straight to your inbox!
Megan DiTrolio is the editor of features and special projects at Marie Claire, where she oversees all career coverage and writes and edits stories on women's issues, politics, cultural trends, and more. In addition to editing feature stories, she programs Marie Claire's annual Power Trip conference and Marie Claire's Getting Down To Business Instagram Live franchise.