Princess Diana's Brother, Charles Spencer, Just Called Out 'The Crown'
"There is a lot of conjecture and a lot of invention," he said.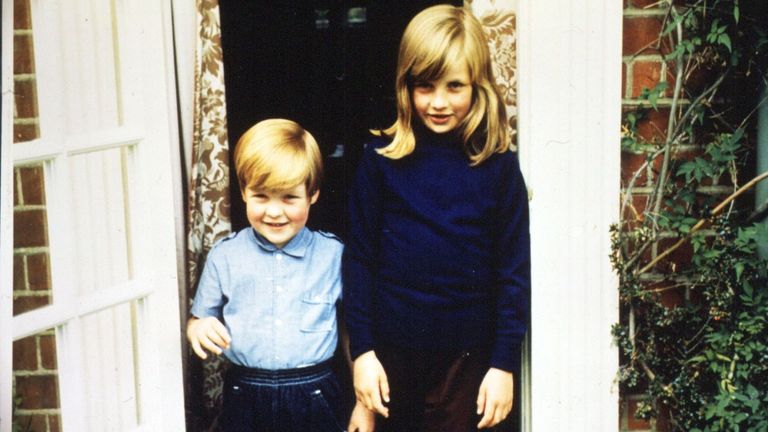 (Image credit: PA Images/Getty Images)
---
The Crown (opens in new tab) might be half the world's (opens in new tab) current TV show of choice, but it's somewhat less popular among the actual royals themselves—including Princess Diana's brother, Charles, Earl Spencer (opens in new tab). The show's fourth season portrays in intimate detail Diana's struggles as a new member of the monarchy, and Charles isn't exactly sold on the depiction of his sister.
Appearing on British TV show Love Your Weekend with Alan Titchmarsh on Sunday, as Hello! reports (opens in new tab), Charles said The Crown shouldn't be taken as historical record. "The worry for me is that people see a program like that and they forget that it is fiction," he said. "They assume, especially foreigners, I find Americans tell me they have watched The Crown as if they have taken a history lesson. Well, they haven't."
"There is a lot of conjecture and a lot of invention, isn't there? You can hang it on fact but the bits in between are not fact," Charles continued.
In fact, Earl Spencer revealed, The Crown's production team asked his permission to film at Althorp House, the Spencer family seat and the childhood home of Diana and Charles. "Actually, The Crown asked if they could film at Althorp and I said obviously not," he said.
Charles further shared the obligation he feels to defend Diana's legacy: "I feel it is my duty to stand up for her when I can," he said. "She left me, for instance, as guardian of her sons, so I feel there was a trust passed on. And we grew up together. You know if you grow up with somebody they are still that person; it doesn't matter what happens to them later. So yeah, I feel very passionately that I have a role to honor her memory."
Side-By-Side Photos of Princess Diana In 'The Crown' vs. Real Life
Image 1 of 15
Originally Worn In May 1981
The newly engaged couple were photographed before their wedding at the Craigowan Lodge on the Balmoral Estate in Scotland. While it must have been hard to find a sweater as iconic as the pink one, would it be a crime to say I love the blue a little bit more?
Originally Worn In November 1988
The one-shoulder gown of my dreams by Catherine Walker was seen at a dinner at the British Embassy in Paris, France, hosted by the British Ambassador to France. I will say I love the bright hues of&#xA0;<em>The Crown</em>&apos;s revamp.
Originally Worn In July 1981
The wedding dress to end all wedding dresses, Emma Corrin, who plays Diana, said 10 people had to help her&#xA0;<a target="_blank" href="https://www.cheatsheet.com/entertainment/the-crown-emma-corrin-princess-diana-wedding-dress.html/">put on the replica of Diana&#x2019;s gown</a>. The famous piece had some help from the original designers, Elizabeth and David Emanuel; they gave the show their patterns of the original dress to make their own crazily accurate version.
Originally Worn In July 1981
Polo match chic much? Princess Diana was seen wearing these iconic yellow overalls with a floral blouse at a polo match at Cowdray Park Polo Club in Gloucestershire, United Kingdom. On&#xA0;<em>The Crown</em>, they added a floral knitted cardigan to the ensemble, and frankly, we&apos;re obsessed.
Originally Worn In July 1986
Instead of rollerblading through the halls of the royal palace, Princess Diana wore this outfit to play with her sons outside on Highgrove's grounds.
Originally Worn In September 1980
Before becoming a princess, Diana loved to wear sweater vests with feminine blouses while working at the Young England Kindergarten School in Pimlico, where she worked as a nursery assistant. Paying homage to her younger years would be nothing without the initial necklace around her neck.
Originally Worn In April 1987
At the Cannes Film Festival in France, Princess Diana wore a flowing chiffon blue ballgown designed by one of her favorite designers, Catherine Walker. The Queen&apos;s cousin, Lady Elizabeth Anson,&#xA0;<a target="_blank" href="https://www.tatler.com/gallery/charles-and-diana-1983-australia-new-zealand-tour-pictures">once spilled</a>&#xA0;that Prince Charles knew early on in their marriage of her massive popularity, reportedly telling aides, &quot;They&apos;ve come out to see my wife, they haven&apos;t come out to see me.&quot;
Originally Worn In 1980
Before becoming a royal, Princess Diana had a thing for exquisite collars, like this lettuce trim sweater with a light jacket thrown over it. &quot;Fashion might not have been a priority, but she loved to experiment,&quot; said her stylist Anna Harvey to&#xA0;<a target="_blank" href="https://www.vogue.co.uk/fashion/gallery/princess-diana-collars"><em>Britain Vogue</em></a>.
Originally Worn In March 1983
This very, very blue number was seen on the couple&apos;s first overseas tour together, a six-week tour of Australia and New Zealand with a 10-month old Prince William along for the ride. It was&#xA0;<a target="_blank" href="https://graziamagazine.com/articles/princess-diana-first-tour-australia/">the first international trip</a>&#xA0;for the 22-year-old and the first tour that William had ever been on.
Originally Worn In March 1983
Another great outfit was worn during the Australia and New Zealand tour! Diana wore a frilly blue gown by Bruce Oldfield to a gala dinner and dance at the Wentworth Hotel in Sydney. It&apos;s estimated during the tour that the couple shook&#xA0;<a target="_blank" href="https://www.tatler.com/gallery/charles-and-diana-1983-australia-new-zealand-tour-pictures">around 2,000 hands per day</a>, leaving Diana&apos;s with red and sore hands every evening.
Originally Worn In June 1981
At the London premiere of the Bond film&#xA0;<em>For Your Eyes Only,&#xA0;</em>Diana&#xA0;<a href="https://princessdianabookboutique.wordpress.com/2015/06/24/24-june-1981-prince-charles-lady-diana-spencer-attend-for-your-eyes-only-the-james-bond-film-premiere-leicester-square-odeon-london/" target="_blank">wore</a>&#xA0;a red and gold spangled chiffon gown by Bellville Sassoon. The event took place a month before their royal wedding. Di, Prince Charles, and Princess Margaret were all in attendance.
Originally Worn In November 1980
Post-engagement, Diana was photographed leaving her apartment wearing a Christmas-y patterned cardigan. Her pie-crust-collar blouse was tied with a bow-tie detail that added a whimsical touch to the outfit.
Originally Worn In September 1982
At the Braemar Highland Games in Scotland, Di wore a marvelous button tartan suit by Caroline Charles and a tam o'shanter hat. She would later re-wear the suit to attend a tree-planting ceremony in Hyde Park a month later.
Originally Worn In July 1981
Diana wore a high-neck blue floral dress to their hour-long wedding rehearsal at St. Paul&apos;s church. Funny enough, First Lady Nancy Reagan was also in attendance at the pre-wedding event. &quot;The thing I remember most was how young she was, young and happy,&quot; said&#xA0;<a target="_blank" href="https://www.newsweek.com/nancy-reagan-article-about-princess-diana-642462">Reagan on meeting Diana before her wedding</a>. &quot;I was sure it was going to be a wonderful marriage. We all thought it would be. It really did seem like the fairy tale that people still talk about.&quot;
Emily Dixon is a British journalist who's contributed to CNN, Teen Vogue, Time, Glamour, The Guardian, Wonderland, The Big Roundtable, Bust, and more, on everything from mental health to fashion to political activism to feminist zine collectives. She's also a committed Beyoncé, Kacey Musgraves, and Tracee Ellis Ross fan, an enthusiastic but terrible ballet dancer, and a proud Geordie lass.