Sex and the City Is Back!
Everyone's favorite Manolo-wearing foursome is returning to the big screen. In an exclusive interview, find out about the stars' friendship and fights while filming the hotly anticipated sequel. GO BEHIND THE SCENES OF OUR PHOTO SHOOTS WITH SARAH JESSICA PARKER, KRISTIN DAVIS, KIM CATTRALL, AND CYNTHIA NIXON.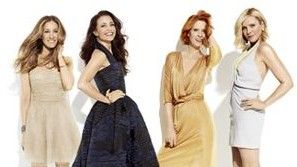 (Image credit: James White)
Unless you've been on a Cosmo bender for the last few months, you know that Sex and the City 2 is headed to the multiplex, and with it, every red-blooded, Louboutin-loving woman in America. The buzz began last summer with the first location shoots, when mobs of fans followed the trailers around New York City like rock groupies gunning for a seat on the bus. The Web lit up with predictions: Perez Hilton took polls on which ex-boyfriends would have cameos; gossip sites conducted CSI-like analyses of paparazzi shots (including one of Kim Cattrall holding a script that referenced Samantha's ex-beefcake Smith Jerrod); techie zealots shared their hopes for the movie with homemade "trailers" cut on their iMacs.
Now, as opening night approaches, big questions loom: What will befall the now-midlife fab four? Will the sequel bust the $415 million worldwide chick-flick record set by its predecessor? And the other multimillion-dollar question: Do Sarah Jessica Parker and Cattrall really hate each other?
PHOTO GALLERY: SEE PHOTOS FROM OUR SEX AND THE CITY COVER SHOOT
Parker demurs on all counts, especially the last. The film's star and producer — who says she's seen to "every detail, every atom" of the movie since shooting wrapped in late 2009 — compares the behind-the-scenes tension to that of any busy office. "When you're on set, you're working 90-hour weeks, you're never home, you're exhausted," she says. "There are times when all of us have been sensitive, and sometimes feelings get hurt. But I don't have any regrets about how I've treated people." Cattrall maintains that "the chemistry among the four of us is very strong." So why have stories of enmity and infighting followed the cast since before the first movie came out, when Cattrall reportedly made a fuss about Parker's salary being twice her own? "Because the press has to put women in these boxes, rather than show them as the movie portrays them: working together and being powerful," says Cattrall. "Things just have to be explosive for no other reason than for people's imaginations." Kristin Davis, the resident cheerleader — who with Parker organized a Thanksgiving Day dinner of couscous and turkey for members of the cast and crew in Morocco — laughs off the idea of infighting. "There was a very strange piece in one of the tabloids that said Kim and I would eat in the restaurant of our hotel and not sit together, which cracks me up," she says, actually cracking up. "When I would get back from the set, I would go to the gym and get room service. I'm not a put-on-decent-clothes-and-go-to-the-hotel-restaurant person, but Kim is. The story was that we don't like each other. Ridiculous!" The group has had their disagreements, admits Cynthia Nixon. "It hasn't always been smooth sailing," she says. "But the idea that we're somehow adversarial is ludicrous." Perhaps to help dispel rumors of bickering, Parker and Cattrall walked the red carpet arm in arm in December at the London premiere of Parker's Have You Heard About the Morgans?
WIN IT: ENTER TO WIN FREE TICKETS TO THE SEX AND THE CITY SEQUEL!
The actresses' recent successes might make it easy to be magnanimous. In the 12 years since the four archetypal single girls first sat down to a no-holds-barred brunch, the women playing them have transformed from variously successful actresses to bona fide A-listers to, in some cases, icons. Davis, once a Melrose Place has-been, has carved a niche as go-to straight woman in big-studio screwball comedies (The Shaggy Dog, Deck the Halls, Couples Retreat). Cattrall, with countless Emmy nominations and one Golden Globe win to her credit, now picks among juicy stage and screen roles, recently winning over Brit critics as a comic bombshell in Noel Coward's Private Lives, after an against-the-grain role in Roman Polanski's The Ghost Writer. "Sex and the City came along to me when I was in my 40s and already established as an actress," she says. "And I thought, Wow! I've done all of that, and now this on top of it!" She's also used her smarts and sex goddess reputation to sell a pair of between-the-sheets advice books, Satisfaction and Sexual Intelligence. Nixon wishes she'd kept a diary. "It was a whirlwind, and I'm sure I don't remember one-tenth of what happened," she says. Since SATC began, the mother of two went from steadily working actress to stage star-slash-indie mainstay (most recently in Lymelife, with Timothy Hutton and Alec Baldwin). More dramatic was the change in her personal life: In 2003 Nixon split from her boyfriend of 15 years, began a relationship with a woman, and, now engaged, is an outspoken proponent of gay marriage.
But it's Parker who has ridden the SATC wave to icon status, eclipsing her peers by a landslide. Along the way, she and husband Matthew Broderick became the parents of three (including twins, now a year old, by surrogate), and she founded the discount fashion line Bitten. The show's standout star launched seven perfumes, became a pitchwoman for Garnier and Gap (among others), starred in a handful of solidly earning romantic comedies, and signed on as president and chief creative officer at Halston — all in addition to steering the massive Ship SATC since 2001, when she became an executive producer. Given all that, it's surprising that the busy star finds time for friends. "We go to the theater together, or just go to one of our houses for dinner," says Nixon. She and Parker have summer homes in neighboring towns, and their sons, who are the same age, are regular playmates.
The now-world-famous actresses argue it was always so. "When we first started, we would all drive out to the Hamptons together at 4 a.m. on a Friday night after shooting ended and see the sunrise as we arrived. I love those memories," says Davis. "We worked so many hours, just work work work work work," she says. "We were all so committed to making the show good. There wasn't room for much else. I had my dog, and that was about it." Cattrall says the grind brought the stars together. "Nineteen-hour workdays are stressful, whether you're driving a truck, working in a coal mine, or on a set and trying to be your brightest at 4 o'clock in the morning. But there's a camaraderie that happened through all of that," she says.
As much as the stars' lives have changed in the last 12 years, so have the lives of American women — beyond the fact that your mom learned the names "Manolo" and "Birkin" and you stopped feeling guilty about last night's hookup. The franchise's growth from pay-cable experiment to international-box-office juggernaut dispatched the conventional wisdom that women can't open a blockbuster — never mind four ladies well past Hollywood's typical sell-by date. "When the last film opened, one critic began her story by discussing our faces! It was traumatizing," says Davis (who is 45, as is Parker; Nixon is 44, and Cattrall is 53). "But that also gets at the amazing part. We didn't start on this show when we were 20. Everyone knows how old we are, and we're still getting to make movies." But not forever: Whispers of a third film being rushed into production before Parker, Nixon, and Davis turn 50 started swirling months ago. "If Sarah Jessica and [writer/director] Michael Patrick [King] want to make another, I'm there," says Nixon. "I'd go along with them blindfolded."
And so would a cross section of American women, if the first movie is any indication. What brought Sex and the City: The Movie into hit territory was that women ages 17 to 70 saw it in groups, using their collective buying power to give the film a $56 million opening weekend. And, of course, they dressed for the occasion. "I went out to dinner in New York on opening night, and I saw these packs of girls all dolled up in high heels walking down the street," says Davis. "And I realized they were going to see the movie! It was so adorable and flattering!"
You can't talk about how Sex changed the world without talking about fashion. The show has been bursting at the seams with Gaultier, Halston, Dolce, and Dior ever since costume designer Patricia Field first put a Fendi baguette on Carrie Bradshaw's shoulder and the little bag (and facsimiles) started popping up on arms around the country. Episode after episode, Field gleefully draped her teeny-waisted muse in a parade of quirky, high-style schmata, and the offbeat results caught on from the Upper West to the Midwest, causing a run on gold monogram necklaces, macro flower pins, and 4-inch Manolo Mary Janes. Parker admits that Carrie's style was an adjustment for her. "I've never revealed as much or been so daring or made quite as many triumphant mistakes as Carrie," she says. "But I'm now bolder than I would have been had I never played this part." Aren't we all.
Read the rest of our exclusive interview with the Sex and the City 2 stars in our June 2010 issue, on newsstands May 11.
Marie Claire email subscribers get intel on fashion and beauty trends, hot-off-the-press celebrity news, and more. Sign up here.