Project Runway Champ's Secrets to Success
Seth Aaron Henderson opens up about winning and his plans to stay on top.SEE THE PHOTO SHOOT AND OUR BEHIND-THE-SCENES VIDEO WITH SETH AARON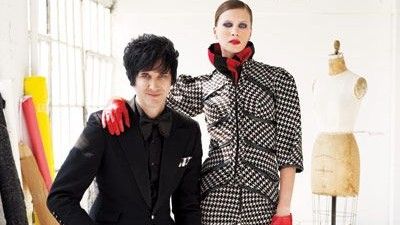 (Image credit: Perry Hagopian)
Neck tattoos aren't exactly welcome in the business world. But on Project Runway, they just might be a lucky charm. First came Season 3 winner Jeffrey Sebelia's scripted jugular, now Seth Aaron Henderson's collar-grazing star — a fitting stamp for the seventh season's victor. "I'm all about making a bold statement," the 38-year-old says of his brazen display of ink.
Yet Henderson's looks are deceiving. Behind the brash rockabilly-punk exterior is a proud father of two — Aaron, 14, and Megan, 12 — who still feels guilty for missing last summer with the family because of filming. (To make it up to them, Henderson says, part of the $100,000 prize money will go toward a vacation.) What's more, the former stylist, whose fingernails are rarely sans black polish, is a hard-core student of his craft. "I'm not one of those designers like some who say, 'I know what I'm doing and fuck everybody else'" — a jab at PR runner-up Emilio Sosa, who often shunned the advice of Runway mentor Tim Gunn. "I like to hear ideas. Every time I finish a piece, I know it can be better." Henderson credits PR judge and MC fashion director Nina Garcia the most with helping him grow as a designer. "Nina would say, 'Beautiful, but ...' That's what I want to hear — the but ..."
Not that Henderson is all conformist all the time. Citing 1940s Russian and German soldiers as the inspiration for his winning collection caused a minor scandal. "It was intentional to a degree," he says. "It had nothing to do with politics or the Nazi party, but I knew that as soon as I said it, people would start talking. A little controversy never hurt anybody." Generating buzz is Henderson's best defense against a post-win slump. "The attention is here right now. If I go away, it goes away. You have to suck it as long as you can, because six months from now I can always create another collection, but I can't get on Regis and Kelly." Talk is cheap, and this guy knows how to budget the limelight.