10 Pieces of Life Advice Kelly Osbourne Would Give Her 19-Year-Old Self
On heartbreak, being different, and looking like a children's party entertainer.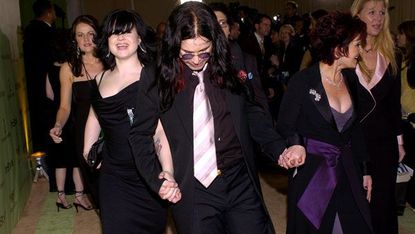 (Image credit: Getty Images)
It's hard to believe Kelly Osbourne isn't even 30 yet. At 29, the wild child turned red-carpet rock star turned fashion designer already knows a great deal about the struggles that come with living and how to overcome them. Most recently, she lost her Fashion Police cohost Joan Rivers, whom she refers to as her "boss, teacher, therapist, closest friend, inspiration, and the only grandmother I ever knew."
Osbourne is also no stranger to the spotlight. Part of The Osbournes, one of the first original reality TV families, she has grown up onscreen and has seen every shocking side of the business. Now she's moving confidently and with characteristic sass into her next chapter: the release of Stories … By Kelly Osbourne, her cool, chic, and affordable clothing line for women of all sizes.
And just when we thought we couldn't love this girl any more, we discovered she dishes out some fabulous advice. So what would she tell herself if she could go back 10 years?
Self-Love Comes First

I would beat the shit out of my 19-year-old self. I'm growing up still, but I'm glad my life happened this way. People look at it like I've completely reinvented myself when they don't realize I was only 15 when I was first on TV—I didn't even know who I was. I [recently] became the person I was meant to be. I had all my awkward phases in front of everyone. You know, I'm not a Kardashian—they look flawless all the time. I'm an awkward person—I like the fact that I'm different and don't fit in. I built coping skills that, back then, were perceived as obnoxious, rude, bad, and not very polite. But there are reasons why I built up those walls and why I knocked them down. You are nothing until you can figure out how to love yourself.
Friendships Matter

Surround yourself with a diverse core group of friends you can trust. I have friends from all walks of life. I'm friends with everyone from members of different royal families to people who just got out of prison because they were in a gang. I don't discriminate. You can pick your friends. That's what's so great about them. You know in your gut when someone's a real friend. You realize this when all of a sudden people who have cars suddenly don't have them when you need their help.
Love Comes in Many Different Forms

I don't exactly know what love is, but that's because love comes in so many different forms. Love can be a good thing—it can be a blessing and a curse. Every time I've ever been in love it's a different from the last. From one relationship, I learned the difference between obsession and love. Another relationship taught me you can love somebody for the wrong reasons. It doesn't mean you didn't love them, it's just the kind of love you had with them is unique. That's something Amy Winehouse taught me.
I remember I was devastated over this boy one time. He completely broke my heart. I was in a secret relationship with him for two years—he's actually still part of a popular band in London. I couldn't understand it. When it was done and we both said, "OK, this is it. Last kiss goodbye," Amy took me to the side and said, "You know what? What you had with him he will never have with anyone else." Know the difference between love and obsession because obsession is not love. And that changed my perspective on what love is.
Communication Is Key

Tell people how you feel. If you speak in truth no one can take that away from you because what you feel is what you feel and it's not wrong. Can you tell I've been to therapy?
Learn from Other People

My mother will always be somebody I look up to because she is wonderful. And my father, I look up to him so much. I don't think there are cooler parents in the world than mine.
When I look at young celebrities now, I really look up to Demi Lovato. She sends a strong, beautiful message. She turned her life around and dedicated it to sending that positive message out to everyone—helping people who struggle from addiction, self-harm, and eating disorders. She's stronger for it. I really admire her for that because it's hard.
Being Different Is Amazing

The only conscious thing I like to do with fashion is take what society deems as ugly, not cool, or gross and find a way to make it high fashion, pretty, and socially acceptable. Like with my hair—the lavender rinse, which is a total granny color. Being different is fucking amazing. I look like a children's party entertainer! I like it that way.
Mistakes Are OK

I want to live my life. I want to have fun. I'm going to spend my money. I am not perfect, and I'm going to make mistakes. But I'm going to apologize and move on. People need to embrace their mistakes—that's the only way to learn.
You Have to Begin Somewhere

People think that because I'm the daughter of Ozzy and Sharon Osbourne that everything has been handed to me. I cannot stress enough how that is not the case. Yes, I didn't have to walk as far to get to the doors, but I still had to open them and walk through.
It's so much harder when you're [a famous person's] kid because people expect you to either be as good as what your parents do or they torture you to make you earn their respect. It's not as easy as just being somebody no one knows and they can imagine you to be whatever you want. I'm a prepackaged deal and I fucked up a lot, so I had to go back and rebuild all the bridges I burnt down.
Not everybody in this world is lucky enough, and, in fact, most people are not lucky enough to have the job of their dreams. But work hard so you can make your dreams come true. Don't look at it like it's holding you back. It's baby steps that you have to take to get to what you want. You have to start from somewhere.
Who gives a fuck if you work in Starbucks or you have to go and clean someone's flat for a bit?
Being Yourself Wins

How many people do you know have made the Forbes list because of their hair? I made the most influential 30 under 30 this last year. And that's because I was being myself. That was the best thing that's ever happened to me in my life and my career because that is the best "fuck you" to every single naysayer in this world. It's also made me want to work even harder.
Dress for Yourself

You have to be who you are and dress the way you want. Never dress for other people.
Stories … By Kelly Osbourne is available Sept. 25 on HSN.
Related Links:

10 Things You Didn't Know About Kelly Osbourne


M∙A∙C + Kelly Osbourne = Summer Makeup Perfection

Image via Getty
Celebrity news, beauty, fashion advice, and fascinating features, delivered straight to your inbox!