Christian Louboutin: In His Shoes
It's been 20 years since Louboutin splashed red nail polish on the sole of a shoe and created his design signature. The emperor of high heels walks us through his journey.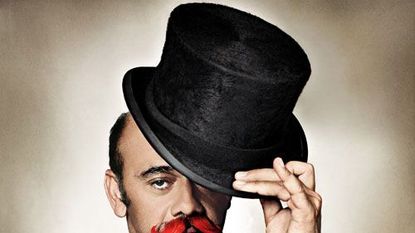 (Image credit: Jérôme Bonnet)
He has created a generation of addicts. As author Simon Doonan puts it: "Louboutins are a total drug, and there is no methadone." The first time you slip into a pair of his shoes with their bright-red soles, you're hooked. More alchemist than cobbler, Christian Louboutin transforms women with the flirtatious peep of a toe and click of a sculpted heel. It's that magic that keeps women coming back — often handing over rent money and savings. Why do women fork it over? Because what they walk away with isn't just a pair of shoes, it's a priceless feeling of feminine power.
Let's start at the very beginning ...

Everyone has their dates. For me, it's 1991. I can place every memory of my life either before or after this date. It's the year I became an adult. My mother died, and I created my company shortly thereafter. I definitely would not have done it if she hadn't passed away. I'm kind of lazy by nature — everything always appeared a bit insurmountable to me. But when my mother died, I was thrust into the adult world, and once you're an adult, you have to work. She always motivated me by telling me that my designs were beautiful; she was so enthusiastic that I owed it to her to try.
Now you're as much a household name as Band-Aid or Kleenex — what's that like?

It shocked me at first, but now I find it cute. I never liked my last name or my first name, but it's not as bad as Frigidaire, so it's fine.
Twenty years into the fashion game, what keeps you from getting bored?

Boredom is a concept that I don't understand. My original desire to design shoes is still the same. I can't allow myself to be tired or burned out. When you are, people can see it in the design. Fashion isn't interesting when it comes from an uninspired place. It's like voodoo; we don't want things that are soaked in blood, sweat, and tears. I adore life, and I'm very easygoing — and it shows in my work.
How did you get such a happy outlook on life?

It comes from my mother. I was born 20 years after my eldest sister. I was the pampered child. That kind of love gives you an almost unbreakable backbone. My mother had three kids before me. She let me be completely free. I just never had anything to beat myself up over.
What do you look at first on a woman?

For me, it's a game. When I see someone, I don't look at her shoes but rather at her face, then her clothes. Then I guess what she'll be wearing on her feet. When I finally check, I'm often completely surprised!
Why are women so obsessed with shoes?

When a woman buys shoes, she takes them out of the box and looks at herself in the mirror. But she isn't really looking at her shoes — she's looking at herself. If she likes herself, then she likes the shoes. A man is a fetishist: He polishes his shoes, appreciates the finish, wants to preserve them for a long time. A woman doesn't care about this. She isn't proud of having a shoe for 10 years. It's a natural feminine instinct to accessorize. A naked woman in heels is a beautiful thing. A naked man in shoes looks like a fool.
Your shoes inspired J.Lo to write a hit song. Who were some of your muses?

I've always adored women in heels. As a boy, I loved music halls, girls, feathers, and performers. I adored Tina Turner. I remember the arrival of Blondie — Debbie Harry was a bleached blonde who wore heels and was a real musician. Hallelujah!
Do you prefer heels or flats?

High heels, by far. I hate the idea of natural. For example, I prefer gardens to wild nature. I like to see the human touch. High heels are a complete invention — an extravagance. They're far from natural, but it's the impracticality that I adore. I prefer the useless to the useful, the sophisticated to the natural.
Why are high heels so sexy?

One moves more slowly in heels. Walking fast is neither sexy nor engaging. Nobody notices the people who race around. If you're walking in heels, you've got time. It's much more attractive.
How far will a woman go for her Louboutins?

As far as prison. I met a woman in Dallas who told me a memorable story about arriving late to Mass after everyone had already sat down so people would hear the clicking of her heels as she made her way to the front row. Two years later, I went back for an autograph signing, and I asked about this woman. I was told that she was in prison. She had been embezzling money from the company where she worked, which she then deposited directly into a Neiman Marcus account to buy shoes!
Celebrating Christian
To mark his 20 years in business and the 60th anniversary of Crazy Horse, the famed Parisian cabaret, Christian Louboutin is serving as guest creator of the risqué nightclub's new spectacular, Feu (Fire). The show, premiering March 4, features music by Swizz Beatz and David Lynch. Louboutin, who along with Crazy Horse lead dancer Psykko Tico choreographed four separate numbers, says, "The challenge was to not allow the dancers to be immediately sexy. I want them to be revealed as the choreography is revealed." Something tells us they'll keep their shoes on.