Jennifer Westfeldt: Calling the Shots
The actress has it all: looks, brains, Jon Hamm for a boyfriend — and now with her directorial debut, a hilarious hit on her hands.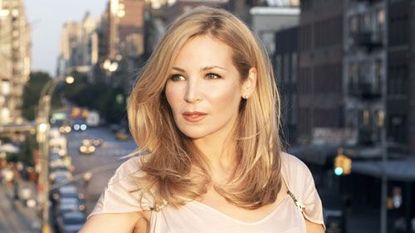 (Image credit: Hayley Sparks)
Marie Claire Newsletter
Celebrity news, beauty, fashion advice, and fascinating features, delivered straight to your inbox!
Thank you for signing up to Marie Claire. You will receive a verification email shortly.
There was a problem. Please refresh the page and try again.
It's a frigid winter's night at the ultrachic Soho House in New York's Meatpacking District. As seasoned scenesters party at a swank soiree on the top floor, a few floors below, the coolest cast in town has assembled to film the opening scene in the exceptionally funny new rom-com Friends With Kids. Celebrity chaos reigns: Waiting off-camera for their cues, Kristen Wiig and Jon Hamm dance exaggeratedly together (pantomiming the pull of an invisible rope) while Maya Rudolph belts out "Weird Science," until finally Parks and Recreation's It guy Adam Scott, together with the woman of the hour — a superbly coiffed Jennifer Westfeldt wrapped in a navy dress — rush in to kick off the pivotal scene. Just another day on set with a comedic dream team.
You already know Westfeldt — she's the willowy blonde nestled next to Jon Hamm (her boyfriend of 15 years) at every awards show. Just don't confuse her for one of Tinseltown's wannabe-actress girlfriends: Westfeldt, 42, has an impressive résumé of her own, having written and starred in the breakout indies Kissing Jessica Stein and Ira & Abby. For the past five years, though, she's taken on small roles in big shows (Grey's Anatomy, 24) while her boyfriend's career has exploded. Now, with Friends With Kids set to open, Westfeldt — who wrote, directed, and stars in the film — continues her steady climb up.
The movie spotlights platonic besties Jason (Scott) and Julie (Westfeldt), who've watched their friends' marriages crumble after having kids. The pair hatch a plan to avoid the same grim fate by having a baby together but vowing to continue their search for romantic soul mates. The scheme screams disaster, but don't expect spit-up clichés here: Witty, poignant, and raunchy (see: vagina-stretching jokes), Friends With Kids offers a textured, modern look at love, adult friendships, and the new permutations on the traditional family. "Four years ago, Jon's and my friends started having babies, and everything became so kid-centric," chirps Westfeldt in her girlish trill, at a bistro on the Upper West Side. "You miss one-on-one time with your friends. When you're childless and close friends become new parents, you suddenly feel left out, and that's where the kernel of this idea came from."
Despite its spectacular cast (Ed Burns and Megan Fox costar), her directorial debut was rife with, well, drama. "I juggled winter, children, and animals," laughs Westfeldt of the Manhattan shoot that faced a freak 36-inch snowfall last winter. The fussy-kid fix was easy — "Give them an iPhone!" swears Westfeldt — but battling Mother Nature proved more complicated. "We had snow-removal teams, shovels, actors chewing on ice chips so you couldn't see their breath on camera," says Westfeldt. "One day our lenses froze, and we defrosted them with blowdryers."
The film was developed by Points West, Westfeldt and Hamm's new production company, and while working closely with a romantic partner might prove ruinous for some couples, Westfeldt says she and Hamm relished the opportunity. "We've had so much chaos with Mad Men, Jon's incredible fame, and flying back and forth just to spend 36 hours together, that this was the most day-in, day-out interaction we've had in a while. It was great," she says. "But because I'm always pushing to live in Manhattan, with 10-degree weather, I was like, 'Come on, city, make my man excited about moving here, please!'"
Today, Westfeldt is busy developing three other projects. "It's exciting to take control of your future instead of waiting for the phone to ring," she admits. "It's the smart thing to do." And who knows — with Friends With Kids a runaway hit at the Toronto Film Festival, it may soon be Hamm who's relegated to arm candy.
Celebrity news, beauty, fashion advice, and fascinating features, delivered straight to your inbox!