Need to Meet: Lena Dunham
The 25-year-old triple threat — writer, director, and actress — is about to conquer cable with Girls, HBO's latest series. If you're still mourning the end of Sex and the City, your crying days are over.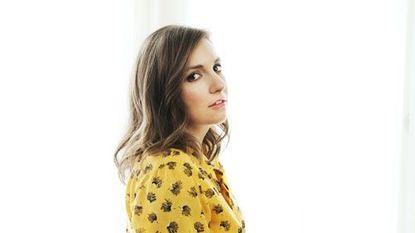 (Image credit: Brigitte Sire)
Lena Dunham is a rare breed in Hollywood: a phenom who at 25 has already notched a list of accomplishments filmmakers twice her age would kill for. Two years ago, she coldcocked film critics with Tiny Furniture, a mesmerizing look at hipster ennui that she wrote, directed, and starred in. So impressed were the execs at HBO that they subsequently offered Dunham a blind script deal — an offer to option anything she wrote, sight unseen. It was the kind of cherry gig typically reserved for A-listers like Judd Apatow, who, incidentally, swooped in to produce the venture. Their collaboration spawned Girls, a winning half-hour comedy about a group of 20-something girlfriends adrift in New York City, premiering on HBO April 15. Call it Sex and the City for the American Apparel set. In fact, that glitzy series served as an inspiration for the grittier Girls, which, Dunham says, is about young women "who grew up watching that show and came to New York with Sex and the City as their paradigm — and how much harsher their wake-up call was because of that."
Raised by successful artists, Dunham spent her early years drawing and selling her artwork to her parents and their friends. "My parents were very supportive when I was growing up and have been all the way through," says Dunham, as she tucks into a bowl of oatmeal and herbal tea at John O'Groats, a popular diner in Los Angeles. "They always said, 'We want you to do what satisfies you creatively.' But they were also keenly aware that not everyone is able to make a living as an artist and that I was going to have to figure out another way to support myself." That down-to-earth advice kept Dunham both humble and hungry. After graduating from Oberlin College, she worked in a children's clothing store and wrote at night. "I would go to work from 9 to 6, go home, nap for two hours, then write from 8 to 2 a.m.," she recalls. "There was an urgency to what I was doing. That's where a lot of the creative ideas I am still working with began."
She made Tiny Furniture for $50,000, casting her real-life mother and sister as her on-screen family. Her transition to television has been enviably smooth: "I didn't have to wait six years to get my show on the air, worry that someone else had a similar idea, or wait around for notes that took my voice out of the show. When I asked Judd [Apatow] how to write a pilot, he said, 'Just try it.'" This past year, Dunham says, has been a massive education for her; she still admits to "nodding and smiling, then secretly Googling" things she doesn't understand.
In Girls, Dunham plays Hannah, a wannabe writer struggling to get by in New York City. (Sound familiar?) But unlike the preternaturally glossy Carrie Bradshaw, Hannah raises quiet humiliation to an art form, practically exulting in crumbs of affection — and at times, outright emotional abuse — from men. (In one scene, Hannah is facedown and half-naked on a couch while her non-committal boyfriend goes off in search of "lube.") Hannah struggles with her weight, though her figure is what anyone with a working pair of retinas would call normal. Dunham identifies with this dysmorphia. "I always feel that there are two choices for women," Dunham says. "Either be totally confident about your non-size-zero body and say, 'I love what I look like and this is who I am,' or be the person who is obsessed with diet and exercise and keeping toned. What feels more realistic to me is that some days I wake up and think I love how I look. On other days I say, 'If I had real self-control, I would be 10 pounds lighter.' That contradiction is, to me, what being a girl actually feels like."
Be forewarned: Girls is, like Dunham herself, uncensored. Take, for example, the graphic sex scenes. "I've never had any desire to videotape myself having sex, but when I watch the show, I think, I'm pretty sure that's what I look like having sex," she laughs. But the show's rawest insights are reserved for the complex relationships among its female leads. "You see movies about frenemies and movies about girls who support each other till the end, but I wanted to show what real female friendships are like," Dunham explains. "My friendships are sweeping, intense, and romantic. You would kill someone for this person — but you also have all these secret resentments, challenges, and jealousies. At my age, no one is married, no one has kids, no one has a career. Everyone is growing and changing so quickly, you think, Are we going to change together or are we going to grow apart?"
As the waiter clears our meal, Dunham stands and offers me a hug. Diners around us are oblivious to her presence; she isn't yet a familiar face. But if her ambition keeps pace with her talent, they will know her soon enough. "Having been around creative people my whole life, one of the marks is that you are never satisfied, even when other people think you should be," she says. "I am so at the beginning of my own education."
Celebrity news, beauty, fashion advice, and fascinating features, delivered straight to your inbox!