MC@Play: The Bond Girl Glass Ceiling
They're gorgeous and glamorous — and can match Bond bullet for bullet. But, as Skyfall hits theaters, Marine Hanel asks: What's holding 007's women back?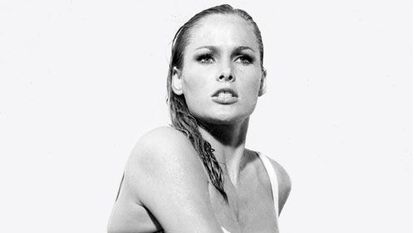 (Image credit: Mary Evans/Eon Productions)
They're gorgeous and glamorous — and can match Bond bullet for bullet. But, as Skyfall hits theaters, Marnie Hanel asks: What's holding 007's women back?
Bond girls are the Barbies of the movie industry. They may be scientists and astronauts, engineers and spies, but Honor Blackman, who played Pussy Galore, has said, "Being referred to as a Bond girl rather implies that you're a bimbo."
There's little room to debate that point. Bond behaves badly toward women. He dismisses one with a slap on the ass when it's time for "man talk" in 1964's Goldfinger. He cons Solitaire into giving up her virginity in 1973's Live and Let Die. He exclaims, "A woman?!" upon meeting a lady Ph.D. named Dr. Holly Goodhead in 1979's Moonraker. Worst of all, when women say "no," he makes out with them anyway, even the lesbian Bond girl. (Ever wonder how Pussy Galore got her name?)
While the women are there for sex — the tagline of 1983's Octopussy is "Nobody does him better" — they're also punished for having it. In the academic journal Sex Roles, a 2009 analysis of the franchise's 195 female characters showed that those who are sexually active are more likely to be beaten up, shot, or killed. Often, they just disappear. New movie? New woman.
Although the franchise actively attempts to revolutionize the Bond girls, it often undercuts its own efforts. In 2006's Casino Royale, based on Ian Fleming's first Bond novel, Vesper Lynd calls out the spy on his misbehavior. She says, "You think of women as disposable pleasures rather than meaningful pursuits." But pointing out sexism isn't the same as correcting it. Just as the thoroughly modern double agent looks like she's going to bring the spy one step forward, Bond takes two huge steps back. When Lynd dies, 007 echoes a line from the 1953 book: "The bitch is dead." Bitch? Seriously, Bond?
The problem with the archetype is that we fall for it. In the documentary Bond Girls Are Forever, Halle Berry recalls watching the first Bond girl, Honey Ryder, step out of the ocean in a sexy white bikini in 1962's Dr. No: "As a little girl, you think about if I could grow up and be like that." Ironically, no one could actually grow up to be Honey Ryder. That's because her body, speaking voice, and singing voice are provided by three different actresses. In 2002, Berry perpetuated the image anyway, wearing a Ryder-esque belted bikini in Die Another Day. It was the same year she won an Oscar for Monster's Ball. As Gloria Steinem once said, "We as women go on playing certain roles even when we have the power to change."
But since Bond girls are 007's accessories, by definition they can never be on equal footing. There's only one way to fix the Bond girl — and that's to make Bond a girl.