Jessica Chastain: Supernova
Jessica Chastain stormed Hollywood last year with a string of daring roles that had everyone taking notice. Now the star of Zero Dark Thirty, one of the year's most controversial and highly anticipated new films, is ready to stake her claim as the actress to beat. Also, be sure to check out all of the photos from our December cover shoot with Jessica, and browse the star's best red carpet moments!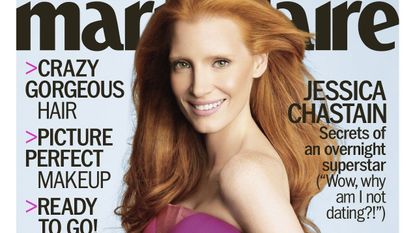 (Image credit: Tesh)
Marie Claire Newsletter
Celebrity news, beauty, fashion advice, and fascinating features, delivered straight to your inbox!
Thank you for signing up to Marie Claire. You will receive a verification email shortly.
There was a problem. Please refresh the page and try again.
There's an awkward moment just as Jessica Chastain and I make our way over to an empty table at a bustling midtown Manhattan café: She catches the eye of a woman across the room and mutters to herself, "I know her." Turns out, the two attended Juilliard together. Chastain, on her lunch break during rehearsals for her Broadway run in The Heiress, weaves around several tables to say hello. As they hug, Chastain asks the woman what she's been up to. She talks of projects here and there. Chastain nods, smiling. And then there is a prolonged pause when the two just stand there, until finally the woman leans in, takes hold of Chastain's arm, and says, "I just want you to know how happy I am for you, for everything that's happened to you." The statement is rife with conflicting feelings — goodwill, envy, longing — and in that instant, I am embarrassed to have witnessed it. Chastain, though, appears visibly moved.
"Everything that's happened to you" seems an apt way to describe the almost divine fluke of timing that catapulted Chastain from the scrappy life of a working actress to the ultra-rarefied ranks of A-lister, all within the span of a single year. In 2011, she appeared in six films — some had wrapped long before but were delayed for one reason or another — including Terrence Malick's critically acclaimed The Tree of Life and box-office breakaway The Help, for which Chastain nabbed an Oscar nod for Best Supporting Actress. ("Someone was teasing me that last year was like the Jessica Chastain Film Festival," she jokes.) The pop! pop! pop! of so many back-to-back movies made her, virtually overnight, the most ubiqui- tous actress no one had ever heard of, a newly minted red-carpet fixture who just a couple of months earlier had been divvying up her earnings in envelopes marked "rent," "groceries," and "laundry." "I didn't have a washer and dryer until two years ago," she says earnestly. "I had to go somewhere and pay with quarters."
Even more astonishing than Chastain's sudden arrival has been her ability to preserve what can only be described as a normal(ish) life in the face of it all. Though she is, without question, one of Hollywood's most sought-after actresses, she pretty much comes and goes as she pleases, minus the hullabaloo of paparazzi long-lenses and looky-loo fans who seem to shadow her contemporaries, like Michelle Williams, her roommate some eight years ago when both appeared in a summer stock production of Chekhov's The Cherry Orchard. ("We became like sisters," Chastain says of that period.)
Chastain is smart enough to know the relative anonymity will be short-lived. This month she stars in the controversial Zero Dark Thirty, about the CIA manhunt for Osama bin Laden, the much-anticipated follow-up by Oscar-winning The Hurt Locker director Kathryn Bigelow. Shrouded in secrecy, production of the film sparked rampant speculation about how much cooperation Bigelow and screenwriter Mark Boal received from the White House. Columbia Pictures even pushed back the release date until after the election to mollify Republicans, who slammed the film as pro-Obama propaganda. Chastain, favored again for an Academy Award nomination, won't even talk about the film. "I got into trouble once because at a party, I told someone I didn't know was a journalist that I was going to India [to film the movie]," she says. "And then I got all these e-mails: 'What did you say anything?!'"
She swears she's not a secretive person by nature, when, in fact, she's guarded about most everything except her movies. She's made a parlor game of her age — yes, actresses still do that — which has been variously reported as anywhere between 30 and 35 (the truth is closer to the latter), and has skillfully kept under wraps the name of her hometown in Northern California, if only because her family — her mom is a chef, her dad a firefighter; she is the eldest of five still lives there and her youngest siblings attend the local high school. "The two of them get to go and have a normal high school experience without people going, 'Oh, your sister is in this movie' or 'Can your sister hook me up with Brad Pitt?'" she explains.
It's easy to imagine Chastain as something of a loner at Juilliard, where she eschewed the typical post-curtain-call carousing so she could hunker down and study. (She attended on a scholarship underwritten by Robin Williams, an alumnus.) "I never wanted to be a movie star. I wanted to be an actor," she says. "I don't really drink, and I've never been to a rave. I used to cut school to read Shakespeare, not to make out in the park."
For the full article, pick up the December issue of Marie Claire when it hits newsstands on November 20.
Celebrity news, beauty, fashion advice, and fascinating features, delivered straight to your inbox!