Lea Michele: Best in Show
Outspoken and fired up, Glee's Lea Michele sets the record straight on everything — rumors of diva behavior and celebrity feuds; her romance with costar Cory Monteith; and her new, smoking-hot style. Listen up, Gleeks: She's no choirgirl. Also, be sure to check out all of the photos from our January cover shoot with Lea, and browse the star's fashion evolution!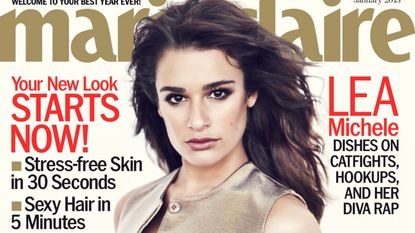 (Image credit: Andreas Sjödin)
Lea Michele didn't arrive in Hollywood overnight, some plucky young ingenue who nailed an audition for an unexpected hit show about, of all things, a high school glee club. She'd already clocked years on Broadway by the time she landed on TV. Just watch the grainy YouTube clips of her transcendent, window-rattling performances in Spring Awakening, the 2006 Tony-winning rock musical that crowned her the next big thing of the Great White Way, replete with stage door groupies and fawning reviewers tossing out comparisons (both because of her prominent nose and impressive pipes) to her idol Barbra Streisand. By the time Michele, now 26, locked up the part of überdriven Rachel Berry on Glee — a role written just for her by creator Ryan Murphy — she was already a star; albeit in theater circles. So when Glee popped and tabloid reports of bitchiness and bad behavior started to fly, Michele was stunned to find the goodwill she'd enjoyed on Broadway in short supply. Hollywood, she quickly realized, was a different animal entirely.
More:
Best Hairstyles & Haircuts for 2015
"I am a very outspoken person, and if something makes me uncomfortable, you will know that it makes me uncomfortable, but that's as far as it goes," she says over pizza and kale salad at Soho House in West Hollywood. "I can assure you that [the diva rumors] aren't real. It's super-frustrating sometimes, and I used to fight back, but now I feel like, You can think what you want about me — that's OK. I have the most amazing fans, friends, and family members who have stood by me, and I know that my cast and crew really enjoy working with me. That's all that matters."
Like it or not, her high-maintenance reputation persists. This past summer the glossies practically licked their lips relaying word of an on-set feud between Michele and Glee guest star Kate Hudson, who is alleged to have called the stint a nightmare — a rumor Michele flatly denies. She says that when Hudson heard what the tabloids were saying, she called Michele and told her, "I just heard about that, and it f**king sucks. I want you to know I think you're amazing." After that, Michele adds, Hudson went "straight to the top of my list because it was so classy of her to take a minute to [address the rumor], even though we both knew it was the biggest piece of crap in the whole world. I told her, 'I love you, and I adore you. Thank you so much for creating a human moment with me.'"
No question, Michele, like her Glee alter ego, savors the spotlight. (Another memorable YouTube clip: cajoling a toothy grin from Jay-Z for her full-throttle rendition of "Don't Rain on My Parade" at the Tonys two years ago.) She's got a mantel full of hardware — including a Grammy and Screen Actors Guild Award (bestowed upon the entire Glee cast) and nominations for an Emmy and two Golden Globes — to prove she belongs there. But the girl can hardly be called a snob. When my cell phone rings in the middle of dinner, Michele freaks when she sees the name Carole Radziwill — a Real Housewives of New York cast member — flash on my screen. (I was Radziwill's editor at a magazine and, later, her roommate in Los Angeles.)
More:
Our Favorite Hair Color Ideas for 2015
"No!" Michele shrieks, her enormous brown eyes growing round as saucers. "OK, this is crazy. Can you please pick up?" Michele, it turns out, is a huge RHONY fan. I hand her the phone, and she gushes, "Carole, don't be embarrassed. I have to say, I think you're the greatest . . . Are you crazy?! It's going to happen. You officially have a stalker." When she hangs up, she immediately texts Glee costar Chris Colfer, her Housewives-viewing buddy, to tell him she's found an "in." Two minutes later, he responds: "You're crazy. Shut up. I am so excited. Cannot wait. Amazing."
It's an endearing window into the star's personal life, which she has managed to keep fairly private despite the media's fixation on her supposed work antics. Born in the Bronx and raised in Tenafly, New Jersey, Michele was discovered at the age of 8, when she accompanied a friend to an audition for a Broadway production of Les Misérables and ended up getting the part herself. Bigger roles followed until she snagged the lead in Spring Awakening. Two years later, she packed it in to follow her costar and "best friend in the entire world" Jonathan Groff to Los Angeles, where he was filming a pilot for Ryan Murphy. The trio had dinner, and Murphy was so taken with Michele that he later penned the character of Rachel wither her in mind. Glee proved a phenomenon and made a celebrity of its star. "It was so much so quickly," she says.
Now, four seasons later, with her character graduated from McKinley High, Michele is looking ahead. She recently landed a campaign with L'Oréal Paris, and she's enthusiastic about its charitable efforts, including Women of Worth, which honors women who give back to their communities. And she's set her eyes on the big screen. "When it comes to Glee, I feel like I've been in a relationship, and now I can mingle a bit," she says, while chewing on a slice of pizza. ("I talk with my mouth full. If I'm not talking while I'm eating, it is not normal for me.") "In five years, I believe the show will be over, and I would hope to be doing movies — regular ones, not just musicals. Film is an itch I have yet to scratch." She name-checks Anne Hathaway and Amy Adams, acclaimed actresses capable of both lighthearted rom-coms and wrenching dramas. "Amy Adams did Junebug and then Enchanted, and Anne Hathaway did Princess Diaries and then Rachel Getting Married. I love women who have [that kind of range]," she says.
For the full article, pick up the January issue of Marie Claire when it hits newsstands on December 18.
Even More:
Get a Virtual Makeover & Try on New Hairstyles!
The Ultimate Quizzes This Year
Real Sex Stories from Real Women
The Best Foundation Guide Ever
2015 Fashion Trends, Styles and Inspiration for Women
Marie Claire email subscribers get intel on fashion and beauty trends, hot-off-the-press celebrity news, and more. Sign up here.