Aubrey Plaza: Working Her Magic
Beware of Aubrey Plaza: The star of the just-released The To Do List might cast a spell on you.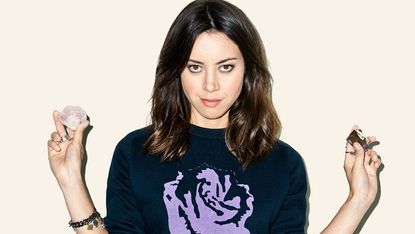 (Image credit: Meredith Jenks)
"Let me start by saying that I'm not a Wiccan. I'm just into dealing with the universe in a different way. I call them spells, but they're not spells in the way people think. I love smoking out negative energy.
One spell I think I did well was when I recently moved into my new house. I came in before the furniture arrived and opened all the windows. I got some sage and crystals, and I clapped in every corner and said, 'this house is going to be full of positive energy.' I swear everyone comments on the energy of the house! And I'm not paying them to say it.
I have a lot of different witchy things that I've collected over the years. I don't have a cauldron, but I have a chalice. That's a good receptacle for mixing things. I have a dagger—but I don't need it that much.
One time I brought a bottle of potion to work and started spraying everyone, saying, 'We need to get some positive, warm love-flow on set so that we can do our job.' I was really going for it. some people didn't like it.
I try not to practice black magic. That's dangerous. I mean, sometimes I catch myself almost cursing someone to the sky, but I stop myself because I know that I'm too powerful. I don't want it to get out of hand." @evilhag
—As told to Marnie Hanel