What's Up, Doc?
Go to ABC.com for more from Private Practice.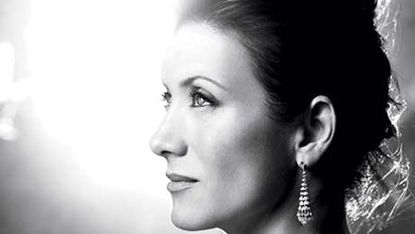 (Image credit: Mark Abrahams)
Kate Walsh has been dancing naked all day. It's a Wednesday in early August, and since 2 p.m. she's been on a closed soundstage at Raleigh Studios in Hollywood, shooting a scene for the first episode of her new series, Private Practice. It's a spin-off of the monster hit Grey's Anatomy, centered on her character, Dr. Addison Montgomery, a neonatal surgeon who has left Seattle's romantic dramas for a clean start in L.A. Fresh from the shower and feeling giddy in her new beach house, Addison rocks out in the raw to the Scissor Sisters' "I Don't Feel Like Dancin'" — until she spies a neighbor spying on her. Turns out he's Dr. Sam Bennett (Taye Diggs), also newly divorced and one of her partners at the hip, holistic Oceanside Wellness Clinic.
Walsh, who turned 40 in October, wasn't utterly nude — along with flesh-tone undies, she wore discreet moleskin patches. But discreet isn't always her style. To surprise Diggs, she stuck a sign on each breast patch, one reading "Help," the other reading "Me."
Mark Tinker, director of episode one, says resolutely that Walsh has what it takes to carry the show. "My dad [TV legend Grant Tinker] was married to Mary Tyler Moore. Kate has every comedic chop Mary had, and she has all the dramatic chops too."
Addison arrived eight episodes into Grey's as a romantic foil, "all black clothes, red lips, and attitude," Walsh remembers with a grin. But Walsh's innate likability spilled over into Addison, and soon viewers were rooting for her. No surprise, then, that of all the characters, she'd be the one awarded her own show. "Everyone was really supportive of me, honestly. There was no resentment — not to my face, anyway." She laughs. "I felt a little guilt, and it's always scary to leave a sure thing. But it was like the trepidation you have when you leave home to go to college: It's absolutely the right next thing to do."
Says Shonda Rhimes, creator and executive producer of both Grey's and Private Practice, "She's like this 1940s movie star, an old-fashioned can-do girl. She can play anything, from the goofiest, 'poison oak on the va-jay-jay' plotline to the most wrenching, 'this baby is going to die.' I discovered I had endless stories to write for her. Grey's is mainly about young people starting their careers. I realized Kate could anchor a show about people 10 years down the line — what happens if they didn't achieve their dreams, or if they did?"
It's a question Walsh herself now faces: Along with leaving a guaranteed hit to launch a series whose success or failure will lie with her, she's getting married three weeks from the day we meet to Alex Young, a co-president of film production at 20th Century Fox. And she's moving — into the Spanish-style hilltop house they bought together, in L.A.'s upscale-funky Los Feliz neighborhood — today.
Is Walsh frazzled or distracted? "No, she's present," says Amy Brenneman, who plays Oceanside's psychiatrist. "She appreciates [this success] for the ride that it is, but doesn't take it too seriously. She's the anti-diva."
Breezing into the lounge at the Regent Beverly Wilshire, where she's staying during the move, Walsh wears a white eyelet baby-doll top, jeans, and sandals, and calls out, "Hello!" from halfway across the room. Addison spends a lot of time clenching her jaw and pursing her lips. In person, Walsh looks friendlier, less angular. Her only makeup is a touch of mascara, and her smooth skin is tanned from a recent trip with her fiancé to Bora Bora. She's a game conversationalist, punctuating her sentences with little "yeahs," like Diane Keaton in Annie Hall.
"Doing everything at once like this, you spread the anxiety around," she says. "Normally, yeah, I would be crazily obsessed about any one of these events, but I don't have the time. I'm good at delegating, though. I don't think you need to spend a year planning a wedding. I went, 'Let's do this now.'"
Walsh describes Young as "superintelligent, supersmart. He's very handsome." Here she actually giggles. "He's got a great heart, he's a true gentleman. And curious. He's interested in life, politics, the world, the planet. Curiosity is a big one for me. It's so easy to be cynical, but it's not how he lives. I've always known I needed someone who lived from his heart. Not a Pollyanna, but someone who, knowing what we know about the world, still chooses to live in faith and curiosity and interest and love. And I'm a person who apologizes, but I've never had to shrink myself around him. I feel completely seen by him, and understood."
They met this past February at an executive meet-and-greet that she'd canceled once. It was set to last for 20 minutes. Two hours later, they were still talking. They moved in together in March and got engaged in May. Young popped the question while they were in San Francisco for a friend's wedding, and gave her a vintage ring with an elegantly honking jubilee-cut diamond. "I wasn't obsessed with marriage," Walsh says. "I'd let that go. I thought, I'm happy, I have a good life, a lot to be grateful for. But then I met him, and I knew unequivocally. Is that strange? I used to want to hit people who said, 'You know when you know.' It made me want to throw up." She laughs. "But I'm the annoying one now."
She attributes her certitude to being a bit older, having lived independently for so long. "We were both solid in our careers, which makes it easier to be available to a real relationship," she says. "And really knowing myself took a while. I didn't have a sense of confidence, a center, until my 30s. That's one of the great things about aging. It's scary and it's hard, but my experience is, I'm more sure of myself than ever."
As for their black-tie church wedding in the small town of Ojai, north of L.A., followed by a reception at a local inn, it was "amazing, incredible, the happiest day of my life so far," Walsh will tell me later. She wore a lace Monique Lhuillier gown with three-quarter-length sleeves that were "sewn to my body"; he wore an Armani tux with a cream-colored tie and vest — "very Gatsby-esque." After the first dance (to "Some Day My Prince Will Come," performed by a friend of Walsh's), guests including Grey's pals Katherine Heigl, Sara Ramirez, Chandra Wilson, and Rhimes danced to '80s tunes deep into the night. "I was crying like a baby most of the day," Walsh says. "I didn't realize how overwhelming it would be — so much love and support coming at me."
For more photos and to read the rest of this article, check out the November issue of Marie Claire — on newsstands now!
Celebrity news, beauty, fashion advice, and fascinating features, delivered straight to your inbox!