Robin Roberts Comes Out in Inspiring Facebook Post
The Good Morning America co-host thanked her girlfriend of a decade.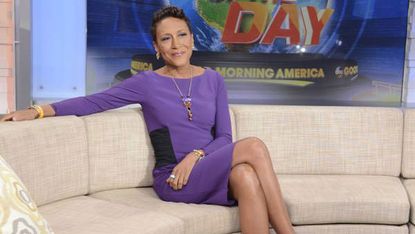 (Image credit: Getty)
Good Morning America co-host Robin Roberts came out over the weekend in an inspiring message posted to her Facebook timeline.
Roberts underwent treatment for MDS, a rare blood and bone marrow disorder, last year. She went on medical leave from the ABC morning show for a number of weeks, and returned to the broadcast in February 2013.
On Sunday, Roberts reached a recovery milestone, celebrating 100 days since her bone marrow transplant. She took to her Facebook wall to thank those who helped her get through what she has described as one of the most difficult experiences in her life.
Roberts wrote:
"Hard to believe this was 1 year ago today..when I reached a critical milestone of 100 days post transplant...and KJ was finally allowed to come back home.
Reading this comforts me and I hope the same for you: 'If you are depressed, you are living in the past. If you are anxious, you are living in the future. If you are at peace, you are living in the present.'
At this moment I am at peace and filled with joy and gratitude.
I am grateful to God, my doctors and nurses for my restored good health.
I am grateful for my sister, Sally-Ann, for being my donor and giving me the gift of life.
I am grateful for my entire family, my long time girlfriend, Amber, and friends as we prepare to celebrate a glorious new year together.
I am grateful for the many prayers and well wishes for my recovery. I return every one of them to you 100 fold.
On this last Sunday of 2013 I encourage you to reflect on what you are grateful for too.
Wishing you a Healthy and Happy New Year.
Peace, love, and blessings to all..XO"
Though Roberts acknowledged her longtime girlfriend, Amber Laign, for the first time publicly in the above post, their relationship has been no secret to the anchor's family, friends, and co-workers. Roberts met the San Francisco-based Laign through a mutual friend 10 years ago.
Roberts is not the first Good Morning America host to publicly acknowledge her sexual orientation. Former GMA weatherman Sam Champion came out in a New York Times article last year. As ABC News did for Champion, the network issued a statement of support in response to Roberts' Facebook post, writing:
"We love Robin and Amber, who we have all known for a long time. We were so touched by Robin's Facebook message today and so thankful for all the loving support she has in her life."
UPDATE 2:30 p.m. -- First Lady Michelle Obama congratulated Robin Roberts for publicly acknowledging her relationship. Check out FLOTUS' tweet below!
[twitter]https://twitter.com/FLOTUS/statuses/417705824417353728[/twitter]
Celebrity news, beauty, fashion advice, and fascinating features, delivered straight to your inbox!