The Dark Horse of Project Runway All Stars: Seth Aaron Henderson
The designer du jour spills the details on winning and taking it all.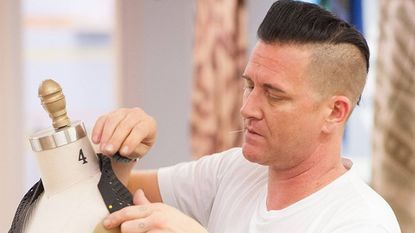 (Image credit: Marie Claire)
Winning only one challenge throughout the entire season, Seth Aaron Henderson brought home the ultimate prize as Project Runway All Stars Season 3 victor and recipient of a package worth almost $1 million. The finale, which aired last week, witnessed Henderson and the other two finalists create a 6-piece collection (with a 7th look added in the 9th hour) inspired by their country of origin for a final runway at the famed United Nations world headquarters. We caught up with the designer du jour to get the scoop on his strategy for winning and taking it all.
Marie Claire: How did All Stars compare to your season of the regular Project Runway (Season 7)?
Seth Aaron Henderson: First time around it was all new and all kind of shocking. This time it was all business. That's why I went there. It was about business.
MC: And what about the other designers, did they affect you at all?
SAH: When you show up for [All Stars] it's different because you look at every single person as competition. There are no weak links. Where in the regular season after the first challenge you're like, 'Okay, well three quarters of these people I'm not going to worry about.' This one I worried about everyone.
MC: Did that change your strategy?
SAH: My final collection – it was already in my head before I even left to do the show. That's what I was doing. Meaning I'm going to go, come out of the gate, show 'em something, then I'm going to go through the weeks and at the end this is what I'm going to do. So I stuck to that plan. I didn't care about winning any of the challenges in between. The last one is the only one that matters.
MC: Touché. Though you did win one of the challenges—the one before the finale, for Milly.
SAH: The Milly one was great. That was fun for me. I know her label well so it was really not a far stretch. I was designing for myself. And I was really excited to contribute to Save the Garment Center.
MC: So the Milly challenge lined up with your strategy: to do your own thing and just get to the finale.
SAH: I design off emotion and things, music. I don't design off objects. When you give me a bug and say 'This is your inspiration,' (opens in new tab) that's not really for me. For those [challenges] I said, 'I'm just going to do whatever and hopefully I make it to the next week.' That was kind of the philosophy. Slow and steady wins the race.
MC: Well, it worked! And last question. It's awards season for Hollywood, with the Golden Globes this past Sunday (opens in new tab), if you could design for any celebrity who would it be?
SAH: Alan Cumming. And Gwyneth Paltrow.
Be sure to catch all the gossip on the Project Runway All Stars Season 3 Reunion Special tonight at 8pm ET on Lifetime (opens in new tab).