Mila Kunis is a Whiskey Girl
And now I am too.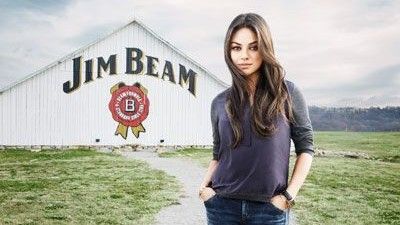 (Image credit: Marie Claire)
Marie Claire Newsletter
Celebrity news, beauty, fashion advice, and fascinating features, delivered straight to your inbox!
Thank you for signing up to Marie Claire. You will receive a verification email shortly.
There was a problem. Please refresh the page and try again.
The wonderful people over at Jim Beam invited us to try their signature cocktails first hand and talk to their new global partner and spokesperson, Mila Kunis (GASP). Though having a one-on-one with the laid back and gorgeous actress would have been enough to get me to hightail it over to Midtown East in the middle of the day, it was just as lovely to hear about the iconic bourbon brand's long lineage and history.
Kunis spent time in Clermont, Kentucky with Jim Beam's seventh generation Master Distiller, Fred Noe, immersing herself in the heritage, traditions, and a whole bunch of bourbon. According to her, she was drunk for two days. Thanks to their new partnership and the homey, warms-you-from-the-inside-out feel of the advertisements, Jim Beam's 'Make History' campaign is going to do just that. And just in case you were wondering, Mila Kunis is just as cool as I had imagined. Below, she dishes on dating advice, secret talents, and tons of guilty pleasures.
Marie Claire: How did you get involved with Jim Beam?
Mila Kunis: I was approached by Jim Beam about a year ago. I wanted to make sure it was a company that was very family orientated—that it didn't feel like you were working for the company, but rather with the company. From the very first day they were super collaborative and so willing to hear any opinion that I had. I went to Kentucky and met with Fred and the rest of the company and it just felt very organic and natural, just a really nice fit.
MC: How would you describe the girl that drinks this whiskey?
MK: Modern, clean, and sexy.
MC: Do you have any guilty pleasures? Food, TV?
MK: Oh, everything! I'm a massive foodie. I think food is a gift of life, one of my goals in life is to eat my way through the world. I'm lactose intolerant and I will still eat ice cream! And as far as TV shows, Real Housewives of Beverly Hills. It's so bad for your brain but I can't stop.
MC: Do you have a favorite item of clothing?
MK: I have this pair of sweatpants from Target. Everybody thinks they're those really fancy sweatpants because I've worn them so much that they are washed out and thin. But they're not. [Laughs]
MC: What's your most recent splurge?
MK: I haven't had any big purchases recently. My favorite thing to splurge on is food, though. I will go anywhere and try anything. I also love watches. I love my black chunky Chanel watch best, only because it was the first watch that I spent a lot of money on. When I bought it I was like 'OMG I can't believe I'm doing this!' and that forever will be my very favorite.
MC: Do you have a beauty routine that you stick to everyday?
MK: I wash my face twice a day regardless of how drunk I am, how sick I am, or how tired I am!
MC: How did you make your first dollar?
MK: I think it was a Barbie commercial when I was 9 years old. Or maybe it was Payless shoes? I have to ask my parents. I got 100 bucks and thought that I was a billionaire! I didn't even do anything with it, I just looked at it.
MC: What do you think you would have done if you weren't an actress?
MK: An elementary school teacher. I like kids and I have patience for kids. Teenagers are much harder. I even apologized to my mom when I was 22 for being such an a**hole as a teenager. God bless my parents!
MC: Do you have any favorite songs that you're listening to right now?
MK: This techno song they play in my spin class all the time. I have to find this for you! I'll play it for you. [Starts playing the song] It's called Animals by Martin Garrix. I obviously love Beyoncé's new album too. It's a cliché because everybody loves her so much but she's amazing.
MC: Do you have a secret talent?
MK: No I have no talent whatsoever. Well actually I love to cook, I can make anything out of anything!
MC: Do you have a favorite childhood memory?
MK: Aw, yeah! I have a lot of good memories, I had such an amazing childhood. My brother was always responsible for me because he's 6 years older than I am. We would play in the neighborhood, and at one point my brother was like, 'We should climb trees!' So we climbed up and I couldn't get down. When I jumped, I got a branch stuck through my calf. Look I still have the scar! I walked home with the branch through my leg and my poor Dad's face. But I wouldn't throw my brother under the bus… I love my brother!
MC: Do you have any dating advice?
MK: Be yourself from the get-go, don't put on any act because you'll get caught. Why false advertise, you know?
Watch Mila take the grand tour and hang with the Jim Beam family. You'll be a whiskey girl in no time.
Of course, I couldn't help taking a selfie.
Follow Hallie Gould on Twitter.
Celebrity news, beauty, fashion advice, and fascinating features, delivered straight to your inbox!
Hallie has worked in beauty editorial for ten years and has been editorial director at Byrdie since 2021. Previously, she was a senior editor at Byrdie since 2016. During her time at Byrdie, she's written hundreds of high-performing stories on skincare, wellness (including fitness, diet, mental health, body image, et al) makeup, and hair. She's a regular on set, helping to source inspiration for makeup and hair looks, as well as interviewing celebrities, models, and other notable women and men in the beauty space.
Before that, Hallie ran Marie Claire's social media and wrote beauty and culture stories for the site, and helped launch Time Inc.'s digital-only beauty brand, MIMI. After college, she contributed to Time Out New York's Shopping & Style section before landing her first beauty editor gig at Hearst's Real Beauty. Hallie's writing has also appeared in ELLE, Cosmopolitan, and InStyle. Hallie graduated with a BA in Communication Arts from the University of Wisconsin-Madison.