Shailene Woodley: This is What Badass Looks Like
She jumped on and off moving trains, scaled a Ferris wheel, and learned martial arts, hand-to-hand combat, and knife-throwing for her action-hero role in Divergent. But the biggest challenge for down-to-earth Shailene Woodley will be facing imminent superstardom. We're not worried.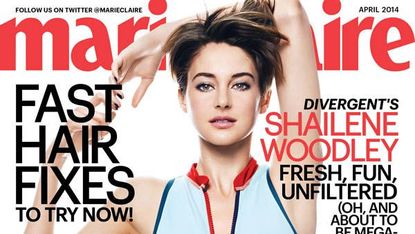 (Image credit: Jan Welters)
It's a week before her 22nd birthday, and Shailene Woodley is living out of a suitcase containing all of her remaining possessions: some old clothes, a few trinkets, crystals and altarpieces to remind her of home, herbal supplements, a jump rope. "I've only been home nine days this year," she says in her room at London's Soho Hotel, "which is sort of what inspired me to get rid of everything."
Woodley has her soaring popularity to blame for this accelerated work rate. Having spent most of her teenage years playing the lead in ABC Family's TV series The Secret Life of the American Teenager, in 2011 she was cast in Alexander Payne's The Descendants and immediately proved what she could do on the big screen. Wise, grumpy, heartbroken, and mesmerizing, she stole the show from none other than costar George Clooney. Since then, she has shot four movies and become the girl everyone wants on the other side of the camera.
To exaggerate the extent to which films are "hotly anticipated" is standard in Hollywood, but in the case of Woodley's next two roles, that sense is genuine and palpable. She has become the screen incarnation of two adored characters from monster-selling young-adult novels. In this month's Divergent, touted as the new Hunger Games, she plays Tris, a girl coming of age in a dystopian regime, too human to fit neatly into just one of its five social factions—Abnegation, Amity, Candor, Dauntless, and Erudite. (The second in Veronica Roth's trilogy, Insurgent, starts filming in May; the third, Allegiant, has yet to get an official release date.) In June's The Fault in Our Stars, based on John Green's book, she portrays Hazel, a teenager who falls in love as she is dying of cancer. The slick mega-explosion of the Divergent franchise, for which Woodley trained in martial arts, hand-to-hand combat, and knife-throwing, is one thing. The implacable, eloquent heartbreak of The Fault in Our Starsis another. That Woodley can do both is, somehow, incrementally incredible.
Those who know Woodley comment on her seemingly infinite capacity for warmth, which is not to say she's soft. In fact, by all accounts, she's pretty tough. Theo James, her costar in Divergent, tells me, "Shai's empowered—she's a strong actress and intuitive. She's not like a 'girl' in the Hollywood sense. Once there was a complex stunt we had to do—running next to this train and jumping on and off. She fell off the train and smacked her head. But she was up five minutes later, going, 'I'm good.'"
Dressed in black leggings, a black tank top, and no makeup, Woodley is like an advertisement for yoga (her preferred form of exercise). She folds herself up effortlessly, like a rare, long-legged bird, and runs a hand through her hair, sheared for The Fault in Our Stars. One day, she says, she'd like to shave it or have a Jean Seberg style: "That would be so badass."
If Gloria Steinem's famous line—"This is what 40 looks like," in response to being told she didn't look 40—changed the way women of that age were perceived, then you could say Woodley has done the same for young adults. Not since the '50s have teenagers been at the forefront of entertainment culture, and Woodley is about to become Hollywood's best symbol of that rite-of-passage phase. "I think there's this big rise right now in giving teenagers the worth that they have," she explains. "For so long they were—and still are—depicted in movies and TV shows as codependent whiners or rich, beautiful, diamond-clad daughters or dumb cheerleader types. But teenagers are so smart. I was probably smarter as a 16-year-old than I am today. There is a zest for life that you have at that age that is so beautiful."
On Shailene: Tommy Hilfiger swimsuit and pants.
Ironically, Woodley has just begun to feel she has definitively left her teenage years behind. "For the first time, I feel like I'm entering my womanhood," she says. "I've decided to take a few months off, just to see who I am as that woman in the world, because I've never been able to experience it outside of this industry."
All this time, Woodley has been boiling water in a kettle and going back and forth to the bathroom, where she has prepared some herbs so we can treat ourselves to a DIY joint facial. She has brought sachets of organic grains, French clay, and kelp, put together by a company called Mountain Rose Herbs, which organized the 2011 Rootstalk Festival ("a celebration of plants, people, and planet") in Oregon, where Woodley met the people who are now her best friends. This is what she loves: herbalism, barefoot running, living in a house in Topanga Canyon (until she gave it to her grandmother). She'd like to live off the grid if she could and raise chickens and sheep.
Woodley is remarkably relaxed about exercise and food (though she's addicted to raw chocolate and makes her own). Unless it's for a yoga class or a 5Rhythms session, she doesn't go to the gym. "My whole life I've been so self-conscious about being skinny. And just recently I don't care anymore. All insecurities are projected because of what you think others are saying about you, but they don't really matter at all. My only real insecurities in high school were having such long legs and thick hair—things I'm so very grateful for now." We put towels on our heads over steaming basins dotted with dried rosebuds and chamomile. "It's funny being in this industry," she continues in a muffled voice under her towel, "because everyone I talk to is like, 'What diet are you on? What thing do you subscribe to?' It's like, 'Dude, diets are not the healthiest things in the world.'" Her calm is all the more remarkable for the fact that she suffers from scoliosis. As a teenager, she had to wear a brace 18 hours a day for two years. "It didn't faze me," she says with a shrug. "I was like, 'Some people have crooked teeth, some people have broken fingers, and I've got a back that—'" she laughs a little—"'has my initial on it.'"
"How do you stay so grounded?" That, according to Woodley, is everyone's favorite question. But she has only to think about the way she was brought up to respond: "There's no choice." Both her parents are psychologists—her mother is a middle school counselor, and her father, a former school principal, is a family therapist. Though they are divorced, they all spend Christmas together with their respective partners. "We're like a big Greek family, but we're not Greek," says Woodley, who was raised with her younger brother, Tanner, in Simi Valley, California.
Her parents' response to an agent's approach when Woodley was 5 was, by her account: "What's an agent? Who are you?" But Woodley, who went to acting classes as a form of day care, was passionate about it. "I loved that it was a challenge. I loved that I got told 'no' 500 times, because it was something I had to work hard at. It was never a competitive thing for me, and it still isn't."
Credits: Dress, price upon request, Leggings, $2,890, Saint Laurent by Hedi Slimane; Sneakers, $47, Vans.
Kate Winslet, who plays the bad guy in Divergent as Erudite faction leader Jeanine Matthews, makes a point of praising Woodley's even-keeled sense of self. "There's an honesty and an openness to her that is really rare in young women of that age, let alone young women in a fast-paced business that can chew you up and spit you out as soon as it's said hello to you. You see young actors and actresses coming up and doing well, and then suddenly they start to unravel a bit and they forget themselves. With Shailene I get the sense that the more she does and the more of the world she sees, the more well-rounded she becomes."
Woodley says she's constantly asked if she feels weird about her newfound career. "In my mind, it's new but not new. I mean, it took 13 years to get a feature film, which was The Descendants. It took 10 years to get a series. Nothing was overnight for me. And I feel very lucky that it was all baby steps, because if I'd seen this side of it before I was an adult, I probably would have been like, 'No, thank you, I'm done.' As a kid I was like, 'I never want to be on magazines. I never want to go to the Oscars.' Now it's easier to rationalize and have fun with it. When I was young, I thought, 'That's not acting!'"
Once we clear our faces of mud and honey, Woodley suggests we go to "this amazing gelato place" down the block. She pulls on black rubber riding boots perfect for the English weather, and we set off. I wonder how she's preparing for the onslaught of public attention bound to hit her. "I don't pay any attention to the fan thing, because I think it's a very strange culture nowadays," she says, suggesting that Twilight tipped that over into something more extreme than it had been before. "People have always been fans of people, but I can't relate to any of these girls or boys who scream. It's idolizing someone you don't know. None of those people know me." Social media exacerbates that "100 percent. It's so much easier to get on with a bunch of people you don't know and to gang up on people you don't know over the Internet. It's such a beautiful gift, but the whole social media thing is…"—Woodley breaks into a whisper—"just a little too weird for me."
We're in Snowflake on Wardour Street now, where the gelato-makers have gotten to know Woodley over the past few days. She opts for pistachio with a scoop of fior di latte and explains that she recently deleted her Instagram account. "Everything I was posting was for a story—like, 'Look how interesting I am'' It felt disgusting to me. It feels as though we're so detached from actual human connection. And I got rid of my phone, too. We're all such narcissists, and that's what social media caters to. Our society conditions us to be our own planets, which is great. Independent thinking is so important. But we expect everyone around us to be our moons."
A couple of months later—after she has been traveling in Italy, gone home to "soak up" her family, and generally checked out of the movie industry for a spell—Woodley calls me from the Sundance Film Festival. The thriller she's showing there, White Bird in a Blizzard, has had mixed reviews and much chatter over her nude scenes. I bring up the rumors that she's dating Shiloh Fernandez, her White Bird costar. "Oh, no, God! Shiloh's my buddy," she replies, laughing. "You take a picture with somebody and all of a sudden you're dating. That's so funny." She knows that this is the kind of gossip that will inevitably attach itself to a beautiful young actress. Woodley repeats what she told me when we met: She's been single for four years. "I just haven't met anyone where I was like, 'Wow, I could definitely see myself spending a season of my life with you.' I don't even know if humans are genetically made to be with one person forever." I ask if she made any New Year's resolutions. "I prefer to call them New Year's evolutions," she replies. "This is the Chinese year of the horse, and I always thought the horse was a very strong, playful creature. So I kind of look at this year as a year to have fun and to exercise your power. Now that I've had all this time not working, I definitely feel I exist in the world with a new set of eyes. I feel very alive right now. More alive than I've ever felt."
Credits: Jacket, price upon request, Bra Top, $1,850, Briefs, $260, Emilio Pucci; Long Gunmetal Ring, $175, Alexis Bittar; Arrow Ring, $3,090, AS29; Star Ring, $1,940, Djula; Sneakers, $995, Giuseppe Zanotti Design; Silver Square Ring, Editor's own.
ON LETTING GO OF NEGATIVE FEELINGS
: "Nothing teaches you that worry is the product of a future we can't guarantee, and guilt is a product of a past that we cannot change."
ON WORKING OUT: "I lost a lot of muscle for The Fault in Our Stars—I lost my butt. I'm used to being athletic, and now I walk up stairs and my legs are aching. I didn't exercise for three months. The one thing I did do was walk. I love it! I try to walk two hours a day."
ON THE DIVERGENT SERIES FILMING SCHEDULE: "I like the idea of knowing that for a few months of the year—for the next few years if the movie does well—I'm going to have an action movie to do, and then all of this free time to do indie films or travel or be a waitress or whatever I want to do."
ON HER FIRST KISS: "I was the latest bloomer there ever was. I was still playing with Barbies at 14 and didn't have my first kiss until 15-and-a-half. He had big, beautiful lips, and I was like, 'I don't know what I'm going to do with those.'"
ON GEORGE CLOONEY: "He's still one of my favorite human beings. The things he talks about in the press, like going to Africa, are about one-thirtieth of the things he does. My mom and George are probably the only two people I've ever met who are truly genuine givers."
ON MILEY CYRUS: "I don't really know anything about twerking. I admire that she's doing what she wants to do. I wasn't really a fan of hers before, and now I'm just so fascinated by her. I love how everyone's throwing a fit about something that isn't their life."
Credits: Top, $2,100, Skirt, $2,600, Céline; Cuffs, $125 each, Alexis Bittar; Shoes, $575, Giuseppe Zanotti Design.
Celebrity news, beauty, fashion advice, and fascinating features, delivered straight to your inbox!