Nicole Kidman Tells It Like It Is
Nicole Kidman realized many years ago that being nearsighted was a blessing in disguise.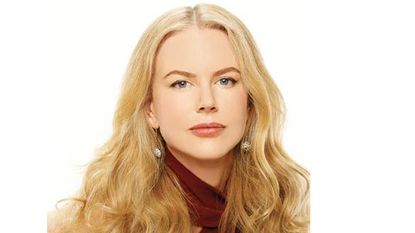 (Image credit: James White)
Nicole Kidman realized many years ago that being nearsighted was a blessing in disguise. Insulated by faulty vision, she was able to shut out gawking strangers and paparazzi. "I never wore glasses except when I had to read a teleprompter at an awards show or drive, so I didn't notice much," she says. "I could exist in my head. It was kind of my escape from the world and my protection."
But today, sitting in the elegantly restored Hermitage Hotel in Nashville, she looks around and marvels at how her perspective, and sight lines, have changed since having LASIK surgery two weeks earlier. "I had a bit of anxiety-it's terrifying," Kidman says. But her husband, Keith Urban, held her hand throughout. She has been delighted by the result. "I was walking around legally blind. Now I have 20-20 vision. I can't believe I spent so many years blurry, but I think that coincides with how I was feeling. Now I notice if people are watching me, but I also smile right back if someone waves, which helps."
Small wonder that Kidman wants to see life clearly now, given what a long, strange year she's just had. First came her joyous church wedding to country-western singer and fellow Aussie Urban, followed several months later by his startling decision to spend three months in intensive treatment for alcohol abuse at the Betty Ford Center. "They say the first year of marriage is the hardest. Please, God," she says, rolling her eyes, and then adds, "He's the most important person in my life, and he says I am for him, and that's where we're at. We won't go more than 12 days apart, ever. The time he went away to rehab was the longest time."
Casually dressed in jeans, a blue knit Alexander McQueen shirt, clunky black shoes, antique diamond rings, and minimal makeup, her tousled hair pulled back, Kidman exudes a smaller-than-life, self-deprecating persona offscreen. She seems fragile-still wounded by the events of recent years (including her 2001 divorce from Tom Cruise) but also hopeful about the future. "People might think that Nic's had it easy, but that's not the case," says her aunt, Margaret Mary Williams, a drug and alcohol counselor. "It doesn't matter how famous you are or what you do, your heart hurts as much as anyone else's heart. Nobody else can do the pain for you, nobody else can grow through something except you. Nic has been able to cope."
Even though Kidman has done hundreds of interviews over the years, talking about her life makes her nervous as she wrestles with what to reveal. When she initially came striding into the hotel bar, it was as if a director had yelled, "Action!" She overcompensated for her shyness by launching headlong into conversation, no small talk, urging me to turn on the tape recorder right away-the equivalent of diving into cold water.
With CNN on in the background featuring a story on Elizabeth Edwards and her metastatic breast cancer, Kidman blurts out that her own mother had breast cancer many years ago. "I was 17. It was a long time ago, but it is still so vivid in my memory, and it formed me," says Kidman, whose mother is now fine. "To be threatened at that age with losing your mother and to see her suffer to such a degree-my heart goes out to Elizabeth Edwards."
Kidman says she feels angry about all the second-guessing and public debate over whether Edwards and her husband are right to continue his campaign for the presidency. "People can tell you what to do, but ultimately, we're all going to die, so how do you want to live?" She then recites a line from her Oscar-winning performance as Virginia Woolf in The Hours, saying, "It's my choice, to choose how to live my life." And it's clear that she is talking not just about Edwards.
Among the landmark events of the past year, Kidman turned 40, a dangerous age for an actress. But she sounds positively gung ho about her middle-age status. "Yippee! I can't believe I made it," she says. "It feels like a long haul to get here. I'm so fine with it. People want you to have some sort of breakdown, but I'm relieved to be 40 years old, and I've lived a life."
She and Urban celebrated both her June 20th birthday and their first anniversary in Australia (they first met in 2005 at a gala dinner in L.A.). With Kidman filming Baz Luhrmann's Australia in her home country from this past April into November and Urban on tour in Europe and North America, the couple is enduring a frequent-flier marriage. After wrapping up Australia, Kidman is scheduled to go directly to Germany for five weeks to star in the film version of the book The Reader. "At Christmastime, I get a few weeks off," she says. "And after that, my husband and I have bought a farm in Tennessee, and we'll lie low. He still has some touring, and I'll be out and about with him, but basically I'll be setting up a new home. It's not too big-maybe we'll add to it as we go along-but right now it's enough for two people."
She gives a teasing laugh, so I can't resist asking whether it's true that they are hoping to have a baby together. "I'd call you if I was pregnant," she quips. "We can do a satellite link to me." Her friend songwriter Carole Bayer Sager confirms, "She wants to have a baby with Keith. I hope that happens."
Kidman is especially sensitive about this topic because of a recent story in

Vanity Fair that garnered international headlines for the revelation that she lost a baby at age 23 while married to Cruise. "It was wrongly reported," she says, by everyone who picked up the story, claiming she'd had a miscarriage, when what she'd had was an ectopic pregnancy. "So it's huge news, and it didn't happen. I had a miscarriage at the end of my marriage, but I had an ectopic pregnancy at the beginning of my marriage. It was incredibly traumatic for me. Sometimes you share your grief." Kidman is hopeful that things will work next time, saying simply, "What will be will be. It's in God's hands."
Over the course of her career, Kidman has immersed herself in a wild array of characters. Like any savvy actress with options, she alternates between big-budget studio movies and quirky quality indies. She currently has two movies out that demonstrate her versatility: Margot at the Wedding, a fractured-family ensemble directed by Noah Baumbach (The Squid and the Whale) in which she plays a woman squabbling with her sister, and The Golden Compass, based on the best-selling children's book, where she's the baddie.
"If Nicole feels safe, she'll give everything," says Baumbach. "I just stood back and let her go." Her character in Margot literally finds herself up a tree at one point during the film, unable to get down. "There was so much anxiety about the tree," he says. "People thought maybe we should use a double. Not only did she get up there, but she sat up there all day."
Kidman had to go to New York City to dub some dialogue for another movie, and the producers sent a helicopter to fetch her in the Hamptons. Liz Himelstein, Kidman's dialect coach and pal, recalls, "We got into the helicopter and got up into the sky, and Nicole took my hand and said, 'Can you believe this life? Let's savor this moment!'" Indeed, she's taken none of it for granted. Says the director of The Golden Compass, Chris Weitz, "I never had the sense that she was slumming, that she was doing a silly science-fiction movie. Nicole was taking a character"-which he describes as "the Darth Vader of our trilogy"-"very seriously and treating her like a person." Similarly, says Nora Ephron, who directed Kidman in Bewitched, "She kills herself for you. All the obvious things that you might think about her-that she's an ice princess and unapproachable-are just not true. She's extremely funny, extremely giggly, a fantastic girlfriend to her girlfriends."
And yet for all the blessings of her career, Kidman says she realizes she has used her work as a crutch-"an escape," as she puts it. "I'm not willing to do that now. I have to face up to my own life rather than hiding in somebody else's and expressing myself through somebody else." Although there are critics who question whether she can, well, express herself these days. Ever since her appearance at the Academy Awards this past year, there has been persistent buzz over whether Kidman is overly Botoxed. Up close, Kidman's face is quite expressive, her laugh lines evident when she smiles.
I ask whether the stories upset her. "I actually don't read them," she says. "To be honest, I am completely natural. I have nothing in my face or anything. I wear sunscreen, and I don't smoke. I take care of myself. And I'm very proud to say that."
So she hasn't used Botox? "No," she replies, exasperated. "Anybody can do anything to themselves, their bodies. I have no judgment on it. I personally believe in physical health because of the way I was raised. I can't go in the sun; I'm fair-skinned. That was a nightmare when I was a kid, but it has some benefits now. It's that simple. I still had one skin cancer on my leg, because I put my legs in the sun." Rather than obsess about wrinkles, she stresses that she is more concerned about people with real problems. "I've got a friend who has very bad rheumatoid arthritis; I've got a friend battling throat cancer; my sister has just gone through a divorce."
To read the rest of this article check out the December issue of Marie Claire - on newsstands now!
Marie Claire email subscribers get intel on fashion and beauty trends, hot-off-the-press celebrity news, and more. Sign up here.