An Ode to Ben Affleck Looking Miserable at the Grammys
Ben was...not having a good time.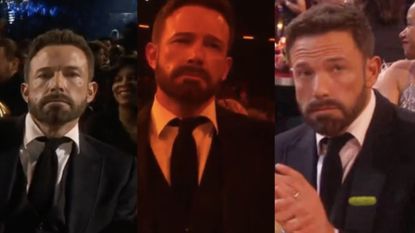 (Image credit: CBS)
Ben Affleck has always been an expressive man. Who can forget his iconic and much-memed smoking-and-sighing photo, or his childlike delight whenever he hits up a Dunkin' Donuts, or the Sad Affleck meme? Well, it brings me no joy to announce that we have a new Sad Affleck moment from the 2023 Grammys—actually, multiple moments, and I'm lying, it brings me a lot of joy, because Ben Affleck is every person who's ever been dragged to a six-hour work event by his spouse.
I mean, this man is just straight-up Not Having a Good Time.
CBS caught several moments where Affleck looked like he'd rather be anywhere, anywhere in the world, that wasn't the Grammys:
"However bad of a day you're having, I promise you're not as miserable as Ben Affleck at the Grammys right now," wrote journalist Spencer Althouse, alongside a very convincing video. "someone get ben affleck a cigarette and a dunkin coffee stat," wrote journalist Ilana Kaplan. "Ben Affleck is every introvert everywhere. You can see his batteries draining in real time. Man is already at 23%," determined @amsi81.
Here's hoping he enjoys the Oscars more, I guess?
Celebrity news, beauty, fashion advice, and fascinating features, delivered straight to your inbox!