Princess Beatrice Through the Years: A Complete History
Coming soon: Princess Beatrice's headwear through the ages.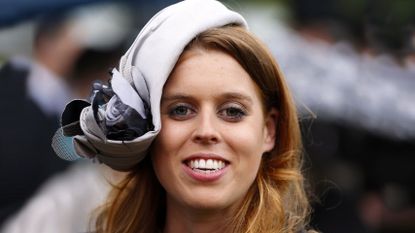 (Image credit: Getty Images/WPA Pool)
Princess Beatrice of York, the oldest daughter of Prince Andrew and Fergie, may not get much of the Royal Family spotlight (unless it's about her gravity-defying fascinator choices), but she deserves more. The Queen's granddaughter, Bea is eighth in line to the throne, and the second woman in line after Princess Charlotte. The royal is a major Patron of the Teenage Cancer Trust, in addition to several other charities. She regularly attends fashion shows, Royal Ascot races, and ski trips, and wears some frankly baffling headwear (as one does, if related to the Queen). In honor of her royal wedding in July of 2020, see her best, most Beatrice-y moments, ahead.
1/43
1989
The shape and type of animal Princess Beatrice, born August 8, 1988, is holding here is unclear—though quirky and strangely charming. Just like Beatrice's hats. Oops, we said it in the first slide. (Here she is with her mother, Sarah, Duchess of York.)
2/43
1989
A rustic version of a royal carriage. The driver? Prince William.
3/43
1990
They see me rolling. With an egg head.
4/43
1991
The silver balloon, the gingham skirt, the butterfly shades, the ice cream cone that Beatrice cannot fit into her mouth—this photo is happiness.
5/43
1997
Fanny pack, tiny reflective sunglasses, retro one-piece? 2018, is that you?
6/43
1998
How to match your outfits (with younger sister, Eugenie), issue 001.
7/43
1998
Beatrice and Eugenie, matching, issue 002.
8/43
1998
Issue 003. 1998, the year of matching clothes, shoes, hairbands, and... gestures? Tip: if you want to differentiate yourself, add a ruffled sock.
9/43
2000
Excited to be getting dropped off for your first day of high school (at St. George's School in Ascot, Berkshire) by the Duke and Duchess of York? Me too, Beatrice.
10/43
2003
At the Royal Easter Church Service, Princess Beatrice debuts the first of many daring hats. They're like structural riddles, begging us to understand how they stay on her head.
11/43
2003
At the Royal Easter Church Service, Princess Beatrice debuts the first of many daring hats. They're like structural riddles, begging us to understand how they stay on her head.
12/43
2004
I want to relive the 2000s through Princess Beatrice, starting with this ensemble at the Stella Artois tennis championships.
13/43
2005
We are so glad this hat isn't blocking our view of Prince William. Hi, Prince William.
14/43
15/43
2006
Here's Beatrice with English soccer player Theo Walcott. Do we think she's attempting to throw up the backwards peace sign? (Y/N)
16/43
2007
At the Christmas Day service on the Sandringham Estate in Norfolk, Beatrice seems to be re-wearing the same hat from 2003. Again, it challenges our understanding of gravity.
17/43
2007
Beatrice with Sarah, Duchess of York, at the Fashion for Relief fashion show during London Fashion Week. Mother-daughter catwalk.
18/43
2009
At the Royal Ascot races in Berkshire, gravity begins to take its toll on the hat that challenged it.
19/43
2009
Again, an artistic masterpiece debuts at the Royal Ascot.
20/43
2010
Princess Beatrice whips out a pink handheld camera (oh, 2010, how times were simpler) to film Sir Richard Branson's attempt to kite surf across the English Channel.
21/43
2010
Her then-boyfriend, Dave Clark, was on Branson's kite surf team. The attempt was a celebration of Branson's 60th birthday, but they gave up after weather got in their way.
22/43
2010
Royal Ascot hats: charming, quirky, and structured. They're a royal family of their own.
23/43
2010
Princess Beatrice was the first member of the Royal Family to complete the London Marathon, running as part of Team Caterpillar—which supported a number of charities. This fact is on Beatrice's official Royal bio!
24/43
2011
A hat, that seems to be...also wearing a hat.
25/43
2011
Flowers on flowers on flowers; until Prince Andrew gets poked in the eye when Beatrice turns her head.
26/43
2011
Beatrice and Eugenie famously attend their cousin Prince William's wedding to Kate Middleton. Why do these outfits remind us of District One in the Hunger Games?
27/43
2012
Beatrice holds the Olympic flame during the Olympic Torch Relay—London Summer Olympics, 2012.
28/43
2012
Sports! Question: Who is Beatrice excitedly waving to at the London Olympic Games? Could it be her boyfriend, Dave?
29/43
2012
Answer: Nope it's her cousin Harry, who returns the wave! So wholesome, so 2012.
30/43
2012
The hat-dress color (colour?) coordination here is almost as good as the sister-sister outfit coordinations of 1998.
31/43
2014
Relationship check-in: At this point on the Beatrice-timeline, she and boyfriend Dave Clark are still going strong. They broke up after 10 years of dating, however, in 2016.
32/43
2014
When you don't know anyone at the party.
33/43
2015
Beatrice stepping out for dinner in a structured, patterned dress and striped loafers.
34/43
2015
"I'm going to pretend to know what he's talking about."
35/43
2016
Say "hats" 20 times fast.
36/43
2017
The two sisters look chiiic in florals, next to florals. It's called a theme, look it up.
37/43
2018
Beatrice's dashing outfit for Harry and Meghan's wedding this May. This time, her choice of headwear was MUCH subtler.
38/43
2018
Taking "curtsy when the Queen comes" to a whole other level—literally—at the Royal Ascot 2018.
39/43
2018
Introducing Beatrice's new film, "How to Make an Elevator Your Runway: Part 1."
40/43
2018
Part 2.: Fake laugh. Carefully grip the edge so you don't fall.
41/43
2018
Part 3. Shoulders up, look down, step off, the world is yours.
42/43
2018
*Goes to the U.N. building in NYC once* "How soon can I get out of this country?"
43/43
2018
We love you, Beatrice. Hats and all.
Celebrity news, beauty, fashion advice, and fascinating features, delivered straight to your inbox!
Zoe is a contributing writer at MarieClaire.com; she covers celebrity and news. She loves sneakers and nicely organized bookshelves.