Princess Eugenie and Beatrice Brought Their Hat A-Game to Trooping the Colour
After their subtlety at Meghan and Harry's wedding, we weren't sure what to expect.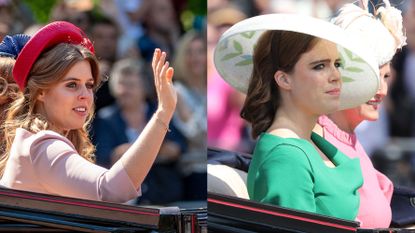 (Image credit: Getty Images)
Princess Eugenie and Beatrice have officially earned back their title as The Most Extra Royals with their hat game at today's Trooping the Colour festivities. After the princesses showed up to Meghan and Harry's wedding in uncharacteristically low-key hats last month, we were unsure what they'd gravitate towards today—but their standout headpieces are back, folks!
Eugenie and Beatrice arrived at the Queen's birthday celebration wearing their usual statement-making hats. Beatrice kept things relatively low-key with a smaller pink hat, but Eugenie went all-in in a white, wide-brimmed hat with a leaf pattern. The Duchess of Cambridge, surprisingly, outdid them both with a tall, floral baby blue hat that matched her simple-cut baby blue dress. But much like the monarch's reasoning for wearing bright colors, their hats won't go unnoticed in the massive crowd.
The princess' hats are giving us ultimate throwback vibes to the hats from the Duke and Duchess of Cambridge's wedding—Eugenie and Beatrice arrived in the craziest (and coolest, tbh) fascinators of all time.
Here's to the return of the real Eugenie and Beatrice—we've missed you!
RELATED STORIES
Ruby was the beauty editor at Cosmopolitan, where she covered beauty across print and digital. Her work has appeared on The Zoe Report, Fashionista, and StyleCaster. Follow her on Instagram.