Editors handpick every product that we feature. We may earn commission from the links on this page.
Celebrities Who Opened Up About Their Infertility Struggles
"I'm a good person, and I could give someone the greatest life of all, but yet I can't get pregnant."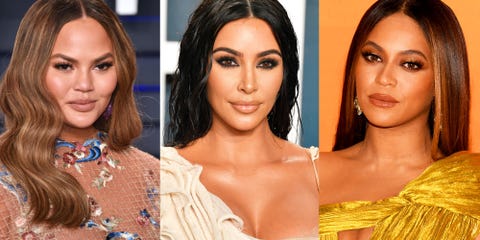 Millions of people struggle with infertility each year, including some of your favorite celebrities. According to the Centers for Disease Control and Prevention, about 10 percent of the female population (around 6.1 million women) between ages 15-44 are struggling to get pregnant. Infertility has several causes, including age, endometriosis, and tubal occlusion. (It's even a common occurrence in men, too.) There are other options to help bring a baby into the world, for those who are privileged to receive it, like in vitro fertilization (IVF), a gestational surrogate, adopting, and freezing your eggs.
To make the conversation less taboo, Hollywood A-listers from Anne Hathaway to Angela Bassett to Chrissy Teigen to Kim Kardashian-West have spoken out about their experiences with infertility. Discussing the topic allows more women to understand that they aren't alone, and normalizes the concept that everyone's journey to becoming pregnant is different. Ahead, 40 celebrities who opened up about their fertility struggles.
This content is created and maintained by a third party, and imported onto this page to help users provide their email addresses. You may be able to find more information about this and similar content at piano.io