Prince Charles' Life in Photos
We're taking look back at the Prince of Wales' best moments through the years.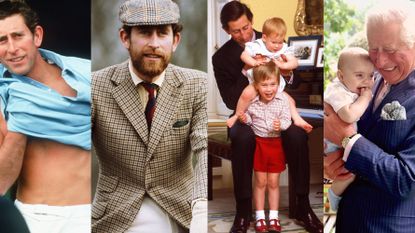 (Image credit: Getty Images)
Charles, Prince of Wales, has led an extraordinary life as a royal. We've watched the 71-year-old heir to the throne journey from his childhood years to career milestones, marriages, and many travels around the world. Charles has served in the Royal Air Force and Royal Navy, holds great interest in architecture, and carries out hundreds of engagements each year. Aside from his royal duties, the eldest child of Queen Elizabeth II is also known as a family man—most notably as husband to Camilla; father to Princes William and Harry; and grandfather to Prince George, Princess Charlotte, Prince Louis, and baby Archie. Click through as we take a look back at some of his most memorable and important life moments in photos.
1/71
1948
A sleeping Charles is held by his mom, Queen Elizabeth II, at just one month old. The Prince was born on November 14, 1948, at Buckingham Palace.
2/71
1949
Posing with his mother, Queen Elizabeth II, for a portrait.
3/71
1951
Walking hand in hand with his father, Prince Philip, at the London airport upon the family's return from Malta.
4/71
1953
Posing for a photo as a toddler at Balmoral Castle in Scotland.
5/71
1954
Prince Charles smiles cheekily as he peeks out the window of a cottage in Windsor.
6/71
1955
Prince Charles in a kilt on the grounds of the Balmoral Estate.
7/71
1968
Prince Charles and Princess Anne watching the annual games at the Braemar Royal Highland gathering.
8/71
1968
Playing a game of cricket against a team of Grand Prix race car drivers.
9/71
1969
Prince Charles in his chambers at the University of Cambridge.
10/71
1969
At his formal investiture ceremony as Prince of Wales at Caernarfon Castle.
11/71
1969
Kneeling before Queen Elizabeth II as she crowns him Prince of Wales at the investiture with a gold crown.
12/71
1969
Taking his younger brother, Prince Edward, on a go-kart ride on the grounds of Windsor Castle.
13/71
1970
Watching a tennis match from the stands at the Wimbledon Lawn Tennis Championships.
14/71
1971
On a four-day safari in Ngare Ndare Forest Reserve in Kenya.
15/71
1974
Changing his clothes at Windsor Great Park.
16/71
1975
Prince Charles is photographed after a game of polo.
17/71
1975
With Princess Elizabeth of Yugoslavia at Smith's Lawn in Windsor.
18/71
1975
Chatting with a crowd of Canadian well-wishers at Parliament Hill in Ottawa.
19/71
1976
Prince Charles flaunts a beard at the Badminton Horse Trials.
20/71
1978
Standing with Jane Ward at Smith's Lawn Polo Grounds in Windsor before a match.
21/71
1979
Enjoying himself while fishing.
22/71
1980
During a stop on a three-day trek through the foothills of the Himalayas in Nepal.
23/71
1981
At an official photo-call to announce his engagement to Diana Spencer at Buckingham Palace.
24/71
1981
With his wife, Princess Diana, on the balcony of Buckingham Palace on their wedding day.
25/71
1981
Kissing his bride's hand just after saying "I do."
26/71
1981
Posing for a portrait at Lake Manapouri in New Zealand.
27/71
1982
Prince Charles and Princess Diana leaving the Lindo Wing of St Mary's Hospital with their newborn son, Prince William.
28/71
1982
Celebrating the christening of Prince William at Buckingham Palace.
29/71
1983
Enjoying playtime with Prince William while in New Zealand.
30/71
1983
Prince Charles, Princess Diana, and Prince William (holding a toy koala) pose for a family photo at Kensington Palace.
31/71
1984
Charles holds William's hand as they arrive at St Mary's Hospital to visit Princess Diana and newborn Prince Harry.
32/71
1985
Giving his mom a big kiss on the hand after she presented him with a prize at a polo match in Windsor.
33/71
1985
Charles poses with his two sons, Harry and William, for a portrait at Kensington Palace.
34/71
1985
At home with a young Prince Harry.
35/71
1986
Sketching in the gardens of Omiya Palace during his tour of Japan.
36/71
1986
Prince Charles, Princess Diana, Prince William, and Prince Harry smile for a family photo in Kensington Palace.
37/71
1992
Arriving in Seoul, South Korea, for a royal visit.
38/71
1994
At Ginkel Heide in Arnhem, Netherlands.
39/71
1996
Exploring the Merv archaeological site in Turkmenistan.
40/71
1997
Prince William, Prince Charles, and Prince Harry pose for a photo at their holiday home, Balmoral, in Scotland.
41/71
1997
Attending King Harald and Queen Sonja's birthday celebrations in Norway.
42/71
2002
With Prince William on the ski slopes in Klosters, Switzerland.
43/71
2005
At his wedding to Camilla Parker Bowles at Windsor Castle.
44/71
2008
Posing for an official portrait in honor of his 60th birthday.
45/71
2009
Kissing his mother's hand after she presents him with the Royal Horticultural Society's Victoria Medal of Honour at the Chelsea Flower Show in London.
46/71
2011
Standing in front of an Apache helicopter with Prince Harry during their visit to the Apache Conversion Course.
47/71
2013
Sharing a laugh with his wife, Camilla, Duchess of Cornwall, at the Royal Ascot.
48/71
2014
Laughing with Prince Harry during the opening ceremony of the Invictus Games in London.
49/71
2014
Posing in front of the Edzná archeological site in Campeche, Mexico.
50/71
2015
Arriving in a carriage to the first day of the Royal Ascot at Ascot Racecourse.
51/71
2015
Giggling with Camilla at the Orokonui Ecosanctuary in Dunedin, New Zealand.
52/71
2016
Visiting the Grand Mosque on their first day of a royal tour of the United Arab Emirates.
53/71
2018
Prince Charles holding baby Prince Louis.
54/71
2018
Walking Meghan Markle down the aisle at St George's Chapel during her wedding to his son Prince Harry.
55/71
2018
A heartwarming family portrait, including his sons, Prince William and Prince Harry, and their wives, Kate Middleton and Meghan Markle.
56/71
2018
Talking to Camilla at the reopening of The Strand Hall in Wales.
57/71
2018
On the balcony of Buckingham Palace to watch a flypast to mark the centenary of the Royal Air Force.
58/71
2018
Greeting dancers at Christiansborg Castle in Accra, Ghana.
59/71
2019
Prince Charles laughs with Camilla, Duchess of Cornwall.
60/71
2019
Prince Charles prepares a mojito during the first royal visit to Cuba.
61/71
2019
Stroking a blue iguana named Peter at the Royal Botanic Park.
62/71
2019
Princes Charles and Camilla attend a reception at the house of the Governor-General on the Caribbean island of Nevis.
63/71
2019
Prince Charles and Camilla attend the reopening of Hillsborough Castle in Belfast, Northern Ireland.
64/71
2019
Prince Charles wears a traditional Nepalese Mala garland as he visits the Sir John Moore Barracks in Folkestone, England.
65/71
2019
Prince Charles poses for a photo at the British Embassy in Tokyo, Japan.
66/71
2019
Prince Charles visits the Gurudwara Bangla Sahib in New Delhi, India.
67/71
2019
Prince Charles and Camilla attend a reception during their visit to the Waitangi Treaty Grounds in Waitangi, New Zealand.
68/71
2019
Queen Elizabeth II and Prince Charles are seated for the state opening of parliament at the Houses of Parliament in London, England.
69/71
2019
Prince Charles poses for a group photo with dancers following his public ocean event at Lawson Tama Stadium in Honiara, Guadalcanal Island, Solomon Islands.
70/71
2019
Prince Charles attends the official Commissioning Ceremony of the aircraft carrier HMS Prince of Wales at Her Majesty's Naval Base in Portsmouth, England.
71/71
2020
Prince Charles and Duchess Camilla prepare to board a new electric double decker bus at Clarence House.
Marie Claire email subscribers get intel on fashion and beauty trends, hot-off-the-press celebrity news, and more. Sign up here.
Jennifer Algoo is the Visuals Director at Harper's BAZAAR. She is a graduate of the School of Visual Arts and has previously worked at Patrick McMullan Co. as well as completing internships at Martha Stewart Weddings, Vogue and CosmoGirl! Magazine. Jennifer covers royal, celeb and art content as well as overseeing all visual assets on BAZAAR.com. When she's not obsessing over the royals you can find her attempting to solve cold cases as an armchair detective, traveling and experimenting with new recipes.