Jacqueline Kennedy Onassis's Extraordinary Life in Photos
We're taking a look back on the life of an American icon.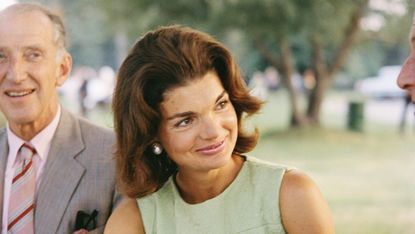 (Image credit: Michael Ochs Archives)
When Jaqueline Bouvier married John F. Kennedy in 1953, she became the other half of a society couple that was envied and idolized the world over. Soft-spoken and supremely stylish, Jackie first earned international fame as her husband's reluctant companion on the campaign trail. The two brought youth and optimism to the White House, but it was images of the First Lady and her young children bidding farewell to JFK after his tragic assassination that cemented the Kennedy legacy in history, making them iconic political and public figures for years to come. Beyond her life as a Kennedy, Jackie reinvented herself in her second marriage to Aristotle Onassis in 1968, and later embarked on her second chapter as a book editor (opens in new tab) in New York.

Now, more than 25 years after she passed away from Non-Hodgkin's lymphoma at age 64, we're taking a look back on the remarkable life of Jaqueline Kennedy Onassis.
1/99
1934
A young Jaqueline Kennedy (née Bouvier), leading a pony at a Southampton horse show.
2/99
1948
Jackie, the daughter of a wealthy New York Stock Broker, at 18 posing for Vogue magazine.
3/99
4/99
1953
Jackie and her fiancée, John F. Kennedy, play tennis at his family's home in Hyannis Port, MA.
5/99
1953
John and Jackie Kennedy at their wedding in Newport, Rhode Island.
6/99
1953
Jackie wears her ivory silk wedding gown with a portrait neckline and a ruffled bouffant skirt, which was designed by custom New York City dressmaker Ann Lowe.
7/99
1954
JFK says goodbye to Jackie as she leaves their Washington D.C. townhouse to attend classes at the Georgetown University Foreign Service School. The newlyweds relocated to the nation's capitol for John's term as senator.
8/99
1955
Jackie poses with her sister, Lee.
9/99
1956
Five Kennedy women—Jackie, Patricia Lawford, Ethel Kennedy, Eunice Shriver, and Jean Kennedy—attend a party.
10/99
1958
JFK and Jackie relax at home with their first child, Caroline.
11/99
1959
Jackie Kennedy at the April in Paris ball in New York City.
12/99
1960
Jackie and her husband wave to crowds in Massachusetts during the beginning of his presidential campaign.
13/99
1960
Jackie, dressed for summer in a gingham print dress and pearls, relaxes with husband JFK and daughter Caroline.
14/99
1960
Jackie hosts reporters and editors for an interview over high tea at their Georgetown home during JFK's campaign in 1960.
15/99
1960
Jackie on the campaign trail for her husband Jack's presidential run.
16/99
1960
Jackie scrapbooks newspaper clippings with her young daughter, Caroline, while her husband is on the presidential campaign trail.
17/99
1960
Jackie joins her husband on-stage in Hyannis Port, Massachusetts the day after he was announced as the President-elect. The future First Lady was nine months pregnant with their son, John F. Kennedy Jr.
18/99
1960
Jackie with her newborn son, John F. Kennedy Jr., at his christening in Georgetown.
19/99
1961
Jackie Kennedy stands along side her husband at his inauguration.
20/99
1961
On the evening of President Kennedy's inauguration, he and Jacqueline Kennedy arrive at the inaugural ball at the National Guard Armory in Washington D.C.
21/99
1961
Jackie and JFK on Air Force One as they arrive in Latin America.
22/99
1961
Jackie Kennedy wears her signature pillbox hat while attending an event as First Lady.
23/99
1961
Jackie Kennedy and Queen Elizabeth pose for photos during an American state visit to Buckingham Palace. The event was the first time an American president dined at the Palace since 1918 and was even depicted on Season 2 of The Crown. (opens in new tab)
24/99
1961
The First Family arriving at the White House.
25/99
1961
Jackie tours the Theater of Epidaurus on a visit to Greece.
26/99
1961
Shortly after moving into the White House, Jackie embarked on a complete restoration (opens in new tab) of the historic residence. Here, during a meeting of the White House restoration project, Jackie moves two antique footstools dating all the way back to the Teddy Roosevelt presidency.
27/99
1961
Jackie departs Buckingham Palace while on a private visit to London for her niece, Anna Christina Radziwill's christening.
28/99
29/99
1961
Jackie Kennedy looks stunning in a white taffeta column evening gown for a state reception in Ottawa, Canada in 1961.
30/99
1962
Jackie Kennedy hosts NBC News at the White House to discuss the original plans of the Kennedy Center (formerly known as the National Cultural Center).
31/99
1962
John F. Kennedy Jr. is seen playing with his mother's pearls.
32/99
1962
Jackie stuns in a pale pink strapless gown as she and the President greet guests for an official dinner at the White House.
33/99
1962
The First Lady watches the America's Cup Race in Newport, Rhode Island.
34/99
1962
Jackie Kennedy poses in front of the Taj Mahal on a visit to India.
35/99
1962
Jackie sits in a classroom while visiting daughter Caroline's school.
36/99
1962
JFK and Jackie spend the day sailing in Newport, Rhode Island during America's Cup.
37/99
1962
Jackie and her children on horseback in Glen Ora, the Kennedy Estate in Middleburg, Virginia.
38/99
1962
Jackie arrives to a U.S. State Department fashion show dressed in a classic cream tweed skirt suit, pearls, white gloves, and pillbox cap.
39/99
1962
The First Lady dressed casually while strolling with Marella Agnelli during a vacation on the Amalfi coast.
40/99
1962
The Kennedys with Jackie's sister Lee and her husband, Prince Stanislas Radziwill, and their children at the White House.
41/99
1963
The First Family attend Mass in Palm Beach on Easter Sunday, shortly after announcing that Jackie was pregnant.
42/99
1963
A pregnant Jackie aboard a yacht in August 1963. Shortly thereafter, she would prematurely go into labor and give birth to a baby boy, Patrick, who tragically passed away at just a few days old.
43/99
1963
On the day President Kennedy was assassinated, Jackie arrived at the Dallas airport wearing a pink Chanel suit (opens in new tab). Despite the bloodstains covering it, she wore it when Vice President Lyndon Johnson was sworn in as President.
44/99
1963
Jacqueline Kennedy holds the hands of her children, Caroline and JFK Jr., at the funeral of her husband, President Kennedy.
45/99
1963
Jackie moved out of the White House after her husband's death. The widow and her two small children stayed at a friend's residence in Georgetown before she bought a home of her own nearby. Here, Jackie leaves her new home with her sister, Lee Radziwill, and her decorators before moving in.
46/99
1964
Jackie Kennedy greets well-wishers in Washington D.C. following the assassination of her husband.
47/99
1964
The former First Lady appeared in a television special about her late husband on what would have been his 47th birthday. Here she arrives in Hyannis Port ahead of her appearance.
48/99
1965
Jackie arrives with Ted Kennedy and his wife Joan to meet Pope Paul VI.
49/99
1965
Jackie attends the dedication of a memorial to her late husband in Surrey, England.
50/99
1965
Jackie and her sister Princess Lee Radziwill take their children and dogs for a walk, surrounded by security, in London.
51/99
1965
Jackie and her daughter Caroline enjoy themselves on a family ski trip.
52/99
1965
The former First Lady attends a private audience with Pope Paul VI at the Vatican.
53/99
1966
Jackie Kennedy wears a white lace Mantillas while at a bullfight in Seville, Spain with the Duchess of Alba.
54/99
1966
Jackie composes herself as she arrives at her younger sister's London home in 1966. She looked stylish in a white tattersall plaid coat.
55/99
1966
Jackie and her son, John Jr. walk through a Florida airport.
56/99
1967
While visiting Cambodia in 1967, Jackie is presented with silver finger bowls by the Cambodian Prince Sihanouk. She wore a green one-shoulder evening gown and white elbow-length gloves for the occasion.
57/99
1967
The Kennedys take a horse-back ride while visiting Ireland during a summer holiday.
58/99
1967
Jackie stylishly dressed in a long-sleeve gown and gold bejeweled belt at the Metropolitan Opera in Lincoln Center.
59/99
1968
Jackie, her children, and the Radziwills visit the grave site of Robert F. Kennedy, her brother-in law, who was assassinated while running for President.
60/99
1968
The former First Lady looks chic in a camel trench coat and her iconic dark sunglasses while out and about in Paris.
61/99
1968
Jackie visits her sister Lee at her horse farm, Turville Grange, in the English countryside.
62/99
1968
On the day before her wedding to Aristotle Onassis, Jackie Kennedy and her children walk around Skorpios Island in Greece.
63/99
1968
For her wedding to Greek magnate Aristotle Onassis, Jackie opted for a knee length pleated and lace Valentino dress (opens in new tab) and a simple white hair bow.
64/99
1968
Jacqueline Kennedy Onassis on vacation in Greece.
65/99
1969
Jackie and her second husband Aristotle Onassis celebrate their first wedding anniversary at the Neraida nightclub in Greece.
66/99
67/99
1970
As one of the most recognizable figures in the world, Jackie O attempts to go incognito in large sunglasses and a headscarf.
68/99
1970
Arriving for dinner with husband Aristotle at the restaurant La Cote Basque in New York City.
69/99
1970
Jackie and her sister Lee are spotted following a performance at the Alvin Theater in New York.
70/99
1970
Jackie O makes her way through London's Heathrow Airport in a stylish ensemble.
71/99
1970
Jackie on a bike ride in New York's Central Park.
72/99
1970
Jackie, a life-long equestrian, wears riding gear while at a horse show with her family.
73/99
1970
Jackie out with her second husband, Aristotle Onassis, in New York City.
74/99
1970
Jackie and her sister, Lee Radziwill, take their children on a shopping trip in Capri, Italy.
75/99
1970
Jackie O smiles onboard a boat off of Skorpios in Greece.
76/99
1971
Jackie Kennedy Onassis is photographed by Ron Galella as she walks in her Upper East Side neighborhood in New York.
77/99
1972
Jackie and her sister Lee at a party with Norman Mailer (far right).
78/99
1973
Jackie and her children on vacation in the South of France.
79/99
1973
Arriving for dinner at the 21 Club in New York City.
80/99
1974
Aristotle Onassis and Jackie relax on a boat while cruising down the Nile River.
81/99
1975
Jackie Onassis and her children Caroline and John F. Kennedy Jr. attend the funeral of her second husband, Aristotle Onassis.
82/99
1976
Photographed with the New York City skyline behind her as she sails through New York Harbor from Staten Island.
83/99
1976
Jackie arrives at the Metropolitan Opera House.
84/99
1976
Jackie Onassis arrives for an event with Tom Guinzburg for whom she worked as an editor at Viking Press.
85/99
1976
Wearing her signature over-sized sunglasses and a striped shirt at the annual RFK Pro-Celebrity tennis tournament.
86/99
1976
Attending the Metropolitan Museum of Art's 'Glory of Russian Costume' Exhibit.
87/99
1977
Jacqueline and her friend Henry Geldzahler in New York City.
88/99
1977
Jackie Kennedy Onassis in her office at Viking Press where she worked as an editor during her third act.
89/99
1977
Jackie and her children, John and Caroline, attend the groundbreaking ceremony of the John Fitzgerald Kennedy Presidential Library and Museum in Boston.
90/99
1979
Attending the Costume Institute Gala a the Met celebrating 'Fashions of the Hapsburg Era.'
91/99
1980
Jackie leaves a fundraiser for her brother-in-law Ted Kennedy's presidential campaign.
92/99
1981
Seen walking in New York City.
93/99
1984
Attending a social event in New York City.
94/99
1986
Jacqueline Onassis with brother-in-law Ted Kennedy at her daughter Caroline's wedding in Hyannis Port.
95/99
1989
With her children Caroline and John F. Kennedy Jr.
96/99
1992
Jackie leaves a polling location after showing her support for the democratic candidate, Robert Abrams, in the 1992 New York state Senate race.
97/99
98/99
1993
Democratic President, Bill Clinton, chats with JFK Jr. and Jaqueline Kennedy Onassis at the opening of the John F. Kennedy Library in Boston.
99/99
1994
Jackie and Templesman sit on a bench in Central Park only a few months before her death from non-Hodgkin's lymphoma in May 1994.