Priyanka Chopra on That Super-Buzzy 'Quantico' Sex Scene (Plus, Her Secret for Flawless Skin)
The Bollywood actress is taking over Hollywood—and we're completely on board.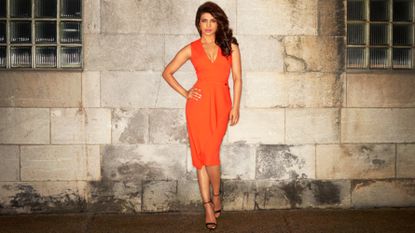 (Image credit: ABC)
Priyanka Chopra is the first South Asian actress to headline an American drama on ABC's new hit Quantico, and she's doing it on her terms. We spoke to the Bollywood superstar about crossing over to Hollywood, her feelings on cultural appropriation, and—of course—her beauty tricks. Because let's be honest, skin care = everything.
Marie Claire: How do you feel about making American TV history with your role?
Priyanka Chopra: If you look around you, the girl next door has changed. People from different backgrounds are coming forth and becoming mainstream, doing mainstream jobs, and standing up for their rights. And I think that's what's showing in entertainment today.
MC: A lot of Indian publications are making a huge deal about your sex scene—which, to be honest, is pretty PG compared to other TV shows (cough, Game of Thrones). Do you feel like American TV allows you to break a few rules?
PC: No! One of the big reasons I did this deal with ABC/Disney was because they only allow a certain amount of violence and sexuality. So it's pretty much how it is in Hindi shows today. I think the big deal was made out of how bold my character was. I guess that was important to the writers, to prove a point that Alex is a woman who's empowered and unapologetic about who she is, and liberated in every possible way. Even later, she talks about it the way she wants to, she has nothing to hide. You don't really see bold characters like that, unapologetic characters like that for women. It's usually the men. It's very cool for me to be able to tell a story like that and not be pressured into being extremely risqué. Of course, those scenes are awkward and it's always strange, but I'm happy to be in a situation where I've been understood about what I'm comfortable with.
MC: ABC's Nightline mistook you for Indian actress Yukta Mookhey. The incident was resolved, but do you feel like it's symptomatic of the fact that there's so little Indian representation in the U.S.?
PC: People make mistakes, and I'm not saying it was all right—I'm really glad that ABC and Nightline corrected the mistake. But you know what, I think it's all about education. I'd rather not focus on less representation of South Asians in television. I'd rather focus on the fact that there is representation of South Asians, and more and more coming along. I'd rather focus on that changing demographic and changing times rather than harping on about the fact that there isn't any. We spend too much time as people thinking about what we don't have instead of actually making a change, and we just need to make that change now because we're being giving the opportunity. Like Viola Davis said, without opportunity, you can't do anything. But we're getting opportunities now, and I think it's time to stand up and recognize them.
MC: How do you feel about the appropriation of Indian beauty trends? Do you see fashion's use of henna and bindis as an homage, or is it eye-roll-inducing for you?
PC: I just don't want it to be the only things India is known for, but I'm extremely proud of it. Dude, I love bindis. I wear bindis all the time, whenever I can actually—even when my stylist doesn't want me to. But that's not all we are, and I think India needs to be known for being an extremely global country. Sixty-five percent of Indians are under the age of 35. We're extremely young and have the potential to be anything that we want to be. I think India's always been seen as this incredible land far away. But living in the world today, which has become such a small place, I don't think it's that far. People need to discover India for all the glory that we come with.
MC: Speaking of beauty, can you let us in on some of your skin care secrets? You glow!
PC: As soon as I get on the plane, I instantly drink orange juice and lots of water, and moisturize my hands, feet and face. Then when I wake up about 20 minutes before I land, there's this magic mask that I use: SK-II. It's amazing. It's instant hydration.
MC: What's your biggest beauty secret?
PC: Take off your makeup at night, no matter what happens—you have to cleanse and moisturize. No matter how late you come back home, no matter what your state of being is, you have to cleanse and moisturize.
MC: What star would you totally fan-girl over if you met?
PC: I've never been starstruck really, but I always get a little bit starstruck around Amitabh Bachchan, who's a legendary Indian actor. I get a little weak-kneed around him. And maybe Madonna. I think she's someone who has always innovated herself, been ahead of times. Dude, how can you look like that at that age? It's insane.
Check out Priyanka Chopra in Quantico, Sunday nights at 10 pm ET on ABC.
Follow Marie Claire on Instagram for the latest celeb news, pretty pics, funny stuff, and an insider POV.
Mehera Bonner is a celebrity and entertainment news writer who enjoys Bravo and Antiques Roadshow with equal enthusiasm. She was previously entertainment editor at Marie Claire and has covered pop culture for over a decade.