Margot Robbie Felt 'Self-Conscious' Playing Barbie, Says Director Greta Gerwig
Set visitors would stare at the actress during production.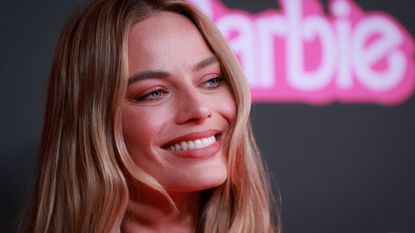 (Image credit: Getty)
It's not always easing living in Barbieland! Margot Robbie continues to make headlines ahead of the live-action Barbie premiere. This time, it's director Greta Gerwig sharing behind-the-scenes info about what the A-lister was like during filming.
"How Barbie operates in Barbieland is she's entirely continuous with her environment," Gerwig explained in a new interview with Rolling Stone. "Even the houses have no walls, because you never need to hide because there's nothing to be ashamed of or embarrassed of. And suddenly finding yourself in the real world and wishing you could hide, that's the essence of being human."
Robbie and Ryan Gosling star as Barbie and Ken, respectively, in the film. Due to their high profile and the movie's buzz, shooting on location created a bit of a spectacle. Gerwig continued, "When we were actually shooting on Venice Beach, with Margot and Ryan in neon rollerblading outfits, it was fascinating because it was actually happening in front of us."
The director explained that fans would treat Robbie differently than her male co-star. "People would go by Ryan, high-five him, and say, 'Awesome, Ryan, you look great!' And they wouldn't actually say anything to Margot," Gerwig said. "They'd just look at her. It was just surreal. In that moment, she did feel self-conscious. And as the director, I wanted to protect her. But I also knew that the scene we were shooting had to be the scene where she felt exposed. And she was exposed, both as a celebrity and as a lady."
Barbie hits theaters on July 21.
Celebrity news, beauty, fashion advice, and fascinating features, delivered straight to your inbox!
Paulina is the Weekend Editor at Cosmopolitan.com. When she isn't covering celeb and pop culture news, she can be found listening to Taylor Swift, watching a teen drama (One Tree Hill is her favorite), or perfecting her skincare routine.