Train: 15 Years and Counting
Train: 15 Years and Counting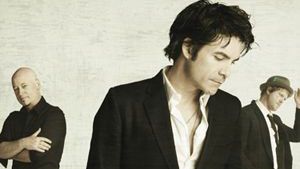 (Image credit: Train/Columbia Records)
Marie Claire Newsletter
Celebrity news, beauty, fashion advice, and fascinating features, delivered straight to your inbox!
Thank you for signing up to Marie Claire. You will receive a verification email shortly.
There was a problem. Please refresh the page and try again.
They've sold millions of records worldwide, achieved the ever-coveted Grammy for award-winning song "Drops of Jupiter (Tell Me)" and have ridden to the top of the Billboard charts for notable singles including "Meet Virginia" and "Calling All Angels." In October, Train released their fifth album, Save Me, San Francisco. Stronger than ever and bringing it back to their roots, Save Me, San Francisco is bound to acquire similar success. First single off the album, "Hey, Soul Sister" is already climbing the charts and is a hit amid fans young and old.
I spoke with guitarist Jimmy Stafford about the band's success. He filled me in on Train's latest release, embracing the Internet and a younger fan base and the reasons behind their longevity.
"We love this band. Pat, Scott and I have been together for 15 years now. We're like brothers. We created this band and it's our lives," Stafford said. On Save Me, San Francisco, Train showcases their versatility as a band. Whether it's the sexy "Breakfast In Bed" or their homage to where it all began on the title track, after 15 years together Train continue to make their mark on the music scene.
Train had a three-year hiatus before recording Save Me, San Francisco. Did taking time off help with the writing process?
I think it helped with a lot of things. We were pounding pretty hard for 10 years just going from album and then tour, right back into another album and another tour. I think we all needed a break. Sometimes you need to take a step back to realize what you've got. I think we did that. We all went and did our own thing for a few years. And, I think by doing that we all realized what we have here and what this band means to us and to our fans. We came back re-energized and feeling stronger about this than ever before.
Tell me about latest single, "Hey, Soul Sister."
Pat [Monahan] wrote that with a couple other guys. He's always heard of Burning Man. Somewhere in the Californian desert, they do it every year. It's this whole city in the desert that gets built for a festival that happens every year. They build a huge man out of wood and at the end of the festival they burn it. Pat had never been to Burning Man, but he had an image in his head of what it must be like: all these beautiful women dancing around the fire. That was the imagery he conjured up when he was writing the lyrics to "Hey, Soul Sister."
Are there any songs you've written over the years that hold more meaning to you now than when first written?
There's a song off our first album called "I Am." It was probably one of the first songs we ever wrote together as band and it just seemed like a nice, cool song at the time. We don't play it live every night, maybe once out of every 30 shows do we do that song. Every time we play it, as I get older and have spent more years with this band, the lyrics in that song, "Am I the son I think I am/Am I the man I think I want to be," there are some really nice lyrics. I find myself being a little introspective when we play that song.
In a previous interview Pat talked about the album and said the lyrics in many of the songs are, "about love in every way you can think about it." Do you have to be in love to write a love song? Does a song come out better when you've experienced it yourself?
I don't think you have to be in love. As a matter of fact, I think probably some of the best love songs are breakup songs, songs that were written when people were going through really hard times in their life. Pat just happens to be in a really good, happy place in his life and it makes for some very positive songs with positive messages. I think it's a good thing. We've always been a hopeful sort of band. Our lyrics always had a bit of hope into them.
It's funny, Pat is the type of lyricist that writes lyrics that might mean something to him, and they might mean something completely different to you and me. His lyrics are very open to interpretation. I'll be playing a song every night live and I'll think it means whatever I think it means to me and then Pat will tell me what it's about and I'll be like, "Really? You just ruined it for me!"
The music industry has changed since you began. Bands can talk directly to fans on Twitter; have their music featured in TV shows. Would it have been easier if Train came out today?
I think it is easier in a lot of ways for people to reach out to a bigger fan base through MySpace and Facebook and Twitter. It's been weird a little bit, being in the middle of that. We were a band before all that stuff was around and have had to adjust and crossover into that world. If you don't change with the times you're going to get left behind.
We're much more in touch with our fans than we were five years ago. It seems to be getting us a wider age range as well. It seems like a lot more kids, and I don't know if it's just the nature of the new single "Hey, Soul Sister." I'm sure it's partly that and partly that kids are computer savvy these days. Everybody's on MySpace and Facebook and if you're not you're not really hip as a band. You've got to be there. It's just too big of a deal and there are too many people that can be reached through the Internet. I think it's a really good, positive thing for us, and for new up-and-coming bands. You have to take advantage of that.
What is the reason to Train's longevity?
We just love doing what we do. We love this band and we love each other. Pat, Scott and I have been together for 15 years now. We all have the same goals and we want this band to succeed. It's all about the music. We enjoy the music that we play, we love recording it and we love going out and playing it live. As long as our fans love it and keep coming out to see us play live, I don't see why we'd ever stop. We're really fortunate to be able to do this, to do something that we love to do and have other people love it too. We just keep stretching; we keep trying to grow as human beings, as musicians and as songwriters. People get the positive message that we're trying to put out there and it has kept us around.
Annie Reuter is a freelance writer and music blogger who covers concerts and music festivals around the country. In constant pursuit of the next show to attend and band to interview, Annie keeps up her own music blog, You Sing, I Write, where you can read more on the latest up-and-coming bands.
Celebrity news, beauty, fashion advice, and fascinating features, delivered straight to your inbox!