MC @ PLAY: Janelle Monae
As her new album, The Electric Lady, hits, the R&B star talks about her humble roots, soulful sound, and the inspiration behind her tuxedo wardrobe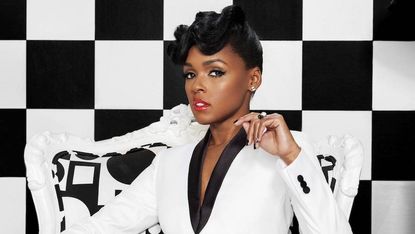 (Image credit: Archive)
MARIE CLAIRE: When did you realize you wanted to become a musician?

JANELLE MONÁE: Creating and being an artist and musician is part of my DNA. I don't remember a time when I had a choice to be anything else—you have that calling. You feel it inside of you.
MC: In what ways did growing up in Kansas influence who you are today?

JM: It's kept me very grounded. I grew up in a working-class family. My mom and dad wore uniforms, whether they were janitors or post-office employees. They worked hard to make sure we had clothes on our backs and food in our mouths. I never, ever want to forget them, so I always wear my uniform—a jacket and pants in black-and-white—to pay homage to them and to remind myself I have work to do.
MC: How have you arrived at your R&B sound?

JM: My family is very musically inclined. Both sides have a very unique style. One is kind of classically trained, and the other is more raw/soul/James Brown. I think that's why I can do a "Smile" or "Sincerely, Jane," then go to a "Tightrope" or "Cold War." I see the soul in a lot of genres, and I take the soul of that genre and I put it in me.
MC: What do you want your audience to take away from this record?

JM: I want people to aspire to be electric ladies. I want to continue to tell universal stories in unforgettable ways—stories that can enrich our lives and lift us when we're down and bring us wings when we're weak. I'm inspired to write music for those who need it most—the oppressed who feel like they're living check to check and will never get out of the system. I write to uplift the underdogs. @janellemonae