Music Spotlight: From Idol to Striking GOLD
The love story that sparked an album.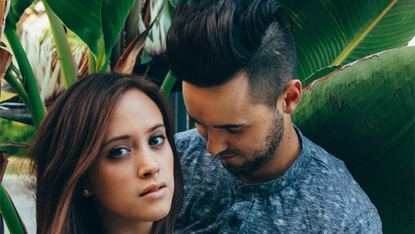 (Image credit: Archives)
Marie Claire Newsletter
Celebrity news, beauty, fashion advice, and fascinating features, delivered straight to your inbox!
Thank you for signing up to Marie Claire. You will receive a verification email shortly.
There was a problem. Please refresh the page and try again.
Rare is a fairytale-esq romance for real, even rarer is a love story that begins with some lyrics and ends in an EP. Yet that is exactly what happened to former American Idol Hollywood finalist Kelly Bachran (now Brier) and her delicious husband and co-performer Cameron Brier when they created GOLD. In GOLD's first album we find alluring notes of seduction performed with a raw purity that makes us nostalgic for own storybook romance. With their new single "What If" as the soundtrack to our behind the cover shoot video this month and a second EP due out by year's end, these two artists are making year 2 of marriage seem, well, sexy.
Marie Claire: So wait, you didn't even plan on auditioning for Idol [Season 9] until the morning of?
Kelly Brier: I was living with my best friend at the time and she told me, "If you ever decide to go [auditon], I will drop everything and I will go with you." So I knocked on her door in the morning and I was like, "So the craziest thing is we're going to get on a plane today and go to Denver and audition for American Idol." And she was like, "Oh my gosh, I'm in! Let's do it."
MC: And then you showed up at the Broncos stadium 24 hours later and onto Hollywood after that! Was it is scary to audition in front of the judges?
KB: It was terrifying! I could be singing and performing all my life but when you get in front of Simon Cowell, who can easily rip you to shreds in two seconds, you're going to be terrified. There's nothing in your life that can prepare you for that.
MC: For sure. And it was your Idol experience that got you to move to LA and ultimately meet Cameron? Tell me about that.
KB: We met 3 and 1/2 years ago at a birthday party at a bar. We met at a bar. I don't know who meets their spouse in a bar anymore, but it happened. He had just moved to Los Angeles and he was like, "I'm a singer, songwriter, producer. We should totally write music together." And I was like, "Eh, OK. I don't really write songs but you're cute. You can have my number." And then we got married a year later.
MC: Amazing! And so the songs that became your first album, Cameron wrote for you when you were dating?
KB: Right when we were falling in love. So it was all really sweet love songs. Like the song "More," he had written that at 2 o'clock in the morning and sent it to me via email. And I was like, "If you never buy me flowers for your entire life and you just keep writing me songs we're going to be good."
MC: Love "More!" It's so romantic. As are all of your songs. But your latest tracks are a bit rougher, not as light?
KB: Ya. The first EP is the innocence of falling in love and it's sweet and dancey. And the second EP—it's sounding a little sexier.
MC: And on your playlist?
KB: Kimbra- "Posse"
Chelsea Lankes- "Ghost"
GoNorthToGoSouth- "Turn It Up"
Justin Timberlake- "Take Back the Night"
Michael Jackson- "Remember the Time"
Katy Perry- "International Smile"
Lorde- "Buzzcut Season"
Haim- "If I Could Chance Your Mind"
Mayer Hawthorne- "Her Favorite Song"
Pharrell Williams- "Brand New"
Robyn- "Hang With Me"
Sara Bareilles- "Once Upon Another Time"
GOLD- "On To Me"
Celebrity news, beauty, fashion advice, and fascinating features, delivered straight to your inbox!