Mary J. Blige Concert Gives Women a Second Chance
Jennifer Hudson and Christina Aguilera helped support the R&B singer's charity, FFAWN, with some serious showstoppers.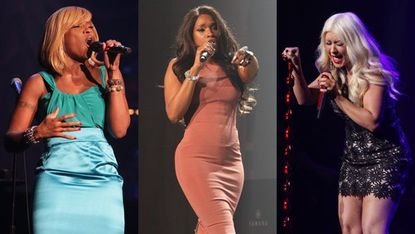 (Image credit: Courtesy of Belvedere)
As a woman, when you've got Jennifer Hudson (looking hotter than ever) singing "I'm Every Woman" at the top of her well-tuned lungs, it's hard not to feel inspired.
That was basically the gist of last night's Mary J. Blige Honors Concert, the second annual event to raise funds for the nine-time Grammy winner's personal charity, FFAWN (The Foundation for the Advancement of Women Now), which is dedicated to helping women overcome their personal difficulties — whether it's being a single parent or not being able to afford a college education — to reach their full potential.
The event, held in New York City's Hammerstein Ballroom and hosted by American royal Queen Latifah, included a bow from a handful of the 25 girls who received full college scholarships from FFAWN.
It also included some amazing female-friendly performances hand-selected to "make us feel we can do anything in life," Blige said. Case in point? Christina Aguilera's soulful rendition of her hit, "Beautiful." Corrine Bailey Rae, Jill Scott, and Jennifer Hudson all got the guests (including Marie Claire cover girl Dianna Agron!) on their feet as they sipped Belvedere cocktails — the FFoenix Sparkler and the Diva FFizz drinks were made just for the occasion — and munched on chocolate truffles.
The highlight of the night, however, was when Blige — dressed in head-to-toe Gucci, a major FFAWN supporter — sang a duet with her personal idol, Anita Baker.
The two sang "Caught Up in the Rapture," a song that Blige recorded in a mall in White Plains, New York. She was a 17-year-old high school dropout who didn't think she had a chance.
"Music is a gigantic part of the healing process, yet there's more…" Blige said recently. "I want the young women of FFAWN to become educated and be able to have choices. I don't want the women of FFAWN to just have a job. I want them to have a career."
To find out more about the organization and how you can help, visit FFAWN.org.
Celebrity news, beauty, fashion advice, and fascinating features, delivered straight to your inbox!