Your Election Season Playlist from President Obama's DJ
DJ Adam 12 reveals the inspiring songs he plays to "Barack the Vote."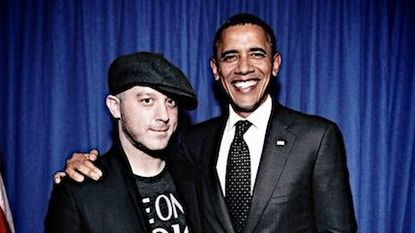 (Image credit: Marie Claire)
Having trouble getting into the electoral spirit?
With the Republican National Convention already feeling like a distant memory in the 24-hour news cycle of cable TV and high-speed internet, and with the Democratic National Convention now upon us, we could use a little political pick-me-up.
Naturally, we turned to DJ Adam 12, the man who works tirelessly as President Barack Obama's disc jockey.
Adam, who underwent a thorough Secret Service-enforced background check after being scouted at a party, got the gig because he "figured out a way to play the newest songs out there, classics by Stevie Wonder and James Brown and underground hip-hop artists."
He has since spun for POTUS at "Ba-Rack the Vote" fundraisers, concerts and galas in prep for his second presidential campaign. "My mother was extremely impressed," he says about his start. Now, he's hand-picked the top 10 songs he plays to help get the leader of the free world nodding his head and tapping his feet — along with the rest of the populace. Here, his picks:
1. "Hypnotize" - Notorious B.I.G.
2. "Respect" - Aretha Franklin
3. "Green Onions" - Booker T & the MGs
"While snooping around as to what music to play at the campaign events, I heard this is one of Barack's favorite songs," says Adam. "It's always a crowd favorite and always works in any room, any party, every time. One of the greatest soul classics of all time."
4. "Don't Stop 'til You Get Enough" - Michael Jackson
5. "As" - Stevie Wonder
"The President is a huge Stevie fan," he says. "It's one of those rare songs that accomplishes a number of different things: It puts a smile on everyone's face, it makes people want to dance, and it has such a positive, meaningful message."
6. "Got to Give It Up" - Marvin Gaye
7. "I Just Wanna Love U (Give It 2 Me)" - Jay-Z
8. "The Weight" - Aretha Franklin
"I know he loves this song," Adam says.
9. "All This Love That I'm Giving" - Gwen McCrae
10. "Let's Stay Together" - Al Green
"Not only one of the greatest songs ever written, it's another top selection of his," Adam says. "And after hearing the President of the United States sing at the Apollo, it makes it a no-brainer."
Celebrity news, beauty, fashion advice, and fascinating features, delivered straight to your inbox!