Need to Meet: HAIM
Marie Claire catches up with festival sensation and band of sisters (literally) Haim at Governors Ball in New York City.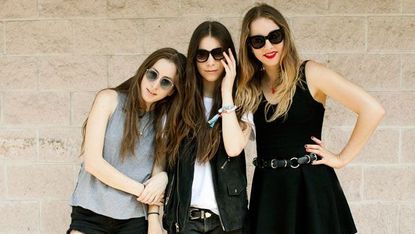 (Image credit: Kathryn Wirsing)
Marie Claire Newsletter
Celebrity news, beauty, fashion advice, and fascinating features, delivered straight to your inbox!
Thank you for signing up to Marie Claire. You will receive a verification email shortly.
There was a problem. Please refresh the page and try again.
If you're hoping to check out one (relatively) new band while you're out on the festival circuit this summer, it should, without a doubt, be Haim. Composed of three sisters from the San Fernando Valley in California, Haim blew us away when we caught their set at the Governors Ball in New York City last week. The girls put on a wild show — whether Alana's banging on keyboards and drums, Danielle's wailing on the electric guitar, or Este's charming the audience with a wry joke, they commanded our attention until the second they stopped playing.
We recently sat down with the sisters — who've performed in a family band since they were babies — and it turns out that their cool-as-hell stage presence is also reflective of their spunky personalities. After chatting about everything from their first showcase at South by Southwest to their Livejournal days and writing emo poetry, it was pretty much inevitable that we walked away with a giant girl-crush — three, actually. Read on for the highlights of Haim's conversation with MC, and watch the video for their single "Falling," one of our favorite tunes of the summer, below!
On how they started their band:
Alana Haim: A lot of people think that we're a brand new band and we're overnight sensations – we're not sensations!
Este Haim: We just started writing songs together, and we liked doing it together so much that it just became this repetitive thing — after a couple months of doing that, we had a few songs that we felt like we could show our friends. We were like, "how are we going to them? We might as well just play a show."
On their musical crushes:
Alana Haim: We were doing an interview for the Sweet Life festival and we were talking about food, 'cause that's my favorite subject in the world, and A$AP Rocky walked in. First of all, when you see A$AP for the first time, he takes your breath away. He's such a babe — he's actually the hottest dude I've ever seen. And on top of that, he's also the nicest dude, so normal. Then we saw him in New York a few months later and he was like, "you guys should sing on my record." Literally that night we went to Times Square and we got to sing background on his new album.
On female artists they look up to:
Alana Haim: The Spice Girls. I never realized how badass the Spice Girls were. For all the scantily clad clothing they wore, they were f*cking badass. Then there was Destiny's Child and TLC, so many good ones.
Este Haim: I loved Aaliyah a lot. I learned all the dance moves to "Are You That Somebody" because I would request it on The Box, and I'd wait for it to come on so I could learn the dance. The Box was the best TV show.
On how to start going after your dreams:
Este Haim: Write as much as possible.
Danielle Haim: Really work on your craft and be really hard on yourself. That's one thing that Julian Casablancas [of The Strokes] taught me. Everything you write, really be critical of yourself, like, if you would like it. That was a big thing for us — once I was like, 'would I like our band?', that's when we had to work a little harder.
Este Haim: You have to be hard on yourself, but also take chances.
On being a woman in a male-dominated field:
Alana Haim: Don't be scared. Especially being a woman, it's really f*cking hard to do what you want to do — there's definitely a lot of walls you hit just being a girl. I feel like we're lucky cause we have each other, and if something gets us down, I always go to my sisters. I'm so lucky; Danielle and Este are my best friends. If anything ever happens, I always go to them; I can't even imagine being alone and be trying to do what you want to do.
On working with your family:
Este Haim: It's nice to feel like you have a gang, so no one f*cks with you. Or they try to, and then they don't. Blood's thicker than mud, that's what my parents always say. It's true.
Celebrity news, beauty, fashion advice, and fascinating features, delivered straight to your inbox!