Odette Annable Is Your New Need-to-Know Star and She's Playing Your New Favorite Feminist
"Don't count women out. We're smart. We're efficient. We do it all."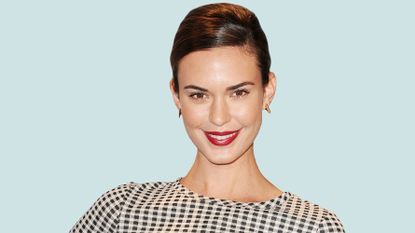 (Image credit: Archives)
ABC's latest mini-series The Astronaut Wives Club gives new meaning to the phrase "behind every good man is an even greater woman." The show profiles the resilient wives of the first astronauts as they become American royalty and work to maintain the image of their families and husbands. Odette Annable plays Trudy Cooper, the badass feminist leader of the group—a woman who always speaks her mind and impacts the women in truly powerful ways. Odette sat down with us and gave an inside look at the importance of the show and how it's a step in the right direction for women everywhere.
"Well, the thing about it is that these women have been in the shadows for so long. You know the story about these American heroes, but you don't really know what their lives were like back home. NASA always wanted these family men with model marriages. That's what they wanted to present. This story really shares about how the women stood together and worked to have a united front for these men but they have so many other things going on in their lives. They're really the first reality stars of America and having to navigate the press, the pressure at home, having to keep the family alive, and the children all while not knowing if your husband was going to come back is a really terrifying thing. These women were so brave."
"The ultimate feminist. She really was this modern thinker. She was way ahead of her time. She believed in women and she believed we should stand up for our goals and our dreams—why should the men have everything and the women not be able to do what they want to do? Not just bake apple pies at home and take care of the family. She really has other dreams and aspirations."
"Whenever she stands up for women's rights the women would sort of laugh it off and say, 'Oh, Trudy. Oh, Trudy.' It was really important to her and it was important that she have her own voice. I love seeing that throughout the show because towards the end you can see the way that her opinions start to make an impact on the women, which I believe is so powerful. I look up to that so much because that's how I am as a woman and that's one of the things that I really related to when I read Trudy's story."
"Well, she's a firecracker. If you ask my husband [actor Dave Annable] he'll say the same thing about me. Just in the way that she really voiced her opinions—I can really relate to that because I never hold back. She didn't let herself get pigeonholed, and that's how I am. I always say, you know, 'Why not me?'—it's taken me pretty far in this career. You see some of these other people going further and doing different things—certainly men—and as a woman you'd like to think that you can, too. That's what I believe Trudy would think and that's what I think as well."
"Oh, absolutely. I think we've struggled with that for a while and I've been in this business—well, since I was four years old basically. When I turned 19 and I started working on bigger projects, the first thing that I noticed was the wage inequality. I was the lead of The Unborn and my male costar—who was in significantly less scenes than I was—was making way more money! That was the first time I really saw that it's just not equal. We're not there yet."
"Absolutely. It shines light on the issue that we've had for so long—especially Trudy's story. Trudy had some of the biggest changes and she's always fighting for her rights and I love that about her. These women are the backbone and they carry it all, and that's how it is now. Not to mention, their friendships and the bond these women created. I think it's such a celebration for women in general. I think that's really important and girlfriends are the best. You can't get through life without them."
"Don't count women out. We're smart. We're efficient. We do it all—and you'll see that in the show."
The Astronaut Wives Club premieres on ABC June 18 at 8/7c.
Marie Claire email subscribers get intel on fashion and beauty trends, hot-off-the-press celebrity news, and more. Sign up here.
Simedar Jackson is an esthetician, content creator, and lover of sci-fi fiction living in Brooklyn, New York. She is passionate about creating space for Black and Brown people in the beauty and wellness industries by providing access to culturally nuanced education and services that meet their needs. You can find them doing their skincare routine, reminding friends to reapply SPF, and watching reruns of Love Island.