Hannibal Buress Explains the Unexplainable: Weird Male Dating Behavior
The Why? With Hannibal Buress star gives us answers.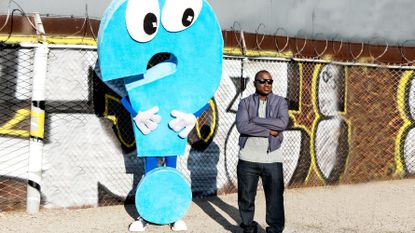 (Image credit: Jason Nocito)
Hannibal Buress won't tell us what his new show—Why? With Hannibal Buress premiering on Comedy Central today—is about. It isn't a secret, he just, well, doesn't know yet.
"It's about shit that I think is funny," he explains. "It doesn't have a narrative; it's basically a loose comedy show with standup, man-on-the-street pieces, some sketches—basically stuff that makes me laugh. It's just my show."
Whatever, we're sold. (See: literally all/any video that pops up when you google "Hannibal Buress stand-up." )
It is difficult, as you can imagine, to conduct an interview about a show that has no defined topic. So, considering the fact that Buress plays our favorite boyfriend/non-boyfriend on Broad City (you may recognize him as the Lincoln Rice to Ilana Glazer's Ilana Wexler), we decided to ask him to explain some universal—and universally weird—dating behavior.
Why does he only text after midnight?
"That's obvious: Because he or she only wants to only have to sex with you and you're probably good at it, or he or she ran out of options for the day and you're their backup plan…so that's why that happens. But if you don't want to get those late-night texts then stop answering them. Phone calls work, too."
Why send dick pics?
"I guess some guys think that works—I've always texted that to somebody that I was already established with and they expressed that they like that. I have definitely have never Hail Mary'd and just sent one out on a whim. Seems risky to me."
Why play music during sex?
"Because you can get on the beat! You can create a mood. It just puts a certain vibe if you have on the right music. Music helps motivate the energy in the same way that in a movie there's music to keep the action moving or to shift the motion—that's the same thing you can do with your life. It can fill the empty spaces if you all are not good at talking during it. I had a playlist—my playlist was called 'Get it poppin.'
I had some Aaliyah stuff on there, some The Weeknd something—The Weeknd is great. He's just on beat, sings about doing drugs and doing stuff with girls and it somehow plays a ringer, that's a great thing for him. And Hiatus Coyote, you heard of them? They make some good music for the laying down."
Okay—any music you shouldn't play?
"I mean, that's up to the individual, but I'm sure that GWAR probably would be weird and distracting.
Why so many shirtless-dude selfies on online dating sites?
"It's up there because it works. It doesn't work for everybody, but it's subjective. Someone would not have the pics up if they hadn't gotten laid from them before. For the most part, nobody is going to keep doing something, especially on a dating site, if they have 100% failure. It says, Look at my body, wanna f*ck? If we f*ck, you're gonna be seeing this. There could be a depth behind a guy who has a shirtless selfie, or he's maybe looking for something more. He's just proud that he worked out and he has a great body. He might've been fat eight months ago and now he's in shape and he wants to show it off and he wants to have sex because of his hard work."
Why assume that we're just hooking up and not assume that we're actually dating?
"That comes from lack of communication from both parties. Both people who didn't talk to each other and didn't say what they wanted, or what they needed, and so confusion happens. So if one person spoke up and said, 'Hey, you know we're just f*cking right?' Then the other person would've had to make a decision to keep on going with that or just cut it off. I advise being forward. If you're looking for a relationship, ask, 'Are you down for that?' And then the other person has to make a choice. That's all that is. I think you have to make it weird. Sometimes you have to make it uncomfortable for your own future to be uncomfortable. You have to say, 'Hey, what is this?' and see what happens instead of going on in the dark for months. You just have to have a conversation and see what's what."
Why doesn't he clean his apartment before I come over?
"Because you'll probably f*ck anyways. If the girl keeps coming over then it's more likely they're gonna have sex. And if she's already shown that she'll do that no matter what state the apartment is in, then why clean up?"
Because it's a nice thing to do!
"Well, is it? If it's not disgusting, it should be about the person, not the environment. Maybe it's a test to see if that person is superficial or not. I don't know, I'm just making up stuff."
Why? with Hannibal Buress

Get More: Comedy Central,Funny Videos,Funny TV Shows
Celebrity news, beauty, fashion advice, and fascinating features, delivered straight to your inbox!
As deputy editor, Jen oversees Cosmopolitan's daily digital editorial operations, editing and writing features, essays, news, and other content, in addition to editing the magazine's cover stories, astrology pages, and more. Previously, Jen was a senior editor at Marie Claire. Before that, she worked at GQ.