Sandra Bullock Says It's Been "Open Hunting Season" on Women's Looks
Can she please lead the counterattack, like, now?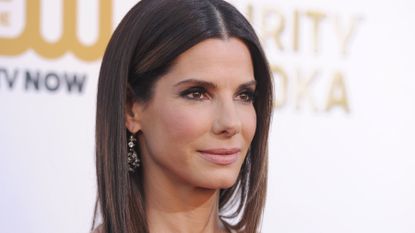 (Image credit: Getty)
Sandra Bullock is one of the most gorgeous movie stars out there—and People clearly agrees, having named her the most beautiful woman in the world this year. (The WORLD, you guys.) But in an interview with E! News, the Oscar winner revealed that even she faces intense criticism when it comes to her appearance, and that the negativity is hurting women everywhere.
"I feel like it's become hunting season in how women are attacked," she said. "And it's not because of who we are as people, it's because of how we look, or our age." She said she's noticing it more when trying to teach her son, Louis, about how to treat other people. "I'm embarrassed about it, because my son's getting ready to grow up in this world, and I'm trying to raise a good man who values and appreciates women."
When People asked her to be on their cover this year, she said she laughed, but felt she could use the platform for good. "I said if I could talk about the amazing women that I find beautiful, which are these women who rise above and take care of business and do wonderful things and take care of each other, then I'm more than honored to be on the cover of this," she said. Even in the cover line, she notes what real beauty is: "What is beautiful is the honor of being Louis' mother."
Bullock admitted she relies on her colleagues in Hollywood for support, since they can always relate. "You'd be surprised at the love that you have," she said. "In our crazy industry, the women have bonded together, and it has sort of become this tribe of trying to take care of each other and be there for each other in a way, because the minute you step out it is an onslaught."
Her full interview is a rallying cry for women everywhere to band together and fight off sexism, one negative comment at a time. Watch the full clip below.
Megan Friedman is the former managing editor of the Newsroom at Hearst. She's worked at NBC and Time, and is a graduate of Northwestern's Medill School of Journalism.