This Interview Proves Bradley Cooper Is a Million Times More Charming Than the Role He Plays in 'Burnt'
In which we discuss the complexities of shooting a movie about food, those J.Law wage gap comments, perfectionism, and nearly slicing his hand open on set.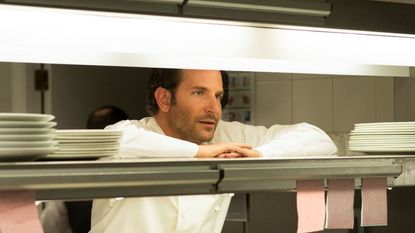 (Image credit: Courtesy The Weinstein Company)
"Think of a rock star," Bradley Cooper says to me at the London NYC Hotel. "In the cookbook White Heat, the photographer had taken photos of this young chef and he looks like Jim Morrison, with the cigarette dangling. You just think, there's this sort of mythical figure. It was like a moment in time."
The moment in time was London circa the late-'80s and the mythical figure was Marco Pierre White, arguably the first celebrity chef, whose style was more Sex Pistols, less Jacques Pepin. As notorious for his kitchen tantrums, supermodel flings, and assorted addictions as for his nouvelle cuisine, it should surprise no one that the likes of Gordon Ramsay apprenticed in White's brilliant but dysfunctional kitchen.
"To have a guy talk about food in such a passionate way was a whole new thing," Cooper says about White, who inspired his new film, Burnt. "This guy was the youngest chef at that time to earn three Michelin stars. He was from London—he had never cooked in France but he was making French cuisine."
Loosely based on White, Cooper's edgy, bad-boy character, Adam Jones, hits rock bottom as Burnt opens. Burned out from drugs, alcohol, womanizing, and a grueling schedule concocting culinary masterpieces at an esteemed restaurant in Paris, he has alienated everyone who ever loved, befriended, or employed him.
Cooper, who has spoken openly in recent years about his own struggles with addiction, has been clean and sober since age 29. "I think my character had been white knuckling it," he tells me. "He acts like he has all the answers but he has absolutely no clue, really, because he's the same guy he was before, just minus all the things he did to inoculate himself from his emotions. So you're sort of watching this guy actually spiral even further down. It's all based on self-loathing."
Despite his many inner demons, Jones is a superb perfectionist chef who rebounds in a London restaurant, obsessed with earning his nearly-unobtainable third Michelin star. His quest for that validation results in dictatorial screaming and bullying his kitchen staff, particularly his sous chef Helene (Cooper's American Sniper co-star Sienna Miller).
In his own life, Cooper finds validation in less destructive ways. "Personally, having a good day's work, feeling like I have given it my all and being with actors, feeling that we actually created something together—that gives me great fulfillment."
As he conveyed his character's complex inner life, Cooper drew upon his own pursuit of perfection. "If I related to anything, it's that idea of trying to have a goal that you're setting out to do; an obsession to do the best you can. I can definitely relate to that," he continues. "But I think more than any other character I've played, I really saw how different I was from this guy because he lost the joy in what he did. That's a hell of a thing to lose, as I'm sure you concur, because food is so joyful and if you've lost joy in cooking then, wow, you were lost. That's where he is for so much of the movie and then characters like Helene really sort of re-inject him with the thing that he lost back in Paris."
Cooper has been linked to Zoe Saldana, Renee Zellweger, Suki Waterhouse and, currently, Irina Shayk, but it's his friendship with hthree-time co-star Jennifer Lawrence (Silver Linings Playbook, American Hustle, the upcoming Joy) that may be his most influential relationship. We asked Cooper about his recent outspoken support of Lawrence's comments about wage equality for women, which interestingly parallels his character's growth in treating women as equals.
"What I was saying is that it's a tricky thing to talk about money," Cooper replied. "I'm never aware of what anyone else gets paid unless you're approached to give some of your money, because to make a movie is getting harder and harder. People are getting paid less and less and are always taking pay cuts. That's been my experience. So the only time that you ever find out about someone else is when you have to divvy up the pie differently so that someone will come aboard and do the movie. But you're not aware of what other people are getting, so why not just be transparent and say, 'Here's the pie; let's divvy it up and let's just talk about it.'"
Speaking of pie, Cooper, who once worked as a prep cook in New Jersey, was extremely hands-on with the food throughout filming. "I shucked about 60 oysters for the opening scene," he said. "I shucked oysters when I was a prep cook and if you're ever going to slice your hands, it's going to be while shucking an oyster. I even said to [director] John Wells, 'Bro, just to let you know if this goes south, you better find a lot of other stuff to shoot!'"
Cooper told us that actors love to really perform their characters' jobs. "For an actor, that's the easiest thing, if you're actually doing their work. All the other cooks were not actors; they were real cooks that work in Michelin star restaurants around London, so we were cooking the food and eating it too. We were tasting it constantly."
All that tasting can be an occupational hazard for an actor. "I was in the process of losing weight to do a play," said Cooper. "I was trying to lose 40 pounds for the Elephant Man, so it was kind of a nightmare to do a cooking movie in between! If you watch the film again, you'll see scenes where my face is like two inches wider than other times, since we shot out of sequence. But it was kind of nice, it was lumbering; I'm glad that I had that weight actually. It worked, I thought."
Burnt opens in theaters on October 30.
Follow Marie Claire on Instagram for the latest celeb news, pretty pics, funny stuff, and an insider POV.
Celebrity news, beauty, fashion advice, and fascinating features, delivered straight to your inbox!