Bradley Cooper Plans to Help His Female Co-Stars Negotiate Higher Pay
The actor takes initiative in closing the Hollywood wage gap.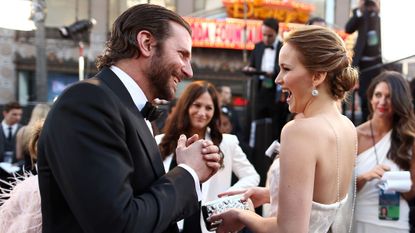 (Image credit: Getty Images)
Wage inequality in Hollywood has been the hot topic of the week following Jennifer Lawrence's explosive essay (opens in new tab) on the issue, titled "Why Do I Make Less Than My Male Co-Stars? (opens in new tab)" Among the actress's most enthusiastic celebrity advocates (opens in new tab) were Emma Watson, Elizabeth Banks, Hillary Clinton, and of course, her co-star multiple times over Bradley Cooper.
To support Lawrence's efforts—and those of all his female co-stars—Cooper is planning to take preemptive action by leveraging his own salary in favor of theirs for all films he's considering. According to Reuters (opens in new tab), the actor "has begun teaming up with female co-stars to negotiate salaries before any film he is interested in working on goes into production."
"Usually you don't talk about the financial stuff, you have people. But you know what? It's time to start doing that," Cooper added. "That's something that I could do."
I am an experienced editor, writer, and creative strategist, specializing in fashion, beauty, and lifestyle content for digital media outlets, as well as video and social platforms. While I currently operate as a freelance contributor/consultant, with such clients as The Zoe Report, my 10+-year background in the industry was cultivated at the dot-coms of elite publications, including Harper's BAZAAR, ELLE, and Marie Claire.