Princess Tatiana of Greece on Why Royal Life Is Tougher Than You Might Think
Not all tiaras and carriage rides.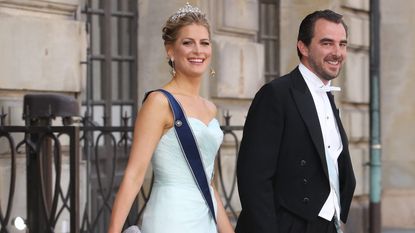 (Image credit: Archives)
Becoming a princess is not all limousines and makeover montages, as Hollywood would have you believe. As Princess Tatiana of Greece and Denmark notes, it's more about the simple life for her. When we meet, she's in town to promote her forthcoming book A Taste of Greece, dedicated to the culture of her adopted country where she lives with her husband Prince Nikolaos of Greece and Denmark.
The new book compiles anecdotes about Greece and recipes from people as varied as Arianna Huffington, designers Mary Katrantzou and Diane von Furstenberg, and writer Margaret Atwood. All proceeds benefit Boroume, a Greek nonprofit dedicated to reducing food waste and providing meals to the hungry. Though the book mostly revolves around food, the princess is quick to say that the text is much more than a cookbook. "I think it's about people's experiences. It shares memories. It tells stories about culture. It's more than just recipes."
Here, she discusses everything from healthy living to the meaning of the word "sexy" to the misconceptions about being a princess.
Marie Claire: You were born in Venezuela, raised in Switzerland, have German and Slovenian origins, and are now living in Greece. Since A Taste of Greece is so much about home and heritage, how does the book reflect your multicultural roots?
TB: I'd say that my identity is really a culinary identity, so the way I relate to my national heritage is through its cuisine. My German heritage, it's through food. Growing up in Switzerland, the thing that I remember the most is the food. And so the way that I experience people and places is through that—through its food and cuisine.
This book is a testament to how food is so related to identity and can surpass national boundaries. It's a testament to how people come together for shared love of a country, shared love of a dish, and a meal, so actually my mixed heritage is what has helped shape who I am today and my identity is really through food.
MC: Did you grow up cooking?
TB: Oh my God, I grew up in the kitchen. Absolutely. The kitchen, for me, is home. It's just the way you can be together with your family and you can share. For me, it's a meditation.
MC: In the book you talk about the tie between simple Greek ingredients and living a simple life. As a royal, is it harder to maintain a grounded life?
TB: I like to keep things as simple as possible, that's just part of who I am. Since I've moved to Greece, I've managed to live true to my passions and now I'm actually turning my passions, one of which is cooking, into action.
I've turned it into the constant pursuit of natural and healthy living, which is much more than just exercise and how you eat. It's a way of life. And part of why I love Greek food so much is that it is simple, but it's unpretentious. It's authentic.
MC: I've been trying to find that healthy lifestyle balance in New York, but it's hard since life is so fast-paced here.
TB: It is very fast-paced but arriving here yesterday, I landed at 11 p.m. and then woke up jet-lagged and went to SoulCycle and Juice Press. So you have everything on your doorstep that you need to lead this healthy lifestyle, but maybe when you live here it's not that easy. Finding a balance, that's what we're all trying to do.
MC: Do you feel like there are misconceptions about being a princess?
TB: I can't speak for anyone else, but I think people believe it's much easier than it really is.
MC: In what ways would you say it's more difficult than people would imagine?
TB: I think there are expectations. And living up to other people's expectations is always difficult. And then you have your own expectations and you set yourself goals that are very, very high. And that's true for everyone.
MC: Speaking of goals, in your post-grad career you worked as an event planner for Diane von Furstenberg. Are there any life or style lessons you learned from her?
TB: Again, be true to yourself. Comfort, and I'm not saying "comfort" meaning jeans and sneakers. Just be comfortable in your own skin. And that's how you can be the sexiest woman that you can possibly be.
Follow Marie Claire on Facebook for the latest celeb news, beauty tips, fascinating reads, livestream video, and more.
Celebrity news, beauty, fashion advice, and fascinating features, delivered straight to your inbox!