Khloé Kardashian Reveals Her Anti-Aging Skin Routine
The star describes exactly what she does to keep her skin smooth and wrinkle-free.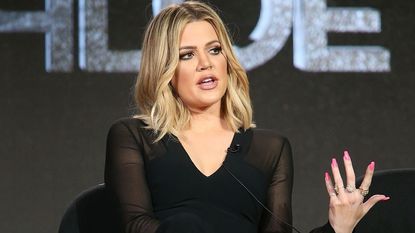 (Image credit: Getty)
Like her sisters, Khloé Kardashian looks like she hasn't aged a day since she was 17. On Tuesday, she shared her beauty secrets on her app, and luckily none of them included a subscription to the Fountain of Youth. So what does she do to keep her skin looking amazing?
1. Drink plenty of water. "For me, 'anti-aging' is really all about hydration."
2. Wear sunscreen, especially on your hands. "Hands are always out in the sun, so they age the most. I keep extra sunscreen in the glove boxes of all of my cars in case I forget. When the sun hits my hands while I'm driving, it reminds me to slather more on!!!"
3. Lather your face in plenty of oil. Her personal favorites are Bio-Oil and Vitamin E for her face and Aquaphor on her eyes. All of these can be found for under $10 at virtually any drugstore.
This Kardashian sister doesn't believe in extractions or facials, but she is a fan of Coolaser treatment, which reportedly gives the benefits of laser skin rejuvenation without any of the uncomfortable heat.
"I did my first Coolaser treatment with [Dr. Orion] before I left for Cuba to even out my skin tone, and it was so traumatic, LOL!!! My skin like, peeled off. That's why I wore so many floppy hats in Cuba—to hide my raw skin!" she wrote. "I swore I would never do it again, but you know what? It really did make my skin look amazing!!!"
Follow Marie Claire on Facebook for the latest celeb news, beauty tips, fascinating reads, livestream video, and more.
My writing has regularly appeared in The New York Times, The Paris Review, Salon, VICE, Guernica, The New York Observer, BuzzFeed, Cosmopolitan, Seventeen, Esquire, Elle, Harper's Bazaar, and many more publications.

I was previously the Senior News Editor at Best Life Online and the Viral Content Editor in the Newsroom of Hearst Digital Media. My portfolio consists of a vast and diverse body of work that includes personal essays, lifestyle articles, breaking news posts, and viral content. My areas of expertise, however, are Russia, sex and relationships, and mental wellness.