'Mr. Robot' Star Carly Chaikin Isn't Just a Talented Actress—She's a Damn Good Painter, Too
"When I tell people that I paint, their initial reaction is 'Aww, that's so good for you!'"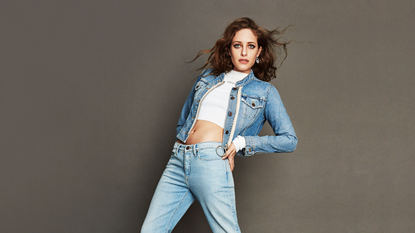 (Image credit: Christian Högstedt)
Carly Chaikin is back to breaking the law on Mr. Robot (catch the season two premiere on USA Now (opens in new tab)), but off set, the 26-year-old is wielding her paintbrushes inside her L.A. art studio.
Class Act: I started painting at 17; I took a class at Brentwood Art Center. I thought about art school—but I'm just so not a school person.
No, Really: When I tell people that I paint, their initial reaction is, "Awww, that's so good for you!" They assume I do stick figures or finger painting or something. Then they see a painting and they're like, "Oh, you do paint."
In Living Color: I refill red a lot on my palette. A lot of my clothes are ruined because I wipe my brushes on them.
All the Feels: Many of my paintings, which I post on Instagram at @carlychaikinart (opens in new tab), have words that I've written that you can't really see. I throw paint on the canvas and get emotions out. One of my favorite paintings I've done happened after I broke up with a boyfriend.
Off the Menu: At restaurants, I always get a kids' menu and color, or draw on the tablecloth.
In Your Face: One of the reasons why I love acting is my obsession with human emotion, and faces, and expressions—no surprise, then, that I usually end up painting faces. But I haven't done a self- portrait. I'd be too scared.
Fashion editor: Brittany Kozerski; Photograph by: Christian Högstedt. This article appears in the August issue of Marie Claire, on newsstands July 19.