'American Horror Story' Star Sarah Paulson on Her Job, Jack in the Box Milkshakes, and Her Secret Lip-Reading Talent
The actress answers our rapid-fire quiz.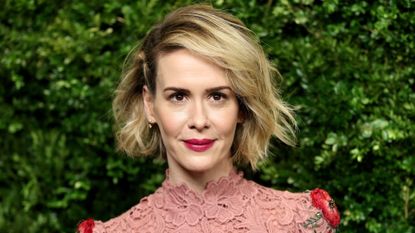 (Image credit: Getty Images)
1. If I weren't an actress, I'd be: A veterinarian.
2. Best career advice I've gotten: Never confuse your self-worth with your ability to get an acting job. Not being chosen for a particular job bears no reflection on your value as a person.
3. The three qualities that got me where I am today: Tenacity, more tenacity, and then more tenacity.
4. Moment I felt I made it: When Glenn Close told me she thought I was a wonderful actress on the red carpet the first (and only) time I attended the Academy Awards. I couldn't believe she knew who I was, much less thought I was any good!
5. The most agonizing career decision I've ever made: The decisions that have seemed the most fraught have often turned out not to be, hindsight revealing that it wasn't a "wrong" decision but rather a "different" road. I can live with that.
6. The easiest career decision I've ever made: Choosing to do Donald Margulies' Collected Stories with Linda Lavin on Broadway instead of a TV pilot. That pilot turned into a very long running show, but for me, the play had my heart so it was easy for me, but my agents thought I was *nuts*.
7. What kind of work would you do for free? Act. (Don't tell anyone.)
8. Favorite perk of the job: Here's what I regard as a true perk: Looking into the eyes of my fellow actors in the first minutes of playing a scene for the first time.
9. Worst pitfall of the job: Having to look in the mirror more than is healthy or useful.
10. What does your career look like in 5 years? I'm trying to enjoy *this* moment, so looking that far ahead doesn't serve me terribly well.
11. Change I'd like to see in my industry: I would like to see the person most right for the part get the job. The star system can prevent that a lot of the time. I have some insanely talented friends who aren't working in the way their talent warrants. It's terribly depressing.
12. How did you make your first dollar? Babysitting. (I wasn't very good at it.)
13. Who do you admire and why? Amanda Peet. She is an extraordinary mother, dedicated and present, with heavy doses of humor and a child's sense of play, while remaining my most loyal, supportive friend, as well as being the person I can always count on to tell me the truth. Also, she has made me pee my pants from laughing.
14. Last thing I binge-watched: Game Of Thrones.
15. Book that left a lasting impression on me: A Little Life [by Hanya Yanagihara] made me weep uncontrollably. It was such a beautifully told story about the power of friendship and the complexities of the human heart. I couldn't put it down.
16. Song that always makes me cry: "I Don't Know Why," by Shawn Colvin.
17. Movie with the greatest ending: Thelma and Louise.
18. Song I'd want played at my funeral: "Hallelujah," by Jeff Buckley.
19. First album I bought: "Like A Virgin," by Madonna.
20. On my bucket list: Gorilla trekking. This needs to happen soon.
21. If I could live in a foreign country, it would be: England.
22. What every woman should try once in her lifetime: Everything.
23. My perfect day would begin: With a Jack In The Box Oreo Cookie Shake.
24. My perfect day would end: See above.
25. One thing I'm exceptionally good at: Overthinking.
26. One thing I'm epically bad at: I'm the world's most impatient person. Truly.
27. Superhero power I'd want to have: All of them. (Why should I settle for one??)
28. How I clear my mind after a crappy day: Online shopping never hurt an overthinker.
29. Something nice I did for myself recently, because hey, why not: I bought something I didn't neeeeeed, but something I really wanted, simply because it made me happy to look down at my feet and see my navy blue The Row velvet slippers.
30. If I could compete in an Olympic sport, I'd like it to be: Lip reading, 'cause I am pretty good at that!
31. The last time I felt beautiful was: When someone I love deeply told me I was (a few minutes ago.)
32. The beauty essential you have to pry out of my cold, dead hands: Chapstick, all flavors. No one takes my Chapstick. (If they did, I would have have four more in my purse, so it would be Okay.)
33. My first kiss: [Was] with a boy named Ethan. It was lovely.
34. The three qualities I thought I wanted in a partner: Height, a flashing smile, humor.
35. The three qualities I know now matter: Patience, humor (I was right about that one), curiosity. (A flashing smile still matters.)
36. Advice to a woman with a broken heart: As a woman who has had one, I know that very little helps in those moments. Maybe, "Just keep breathing, show up for your day, and this too shall pass."
37. Relationship advice to my younger self: Stop thinking so much. (See 25. Also 26.)
38. Moment I knew I was in love: When the thought of being with my most favorite person on the planet didn't hold a candle to the thought of not being with the person I was coming to realize I was mad for.
39. The craziest thing I did for love: Nothing is too crazy when it comes to love.
A version of this article appears in the October issue of Marie Claire, on newsstands September 20.