200 People Walked Out of Amy Schumer's Show This Weekend When She Started Talking About Donald Trump
Wait, have these people *seen* her work before?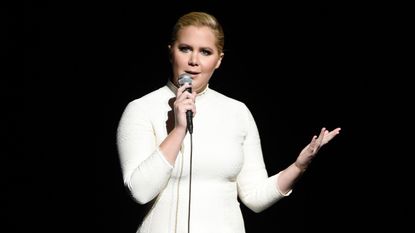 (Image credit: Getty Images)
If you've seen Amy Schumer's stand-up comedy, you know she doesn't suffer fools—especially people who don't treat women with respect. So it's no surprise that she goes after Donald Trump, considering what he's been caught saying lately, right? Apparently it was a total shock to about 200 people at her arena show in Tampa Sunday, who walked out after she started calling Trump a "monster."
The Tampa Bay Times reports that halfway into her show, she started talking about politics, and that got a small but loud group of people upset. Schumer said she couldn't understand why people support Trump, an "orange, sexual-assaulting, fake-college-starting monster." She asked for a Trump supporter to come on stage to explain himself, and he said he supports Trump because he doesn't trust Clinton. At another point in the show, she asked anyone who had been a victim of sexual assault to stand up, and dozens of people stood.
During these political moments, some audience members booed; Schumer said anyone upset could leave, and told security to kick out anyone booing. A few people interviewed by the Times said they were upset the political stuff went on too long. "I don't want to hear that. We wanted to have a good night without distractions with the politics," Bryon Nfinger said.
"Of course, we're in Florida, you're going to boo," Schumer said during the show. "I know you're here to laugh, but you choose how you're going to live your life, and it's just too important."
It's honestly very surprising that people would buy tickets to an Amy Schumer stand-up set and not realize she'd bring up politics. A huge part of Inside Amy Schumer sketches are all about politics and feminism. Schumer is an active Hillary Clinton supporter, and she's even spoken out in favor of gun control alongside her Democrat cousin, Senator Chuck Schumer. But she's too busy to worry about a few offended concert-goers—she's too busy registering voters in an awesome "Make America Ferrera Again" shirt.
Follow Marie Claire on Facebook for the latest celeb news, beauty tips, fascinating reads, livestream video, and more.
Megan Friedman is the former managing editor of the Newsroom at Hearst. She's worked at NBC and Time, and is a graduate of Northwestern's Medill School of Journalism.