These 13 Women Could Show Bill Cosby Followed a Pattern of Assault
Bill Cosby's recent accusers may present a criminal framework spanning five decades.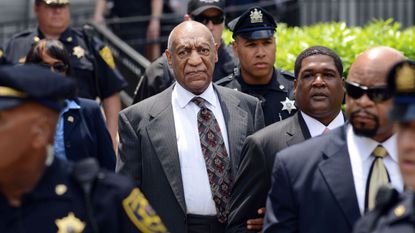 (Image credit: Getty Images)
Did Bill Cosby drug and molest young women as part of a "signature" crime spree spanning five decades? Prosecutors preparing for his sexual-assault trial hope to call 13 of about 60 accusers to show just that.
The defense will question their relevance and attack their credibility in high-stakes pretrial hearings that start Tuesday in suburban Philadelphia.
The fallen superstar is charged over a single 2004 encounter with Andrea Constand, a former employee at Temple University. However, Pennsylvania law allows testimony about similar uncharged acts to show someone committed crimes in a distinctive, nearly identical, pattern.
Prosecutors say Cosby routinely used his fame and power to befriend impressionable young women, knocked them out with drugs or alcohol and then sexually assaulted them. Sometimes, they say, he even promised their mothers he'd look out for the show business ingenues.
The testimony of the 13 others—should Montgomery County Judge Steven T. O'Neill allow some or all of it—could bolster a case that turns on the question of consent. Cosby's lawyers will fight to keep the women off the stand at the June 5 trial, in courtroom showdowns that could amount to 13 mini-trials. Cosby, in a decade-old deposition, acknowledged some of the encounters but said they were consensual.
The Associated Press does not typically name people who say they are sexual-assault victims. However, Constand has given consent through her lawyer, while 10 other women named below have spoken out publicly. One has spoken out under a pseudonym, while the final two remain anonymous. The accounts below, listed chronologically, note ages for each woman and Cosby at the time, as described in a prosecution memo filed last month.
___
1. ANDREA CONSTAND
Ages then: She was 30; he was 66
Constand told police in 2005 that Cosby drugged and sexually assaulted her a year earlier at his suburban Philadelphia estate. She said he gave her three unlabeled blue pills to "relax" as the Temple University basketball team manager discussed a career change with Cosby, a high-profile Temple booster and trustee. She said she was semi-conscious on his couch when he digitally penetrated her. Cosby, 79, is charged with sexually assaulting a person unable to give consent — a felony that could bring 10 years in prison. He has pleaded not guilty and remains free on $1 million bail.
___
2. JANE DOE 1
Ages then: She was 21; he was 30.
She was a flight attendant when she met Cosby in about 1964. He invited her to a taping of his show and cast her as an extra. After being friends for several months, she said, he offered her champagne at the Drake Hotel in Chicago, which left her unable to ward off his sexual advances before she passed out.
___
3. LINDA BROWN
Ages then: She was 21; he was 31.
Brown's agent sent the aspiring model to attend Cosby's show in Toronto and have dinner with him afterward in 1969. He invited her to his hotel room to give her a gift, and offered her a soda that caused her to black out, she said, before Cosby raped her.
___
3. CINDRA LADD
Ages then: She was 21; he was 31.
Ladd, a model, met Cosby in 1969 when he offered career advice. They were at his friend's house in New York one day when she complained about having a headache and he gave her a pill he called "a miracle cure" from his doctor. She became incapacitated, and Cosby raped her, she said.
___
4. JANE DOE 2
Ages then: She was in her early 20s; he was 32.
She met Cosby through her job at the Playboy Club in New York in the early 1970s. He offered her quaaludes in a limousine one day, which she said she declined. She then had three or four glasses of champagne but believes they contained an intoxicant that left her unconscious. She woke up naked in a hotel room feeling sore and said she had been sexually assaulted.
___
5. DONNA MOTSINGER
Ages then: She was 26; he was 33.
Motsinger was a waitress at the Trident restaurant in Sausalito, California, a favorite of Cosby's. He befriended Motsinger and her 9-year-old son. In 1972, Motsinger said, she accepted an invitation to Cosby's show and drank wine he gave her in the limousine on the way there. When a headache ensued, she took a pill he handed her. She recalls being fondled before waking up the next day, nearly naked, at her own home.
___
6. MARGIE SHAPIRO
Ages then: She was 19; he was 37.
Shapiro worked at Castle Donuts in Santa Monica, California, in 1975 when Cosby stopped by. He invited her to the set of "Mother, Jugs & Speed," and then to a dinner party, but instead took her to a house near the Playboy Mansion, where they played pinball fueled by Cosby's challenge that whoever lost would have to take a pill she believed to be a quaalude. She lost. She recalls waking up to find Cosby having sex with her.
___
7. THERESE SERIGNESE
Ages then: She was 18 or 19; he was 38 or 39.
Serignese, now a nurse, was in the gift shop of the Las Vegas Hilton in about 1975 when she met Cosby. He later invited her to his show, and to a room backstage afterward, where he gave her two pills that left her incapacitated before he raped her, she said. Cosby, in a 2006 deposition in Constand's civil lawsuit, testified that he gave Serignese quaaludes before what he called a consensual sexual encounter.
___
8. LINDA KIRKPATRICK
Ages then: She was 25; he was 43.
Kirkpatrick met Cosby while playing against him in a tennis tournament in 1981. He offered her tickets to his show at the Las Vegas Hilton, where he gave her a drink in his dressing room that left her incapacitated, she said. She next recalls him being on top of her, kissing her and rubbing against her.
___
9. JANICE BAKER-KINNEY
Ages then: She was 23 or 24; he was 45.
Baker-Kinney, then a Harrah's bartender in Reno, went to a pizza party at a nearby home where Cosby was staying in 1982. He insisted she take two pills, she said, before the backgammon game they were playing went blurry. She recalls seeing her blouse unbuttoned and his pants unzipped before she awoke naked with signs she had been sexually assaulted.
___
10. HEIDI THOMAS
Ages then: She was 24; he was 47.
Thomas' agent sent the aspiring young actress to meet Cosby for career advice at a Harrah's hotel in Reno in 1984, but the limousine he sent instead took her to a private house where she said he gave her a drink so she could play the intoxicated person in a script he gave her. During intermittent bouts of consciousness, she recalls being naked and Cosby forcing her to perform oral sex.
___
11. REBECCA NEAL
Ages then: She was about 28; he was 48.
Neal worked as a masseuse at a Las Vegas health club where Cosby played tennis in the mid-1980s. He befriended her mother and aunt there, leading Neal to accept an invitation to his show at the Las Vegas Hilton and dinner afterward. Cosby urged her to have a drink set before her while he ate. She said he later raped her in his room while she was too disoriented to give consent.
___
12. LISE-LOTTE LUBLIN
Ages then: She was 23; he was 50.
Lublin was a 23-year-old aspiring actress when she met Cosby in 1989. She and her mother went for a run with Cosby, and he gave them show tickets, before he invited her to the Elvis suite of the Las Vegas Hilton to practice acting improvisation. He prodded her to take two drinks to relax, which she ultimately did. She recalls seeing Cosby stroking her hair, and walking down a hall, before she woke up at home two days later. She believes she was sexually assaulted.
___
13. "KACEY"
Ages then: She was 29; he was 58.
The witness, who agreed to be photographed but not share her identity in the media, worked for one of Cosby's agents and had known the entertainer for six years when he invited her to lunch at his bungalow at the Bel Air Hotel in 1996 to discuss her acting ambitions. He was in a robe and slippers when she arrived, and offered her wine and a pill that she consumed after he reassured her it was safe. She then recalls being sexually assaulted by Cosby on his bed.
Follow Marie Claire on Facebook for the latest celeb news, beauty tips, fascinating reads, livestream video, and more.