Laverne Cox Has Some Powerful Thoughts About Life in Donald Trump's America
The trans icon opened up on the red carpet of our first-ever Young Women's Honors event.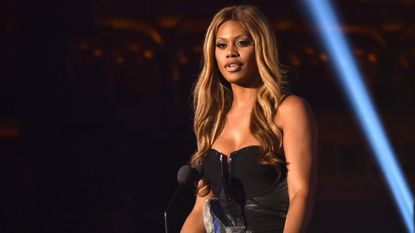 (Image credit: Getty)
Marie Claire Newsletter
Celebrity news, beauty, fashion advice, and fascinating features, delivered straight to your inbox!
Thank you for signing up to Marie Claire. You will receive a verification email shortly.
There was a problem. Please refresh the page and try again.
The presidential election has stirred up a lot of feelings in America—on both sides of the aisle. For Laverne Cox, the groundbreaking transgender actress who has become a spokesperson of and advocate for the trans movement, the impending rise of Donald Trump and Mike Pence has caused some deep reflection.
"I've been trying not to be in a reactionary place," Cox told Marie Claire at our first-ever Young Women's Honors event, airing on December 19 on the CW. "I've tried to really sit with myself and really be in a meditative place so that when I come forth and have an opportunity to speak it's from a place of love and my own truth. That it's not about being even more divisive or more combative. That it's really from a place of love. I think we make our voices heard the most when we take the time to really sit in our truth and really know what that truth is and speak from that place."
In his time as the governor of Indiana, Pence has notoriously implemented legislation that is harmful to the trans community, which has, in turn, raised concerns about what the Trump-Pence administration will be like for LGBTQ Americans. Cox has been considering what she will say to Trump and Pence if she's given the opportunity to address either leader in the near future.
"I've been thinking about this a lot—it's part of the critical thinking I've been doing since the election," Cox says. "I'm obviously a progressive and there are lots of people who don't believe the same things I do. I've been thinking a lot about what they might be feeling and I think they're feeling left out. So many of us feel scarcity. A lot of people think 'If this undocumented immigrant gets a job they're taking it from me.' Or 'If this transgender person is able to have equal rights and access then they're taking something from me.' It's a scarcity narrative. If we can move from scarcity to abundance in our rhetoric and the ways we see ourselves and each other in the world, I think that will allow us to begin to believe that there's enough to go around. We can live in this world together because there is enough to go around."
Cox, who recently appeared in the live Rocky Horror Picture Show remake and stars on the famously diverse Netflix series Orange Is The New Black, does feel hopeful about the arts in this divisive time. She hopes her upcoming CBS legal drama series Doubt, which will air next year, can be part of a new onscreen narrative that continues to bring previously unheard expressions to the country's TVs.
"What I'm encouraged by as an artist is that this is a time for us to express our voices even more," Cox told us. "These moments when artists can speak truth to power mean much more now than they have. It's about us continuing to elevate truth, trying to raise people's consciousness and not trying to divide people. That's where I think the arts will help most."
Follow Marie Claire on Facebook for the latest celeb news, beauty tips, fascinating reads, livestream video, and more.
Celebrity news, beauty, fashion advice, and fascinating features, delivered straight to your inbox!
Emily Zemler is a freelance writer based in London. She has written for Esquire, ELLE, The Hollywood Reporter, Playboy, Billboard, and Nylon. She has an MFA in Fiction Writing from Sarah Lawrence and is currently working on her first book.