Announcing Marie Claire's First-Ever Young Women's Honors
Announcing Marie Claire's First-Ever Young Women's Honors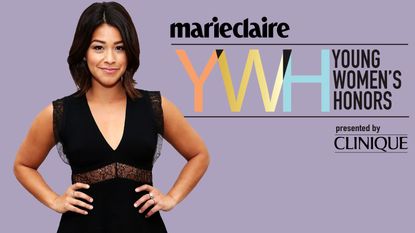 (Image credit: marie claire )
The future is female. More specifically, it's the impressively bold, brave, and enterprising young women of today who will be shaping the world we live in tomorrow, whether through creative new technologies or insightful philanthropy or an unflagging drive to help get girls educated all around the globe.
Bottom line: Young women don't get enough credit for being the leaders they are, and we're launching a brand-new initiative to set the record straight.
On Monday, December 19 at 9 p.m. EST on the CW network, Marie Claire is airing our first-ever Young Women's Honors, an awards ceremony presented by Clinique and hosted by Gina Rodriguez, aimed entirely at amazing female millennials doing amazing things.
"My goal in creating Young Women's Honors is to generate positivity, inclusivity, unlimited potential, and the possibility every woman is born with," says Rodriguez. "As a young Latina, I had to break down barriers and overcome naysayers. When you see someone following their dreams, it gives you allowance to follow your own.
Honorees will be selected by an impressive panel of judges including Marie Claire editor-in-chief Anne Fulenwider, Clinique global brand president Jane Lauder, Lord & Taylor president Liz Rodbell, and Gina Rodriguez herself as chair.
"Marie Claire has a rich history of spotlighting women making a difference around the globe and I am constantly amazed by this new generation making change happen," EIC Fulenwider says. "Marie Claire's Young Women's Honors will highlight these brilliant young women, and we hope to empower future generations to come."
To learn more about the event, head to the website here, and be sure to follow along on social via Instagram, Twitter, and Facebook.
Tune in to the show on December 19 at 9 p.m. EST on the CW network!
Celebrity news, beauty, fashion advice, and fascinating features, delivered straight to your inbox!