Jessica Alba Used to Help Sell Condos by Dressing Up as a Clown
And 24 other things you never knew.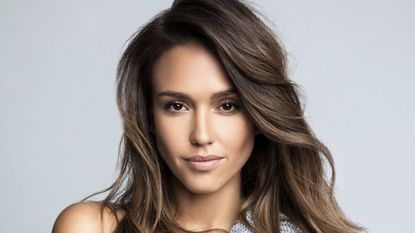 (Image credit: Courtesy of subject)
As founder of the Honest Company and Honest Beauty empire, the actress and entrepreneur has come a long way from helping her uncle sell condos. Here, in our rapid-fire quiz, she talks Jeopardy!, superheroes, and date-night shoes.
1. Best career advice I've gotten: Never give up. And you should never be the smartest person in the room—surround yourself with people who are the best at what they do and learn from them.
2. The three qualities that got me where I am today: Relentless drive, preparation, and determination.
3. Moment I felt I'd made it: When I was a Jeopardy! answer.
4. Easiest career decision I've ever made: Playing a superhero in Fantastic Four.
5. Change I'd like to see in my industry: Diversity.
6. How I made my first dollar: Dressed up as a clown to get people to buy prefab condos. In Riverside [California]. In 120-degree heat. My uncle paid me in French fries and Cactus Cooler, and I got heatstroke and puked it all up. I couldn't drink Cactus Cooler after that.
7. Last thing I binge-watched: The Girlfriend Experience (Starz).
8. Book that left a lasting impression on me: Leadership the Eleanor Roosevelt Way: Timeless Strategies from the First Lady of Courage, by Robin Gerber. It was a gift, both literally and figuratively.
9. First album I bought: Step by Step, by New Kids on the Block.
10. On my bucket list: Growing and maintaining a vegetable garden.
11. If I could live in a foreign city, it would be: London or Paris...hard to decide. I love how accessible both are to the rest of Europe.
12. What every woman should try once in her lifetime: Really stepping outside of her comfort zone.
13. My perfect day would begin: With a hard workout after eight hours of sleep.
14. My perfect day would end: With a bath and a glass of champagne.
15. One thing I'm exceptionally good at: Making decisions.
16. One thing I'm epically bad at: Being patient.
17. Something nice I did for myself recently, because, hey, why not? I bought a pair of shoes I would only wear on a date. Pink Saint Laurents. They were on sale, so the indulgence felt justified.
18. If I could compete in an Olympic sport, I'd like it to be: What's that sport where they frantically sweep the ice? Curling!
19. The beauty essential you'd have to pry out of my cold, dead hands: Honest Beauty Magic Balm.
20. Moment I knew I was in love: When it felt like we'd already known each other our whole lives.
21. Kind of work you'd do for free: Exactly what I'm doing now.
22. Favorite perk of the job: Creating the products I think should exist (and getting to use them every day is pretty great, too).
23. Your career in five years: Five years ago, I couldn't have imagined I'd be where I am today. I'd say the same is probably true of five years from now.
24. Who you most admire and why: People who innovate within their industries and view themselves as their biggest competitor.
25. How you clear your mind after a crappy day: Cuddling with my kids.
A version of this article appears in the February issue of Marie Claire, on newsstands now.
Marie Claire email subscribers get intel on fashion and beauty trends, hot-off-the-press celebrity news, and more. Sign up here.