In Her Off Time, Actress and Musician Naomi Scott Indulges in Indian Food and YouTube
Get to know the 23-year-old, who kicks ass in this month's 'Saban's Power Rangers.'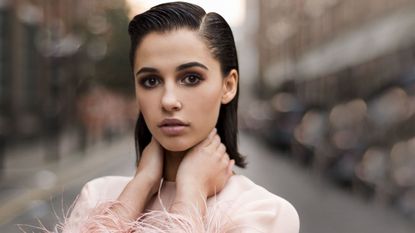 (Image credit: Ryan Plett)
The young starlet's EP Promises (opens in new tab) is on iTunes and later this month she'll take center stage in Saban's Power Rangers, but when she's not on set, she enjoys grabbing Indian food and watching bloopers on YouTube.
Age: 23.
Lives in: London
What do you do in your free time? I'm a very visual person, and other people's music and videos inspire me. I usually just have a little bit of an explore on YouTube and see what's out there. Right now, it's Solange. She's an inspiration for the eyes.
Vacation diet: Anywhere I travel, I try to find an authentic Indian restaurant. (My mom is Gujarati; she's from northern India.) There's this one vegetarian place on Green Street in London called Vijay's Chawalla—I love my meat, but the food is so full of flavor and texture that I don't miss it. I like a good chaat, with potato and chickpea and yogurt sauce, and I love spinach curry. My Indian nan passed away a few years back, and she made the best okra curry. I think that's what drew my dad to the family.
Sports fan: Last year I went to a Golden State Warriors game, and I've been getting into basketball since. When you're watching it on TV, it looks so random, but there's so much more going on. It's larger than life.
Late-night guilty pleasure: If I can't sleep, it's because my mind won't switch off. So I'll get on YouTube and watch Friends bloopers, like when they carry the sofa and Ross is yelling, "Pivot!" Makes me laugh and I don't have to think.
This article appears in the March issue of Marie Claire, on newsstands February 14.