The Grammy Awards' Makeup Director Just Told Us His *Craziest* Backstage Stories
One word: Beyoncé.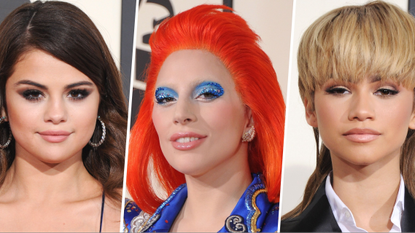 (Image credit: Getty Images)
Please prepare to have your mind blown, because—when it comes to beauty—there is *so much more* to the Grammy Awards than meets the eye. The show would simply not go on without Bruce Grayson (opens in new tab) and his team of makeup artists, who have one job: making sure everyone from presenters, to audience members, to the biggest performers of the night look flawless.
MarieClaire.com spoke to Bruce ahead of Sunday night's Grammy Awards, and got details on his wildest moments, backstage beauty woes, and most iconic celebrity stories.
First of All, Highlighter Is the Bane of Everyone's Existence
Highlighter is highly trendy (ha ha), but turns out luminosity doesn't look great on camera, and Bruce's job is to make sure no one looks "like a puddle" in their photos. "Everybody wants to look luminous," he says. "When the whole face looks a puddle, we have to go in there and fix their makeup. It's happening more often than it ever has." The glow struggle is truly real.
*Major* Celebrities Depend on Him to Look Good
Most major celebrities bring their personal MUAs with them backstage, but these pros aren't necessarily equipped to design makeup for the intensive Grammy spotlight. So yep, they come to Bruce for advice. "If Taylor Swift is going to perform, she has her artist—but sometimes they come and ask us for advice, and I'll give my opinion," he explains. "There are a lot of artists who use textures that don't lend itself to the best look on camera."
Celebrities Get Their Makeup Done Everywhere...Including Freight Elevators
The Staples Center is huge, which means celebrities are housed in holding areas literally all over the place. Ergo, Bruce and his team have to do makeup in unexpected locations. "Even if you have a map, it can be a challenge," he says. "Sometimes you'll see an elevator door open and someone's doing a quick lipstick touch up in the freight."
The Beauty Team Is Housed in a Locker Room Shower Stall (#Glam)
Believe it or not, Bruce's makeup team are based in the same room that celebrities relieve themselves in. We kid you not. "The makeup department is in the L.A. Kings hockey shower facility," Bruce says. "There's no partition between the urinals and the shower, so they put a curtain up to give people privacy."
On the opposite side of the same hall are celebrity dressing rooms for the likes of John Legend and Bruno Mars, which lends to some *very* interesting run-ins. "People come in there to use the bathroom to relieve themselves, and there's a lot of meeting and greeting," Bruce adds.
Performers Pre-Game in the Makeup Headquarters
Fun fact: the bathroom is a go-to space for performers to get pumped for their big moment, which means the makeup team has pretty exclusive access. "Any time there's a body guard standing outside the restroom, you know there's someone big," Bruce says. "We had a really good time listening to Pitbull warm up for us behind the curtain, and he came out and took a bow."
YES, Beyoncé Is Amazing
While Bruce hasn't done Beyoncé's makeup, he has spent quite a lot of time in her presence at shows. "The world stops when Beyoncé walks backstage," he says. "I've seen it happen a million times. Everything moves in slow motion as Beyoncé walks down the hall. As it should be. We shared a hallway with her once, with her husband, and she couldn't be nicer. She's one of the sweetest women I've ever met."
Watch the Beyoncé Grammy Awards on CBS at 8:00 p.m. ET, February 12.
Follow Marie Claire on Facebook (opens in new tab) for the latest celeb news, beauty tips, fascinating reads, livestream video, and more.
Mehera Bonner is a celebrity and entertainment news writer who enjoys Bravo and Antiques Roadshow with equal enthusiasm. She was previously entertainment editor at Marie Claire and has covered pop culture for over a decade.